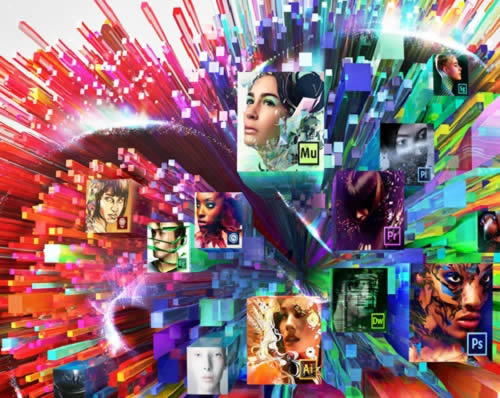 Adobe's Creative Suite CS6 a powerful package
By Jim Bray
August 24, 2012
Adobe's Creative Suite is back with version CS6, a powerful package of applications that's very nearly mind boggling in its power and speed.
It still isn't the most user friendly set of programs, but if you can find your way around it there's a lot of creativity and productivity tools here that can be brought to tasks ranging from design and layout, to web work, audio and video production and more.
I've been using various parts of the suite for several years, including extensive use of the Dreamweaver web design program that used to be part of the Macromedia empire. But it's only one small part of this creative suite, depending upon which version you get – and there are several. Adobe Creative Suite 6 Design Standard appears to be the basic package, and is designed to help you produce "high-impact print designs and digital publications," while the Design & Web Premium version is aimed at those who want to deliver their genius to print, web, tablets, and smartphones.
The Production Premium version is aimed at media creation; Adobe says you can use it to "Master the art of post-production, from planning to playback," which is a pretty good description.
But it was the Master Collection that I've been trying, a digital tour de force that lets you design and deliver your content across multiple media. This is the "janitor in a drum" version that includes so much stuff you may never get to all of its applications, let alone all its many features.
Adobe's Master Collection comes with CS6 versions of: Premiere Pro, After Effects, Photoshop, Audition, SpeedGrade, Prelude, Illustrator,  Encore, Flash Professional, Media Encoder,  Dreamweaver, Fireworks, InDesign and Bridge. Whew!
Perhaps the most popular of the apps are Photoshop and Illustrator, which have been around forever in various versions. They're arguably the industry standard when it comes to graphics creation and manipulation – so much so that the term "Photoshop" has pretty much become a verb in the same way that saying "Google" means "to search" these days as much as it means a particular company or search engine.
InDesign is a newer app, competing directly with such layout products as QuarkXpress. 
So we're definitely talking about serious applications here.
There isn't enough space here to cover each program as it deserves, so I'll just focus on some highlights, new stuff, and personal experiences.
Let's start with Dreamweaver, since it's the app I use the most and am the most familiar with. Version CS6 has new tools for working with websites and is taking into account the popularity of tablets, smart phones, and the like in its capabilities, which is handy considering how phones and tablets are growing in user base.
Dreamweaver still looks and feels for the most part like previous versions did – and that's good; one of the reasons I like Dreamweaver is that it has evolved its powerful features over the years, but hasn't forgotten its roots. I've used it for developing many websites and, while it's by no means perfect, it's the best such tool I've used. 
One of the changes in CS6 does rub me the wrong way: the way you can align photos on the page and add vertical and horizontal space around them. While the new popup menu does add flexibility, it's not as quick and simply as it was before, when it was right under your nose – and the popup menu doesn't always pop up, forcing you up to the main menu bar and adding a click or two.
I don't think this is a deal breaker, though, and it's obviously a "to each his own" matter of personal preference.
As before, you can customize your workspace (and Adobe provides a bunch of pre-configured environments to get you up to speed). You can use also Dreamweaver as a JavaScript development environment, and work with server-side technologies such as PHP and ASP.NET. Flash developers can even edit ActionScript code.
And while Dreamweaver is basically a WYSIWYG ("What you see is what you get") environment, there are always times when a designer or developer has to edit code. I like using the "Split" view in the main window, which lets you switch virtually instantly from WYSIWYG to code editing, to do this.
The Design view also lets you drag and drop images and components onto a page.
One of the Dreamweaver CS6's major changes is the new tools to help you build and manage fluid grid layouts, which you can use to deliver layouts that adjust automatically to deliver content to different classes of device. This is the tablet, smartphone thing mentioned earlier, and I can see it being really popular with developers, especially since Dreamweaver gives you template layouts for different resolutions.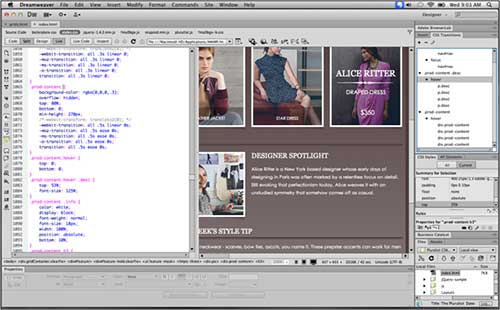 Dreamweaver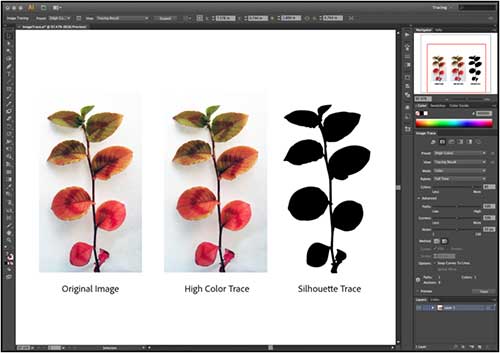 Illustrator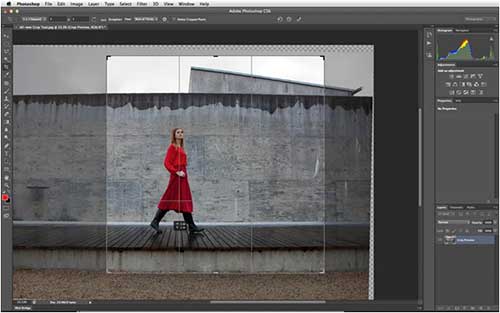 Photoshop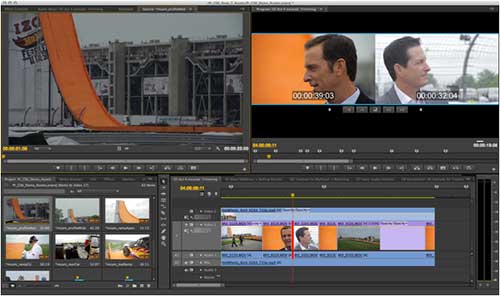 Premiere
There are plenty of other changes, too, of course,  but that may be the most significant considering the evolution in how we surf the web.
Couple Dreamweaver with Flash and Fireworks, both of which are included in the Master Collection and Design and Web Premium editions and you have a powerful web creation suite, indeed.
Photoshop is the other Creative Suite app I use the most, and the new one is the best yet. It features a new, but not wholly unfamiliar, interface design using darker tones that help make your images stand out more. A new Auto-recovery option could come in handy if your system crashes while you're working (and of course that's the only time crashes happen…), and a new graphics engine should speed up some of the more time consuming processes.
Photoshop's interface is nicer now, though still not up to the ease of use of Corel's PhotoPaint app, but it's still a welcome – and reasonably substantial – upgrade. And if you don't like it, you can revert to the earlier look; I won't be reverting. 
New features include content-aware moving and patching, more sophisticated cropping options, a Blur Gallery, "skin tone-aware" selections, and even some pretty cool video editing tools, though they by no means mean that Photoshop is now a fully fledged video editing suite.
That's what Premiere is for! I don't have a lot of experience with Premiere Pro, and I find it very difficult to pick up, but it appears to be a very robust video production application.
The first thing I noticed is a newly designed interface that has everything centered around the editing process itself, with large Source and Program monitors at the top of the screen, and big thumbnails in the browser section. This stuff takes up a lot of room, so it might help you to have a larger, high resolution monitor. I used it on a 24 incher and it was okay, but I pined for more real estate. Of course, I always do…
On the other hand, you can customize the window to only include what you want at a particular time, too.
New features let you drag clips onto the timeline from any window and a "Warp Stabilizer" effect helps you smooth out any light jitters resulting from hand-held camera work. You can also double-click on an edit point and get a "trim view" in which you can change both sides of the edit simultaneously – and you can insert a default transition between your clips.
As with other of the Suite's products, I had real trouble with the interface and felt while trying it that I really, really needed to take a course. Perhaps if I'd been using previous versions I'd be more up to speed, but such is life. 
Illustrator is arguably the industry standard tool for vector drawing and illustration, though I'd be remiss if I didn't mention CorelDRAW in the same breath, especially since I actually like it better in many ways (chiefly its ease of use). But Illustrator's an incredibly versatile tool, with powerful features that help you create supposedly infinitely scalable vector graphics.
Illustrator shares Photoshop's new gray interface and doesn't appear to have as many updates as some of the other applications (sometimes I wonder how companies are going to top their previous releases anyway), but it's still a fine app. And now it's faster, with claimed improved performance, and native 64-bit support. There are also a few new creative tools such as a new "gradients on stroke" feature that adds gradients to lines, and a new pattern-creation tool sports a new tracing engine and can let you create and edit tiled vector patterns from the traced images.
Adobe InDesign's latest version really embraces the upcoming world of digital publishing and is a wonderfully flexible application. I cut my page layout teeth on QuarkXpress many years ago and, though I haven't tried Quark beyond Version 6, I never found it particularly exciting, nor particularly flexible. InDesign, though it also shares Adobe's learning curve, adds a lot of power and flexibility to the page design process.
New features include Alternate Layouts, Liquid Layout, and the Content Collector, which those who design for various platforms might like. There's also a new Linked content tool, support for building interactive Acrobat files, and a nice, flexible work environment.
I leapt into Audition with both feet, much to my chagrin. It's really the first time I've tried this audio editing app and, again, it isn't the most user friendly – but I was inspired to create something different for my 39th wedding anniversary and came up with the idea of re-writing the lyrics to Queen's "39" (one of the greatest rock sci-fi songs ever!)  to reflect our important date.
I imported the original Queen song from a digital file and used Audition to strip out the original main vocals. That worked well, creating a kind of karaoke version of the song, except that the software didn't strip out the backing vocals on the choruses, and that made the two different sets of lyrics kind of tough to fathom. Rewrite, here I come!
Audition lets you split the audio file into various sections, so what I ended up doing was lowering the overall volume during the choruses – leaving just enough that you can still get the instruments and can't really make out the lyrics – and then jack the volume back up to default for the instrumental parts and main verses. Then I recorded my new vocals (such as they were – Brian May I'm not!) in a different app, and imported the track into Audition, which was kind enough to hold its nose and accept it.
The result was encouraging enough that (once I've made a better vocal track than my on my test file) I'm going to give my wife the song for our anniversary instead of a custom-created card like I do usually. Hopefully, this won't lead to divorce.
This was my first kick at Audition, and I'm so impressed with what I could do with it right out of the box that I'm contemplating a whole new career as a cut rate Weird Al Yankovic or Alan Sherman. And I figured all this Audition stuff out with only minimal trips to the help files (which weren't particularly helpful anyway).
Obviously, Adobe Creative Suite CS6 is a heckuva product, offering power and flexibility for just about any creative task you can think of other than basic creative writing (I still use Word for that!). It's expensive, indeed – depending on which version you buy it can range from "ouch" to "yikes!" – but if you need such software the price is pretty easy to justify.
And if you don't need all its nuances every day, Adobe has introduced Creative Cloud. It's a service can give you access to everything Adobe for a monthly fee, letting you download and install the apps you need for short term access. Sounds like a winning idea to me, even for "trying before you buy."
Copyright 2012 Jim Bray
TechnoFile.com