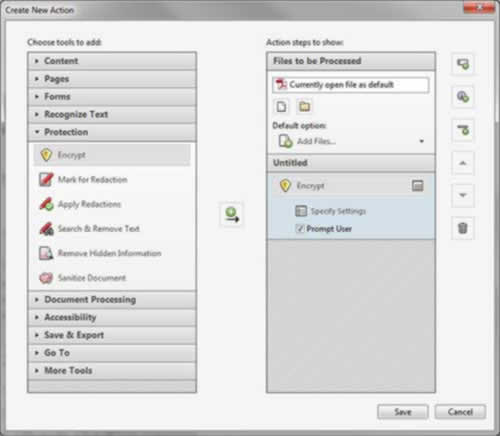 Adobe Acrobat embraces the Cloud
By Jim Bray
November 30, 2012
Ever notice how some product names also become nouns or verbs that describe the generic market of what the products represent? Kleenex, for example – few people say "could I have a facial tissue, please?" – or to "Google" something (instead of "search for").
Adobe has a couple of such products. To Photoshop has been taken to mean "to manipulate photographic images" while Acrobat (along with its PDF file format) is pretty well synonymous with portable digital documents.
And it might not be too far off base to say that Acrobat is in no small way responsible for the short life span of fax machines. Sure, you can still find such technology, but who wants to fax – with its potential of long distance phone charges, etc. – when you can send a PDF file via email? Security issues and the like notwithstanding – and there shouldn't be any more security issues concerning Acrobat files than there are with any other file that's transmitted digitally – the PDF "portable document format" revolution is upon us and it is good.
Everybody's been using various versions of Acrobat Reader for years, but before you can read a PDF file someone has to actually write PDF files. Hence Acrobat, and the newest version of Adobe Acrobat, version XI, offers even more capabilities than before.
Of course, Acrobat hasn't been meant exactly to create documents – other than Acrobat documents – but it's a marvelous way of getting documents you've created in other apps in front of other people. And with new capabilities such as easier editing of PDF files, as well as improved export to Microsoft PowerPoint and other apps, version XI should prove to be quite popular.
Adobe says the new version also features touch-friendly capabilities for tablets and the like, and operates with Windows 7 and 8 (Mac, too, of course). Acrobat XI also offers integration with the cloud services Adobe EchoSign and Adobe FormsCentral, which they say "help accelerate business processes and contract cycles for greater productivity, efficiency and better ROI."
Download  and installation are as straightforward as ever – which means it's very easy to get it up and running. The application loads quickly, too.
One of the best new features is its enhanced ability to edit PDF files "as easily as other documents" (Adobe says). This means you can modify paragraphs, images, and other objects by simply clicking on them and dragging them to where you want, using the new, intuitive Edit Text and Images tool. This is a nice upgrade. I destroyed a few professionally done PDF brochures that I had while I was messing around with the feature. What a feeling of power!
You could use it to let other people destroy your creation. Having people drag your stuff around and drop it in alternate locations could be a good feature, since it lets people give you feedback on design and/or content visually. This could be great if you're dealing with people who may be particularly inarticulate – and whose office doesn't have some of them? – as they can show you what they mean instead of trying in vain to tell you. As long as you've saved your original file, there's no problem.
This easy editing also means you can edit type and reflow paragraph text without disturbing the document's overall format. You can also find and replace text globally, quickly.
It's also possible to lock your PDF file so no one can mess with it. Adobe says that, with the new version, you can improve the protection of all your PDF files, including being able to create protected PDF files from Microsoft PowerPoint, Word, and Excel to avoid someone copying, editing, or printing them without your blessing.
And you can now transform PDF files into actual Microsoft PowerPoint, Word, and Excel documents. I tried this and it worked very well in both Word and PowerPoint, though my Excel attempt was nothing to write home about. That said, it was a product brochure that I had saved as an Excel file, and that's definitely not the right tool for the job. When I saved an "Acrobaticized" phone bill into the spreadsheet program, it worked great.
The new version also has simpler ways to create forms and analyze results, including via templates that come with the FormsCentral app/service. There's a reasonable selection of templates ranging from feedback forms to surveys, medical forms, quizzes and more.
Collaborative working means you undoubtedly have to distribute draft documents for someone else's blessing, which (besides the above cases of them offering suggestions) often includes them signing off on it. You can do that easily with Acrobat XI using the integrated EchoSign electronic signature service, which uses on online component to both store and disseminate your masterpiece. You can also do it on your own, if you don't like your stuff floating around in cyberspace.
And it seems it's getting easier with every version to merge multiple documents into one Acrobat file. It's absolute child's play here, with preview thumbnails of the files so you can arrange them the way you want them before the fateful click that'll merge them into a single file. You can drag and drop parts of files (for example, individual pages of documents) to merge without screwing up the source file, too. It's a very simple operation. I was impressed to find that the source files don't even have to be Acrobat files. I brought in Word, Excel, PowerPoint, Acrobat and image files and combined them into one Acrobat document and the program handled it beautifully.
System requirements for Adobe Acrobat XI are:
For Windows:
1.3GHz or faster processor;
Microsoft Windows XP with Service Pack 3 for 32 bit or Service Pack 2 for 64 bit;
Windows Server® 2003 R2 (32 bit and 64 bit); Windows Server 2008 or 2008 R2 (32 bit and 64 bit); Windows 7 (32 bit and 64 bit); Windows 8 (32 bit and 64 bit)
512MB of RAM (1GB recommended)
1.9GB of available hard-disk space
1024x768 screen resolution
DVD-ROM drive
Internet Explorer 7, 8, 9, or 10; Firefox Extended Support Release; Chrome
Macaholics need a Mac Intel processor
Mac OS X v10.6.4, v10.7.2, or v10.8
1GB of RAM
1.4GB of available hard-disk space
1024x768 screen resolution
DVD-ROM drive
Safari 5.1 for Mac OS X 10.6.4, Safari 5.1 for Mac OS X 10.7.2, Safari 5.2 for Mac OS X 10.8
Acrobat is a powerful and important application in today's digital world. With this new version, it keeps pushing the envelope – which in this particular case is helping to eliminate the need for paper envelopes, and stamps, and letter carriers…
Copyright 2012 Jim Bray
TechnoFile.com