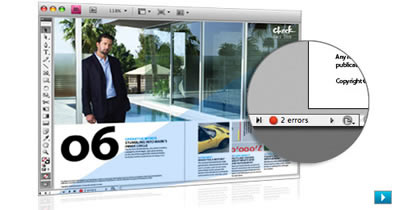 Adobe Creative Suite 4 – A Healthy Upgrade
By Jim Bray
August 7, 2009
Adobe's popular Creative Suite is back with more power and ease of use than ever.
Adobe is like the Kleenex of the software world, in that its name has become ubiquitous and even some of its products are now spoken like verbs. One doesn't manipulate photographs, for example, one "Photoshops" them – and Acrobat files are an industry standard.
The Creative Suite is available in numerous versions, including Design Premium, Web Premium, Production Premium and the "Master Collection" that has so much stuff in the box you may never learn it all. Each has a slightly different focus, with the Master Collection being the one ring that rules them all, or at least the one box that includes all the apps.
Adobe sent me the Design Premium, which is the upgraded version to the last Creative Suite I reviewed. It comes with InDesign, Photoshop, Illustrator, Flash Professional, Dreamweaver, Fireworks and Acrobat 9 Pro. You also get Adobe Bridge, Device Central and Version Cue to sweeten the deal and hopefully make all the other apps play together better.
Chief among the new things is a bunch of time-saving and ease of use features, better integration between the apps, and, according to Adobe's press blurbs, "the jawdropping innovations our design and developer customers expect".
That reminds me; I have to go pick up my jaw…
Besides a simplified workflow that makes it easier to complete common tasks and move content among applications, the suite also offers services to help facilitate collaboration online. ConnectNow, for example, allows collaboration with colleagues or clients in real time.
One of the things I noticed is that CS4 runs proudly on 64 bit Windows, so I installed it on a fresh Vista Ultimate 64 bit installation. It loaded and operated very quickly and, unlike some other apps which will remain nameless, it swam perfectly in the 64 bit environment, with no instabilities, crashes, or snits.
In this limited space I can only mention a few highlights of the suite, but more info on the whole shebang is available on Adobe's website.
The app I use the most is Dreamweaver, and they just keep making it better and easier to use. Either that, or they put stuff under my nose better than before, so I trip over things and think they're new. Whatever the case, CS4 is easily my favorite version of Dreamweaver, and I've been using it for more than 10 years.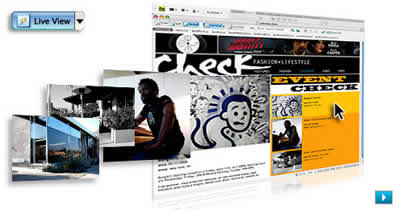 Sporting a new user interface that's easier and more flexible – and it was always pretty good –Dreamweaver looks and acts more like the rest of the apps now – more like Adobe than its Macromedia origins. It's faster, too, with a number of enhancements.
And "Live View" lets you look at your page as it will appear in a browser, right from inside Dreamweaver (Dreamweaver, by the way, is the app I'm using to get these scribblings onto the TechnoFile.com website).
A "Related Files" bar lets you keep a handle on the page you're working on as well as its various components, and you can bring up the code for each one at the click of your mouse, which makes finding particular sections of code easier. You can also use the Code Navigator to get at your CSS source code quickly and easily. It's pretty slick.
And you can now insert Photoshop files directly into you page, as Smart Objects, and if the original files change you can update them with one mouse click, which saves you having to resave and reinsert the images. Overall, it's just a nice web design and maintenance app.
The other app I use the most is Photoshop which, like the rest of the them, now has a handy drop down menu at the top right with which you can change your workspace depending on the task you want to accomplish. I usually leave it on "Essentials", since my use of the software is pretty basic, but you can also change the workspace to be optimized for "Painting", "Color and Tone", "Analysis", "Video" and more.
Not only that, but the new interface seems more intuitive than before, which is welcome and something Adobe has needed to work on. I cut my graphics teeth on the Corel products, which I've always found more user friendly, especially if – like me – you aren't a power user and therefore prefer the features to leap out and bite you rather than having to spend hours poring over a manual.
Other new wrinkles include the ability to paint directly on 3D models, wrap 2D images around 3D shapes, convert gradient maps to 3D objects, and add depth to layers and text.
A new Adjustments Panel puts the tools you need the most right at your mousetips to let you adjust and enhance image color and tone nondestructively, with plenty of presets to get you going.
And "Content-Aware Scaling" lets you recompose an image automatically as you resize it, cutting down on the time you spend cropping and retouching.
InDesign, Adobe's page layout application, is a great app. I cut my teeth on QuarkXpress for such tasks,  but it never played well with other applications. Now, to be fair, I haven't tried QuarkXpress since version 6, so it may be much improved by now, but as I learn InDesign more the memories of Quark fade.
InDesign is still basically an assembly program like Quark, but because it's integrated into the Creative Suite it's more than happy to cooperate with the other apps, and it does so beautifully.
New features include Live Preflight, which pores over your document, and points out potential production problems – in real time – so you can navigate to a particular problem quickly, fix it right there and then, and keep working. For a part time designer like me, having this virtual nanny looking over my shoulder is wonderful: it finds the dumb things I've done (or not done) and gives me a chance to correct them before I send the final layout to the printer and look like an amateur.
You can even use InDesign to create the type of interactive magazines that are becoming more popular as the old media dies, and you can export to Flash or HTML as well. I also like the new smart guides that let you align, space, rotate, and resize multiple objects in one swell foop. You can align horizontally, vertically, or to the center of page edges.
Illustrator is a true artist's tool, a vector graphics application for creating real works of art digitally, or even for more mundane stuff as designing logos, web pages and just about anything else you may have done once with paper and pens.
Besides the new look that includes tabbed windows, you can create multi-page designs with up to 100 artboards in them. Illustrator's smart guides are less obtrusive than before, which makes it easier to see your actual design in progress. Not only that, but "instant pop-ups" appear as you move your mouse over the illustration, giving you such stuff as alignment and measurement information, angles of rotation and the like. It's pretty cool.
Flash is an animation program that became famous years back for inflicting horrible "entry pages" to websites before its users matured – or the customers complained enough about them. But it's a lot more than that, too, and in fact is a pretty good way to create compelling animations and interactive experiences for many different purposes. You can, for example, export InDesign layouts to it and create interactive publications.
I rarely use Flash, and am pretty ham handed when I do, but it's a heckuva program. And version CS4 includes faster tweening, new motion editing tools and pre-built animations.
The suite also comes with Fireworks, an app designed specifically for creating graphics for the Internet. You can use Fireworks to do mundane stuff like put a drop shadow onto a picture, or you can design a complete web page layout, convert it to CSS-based HTML (for publishing online with the new CSS export feature) or you can convert a clickable prototype as a PDF file and send it around to the gang the boss is making you work with so you can get their idiotic comments.
And now you can partake of seven new Photoshop blend modes to enhance your text and symbols.
I've used Fireworks to create stuff like pop up menus for websites, animated buttons and the like, and it works well. In some ways it's better than using Illustrator or Photoshop because it's smaller and more web-centric and therefore easier to use if that's all you're interested in.
Finally, what would an Adobe Suite be without Acrobat, the portable document creation/reading application of choice? CS4 comes with Acrobat 9 Pro, the latest and greatest version, which lets you prepare press-ready PDF files for print production workflows more quickly and intuitively thanks to enhanced preflight and automatic correction features. I use it all the time for creating documents from a scanner such as signed contracts that need to be emailed to the person at the other end of the contract. It's always been easy to use, but as with the rest of the suite the new version is easier and more robust than ever.
The suite comes with a DVD of video tutorials you can use to help get up and running. It isn't as good as taking a course, but it's a pretty good kick start. It's also a pretty good illustration of the things you can do.
I'm only scratching the surface of this powerful set of applications, and not doing it justice at all. But if you're looking for a single solution to just about any creative design challenge you have, you can find it on the CS4 DVD's. There's a learning curve, indeed, but it's worth it.
And if I find the latest version faster, more robust and easier to use, you can imagine what someone who actually does this stuff for a living will be able to do!
Copyright 2009 Jim Bray
TechnoFile.com