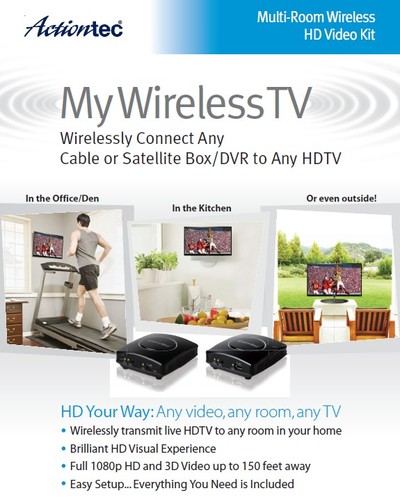 Actiontec brings wireless HD to homes
By Jim Bray
September 20, 2013
If your high definition TV's outnumber your satellite receivers, cable boxes or Blu-ray players - yet you want to get HD signals to all your TV's - you might be interested in an Actiontec product that's designed with just that situation in mind.
It's called the MyWirelessTV system, and it lets you watch HDTV in any room of the house (well, any room with an HDTV), without having to string wires all over the place. The idea is solid, the product works well (usually) and in my own home it has allowed me to remove wires I've used for decades, while upping the TV picture quality in our bedroom and family room without forcing me to add new satellite receivers.
Actiontec has been around for years, offering an interesting selection of products for a variety of solutions. One that I've used for years - and which works great - is their power line networking, which lets you hook up computers or other networked devices by using your home or office's electrical wiring rather than stringing a new network cable.  
I first learned about the MyWirelessTV product when I was asked to help judge the 2013 Best in Biz Awards, where it ended up scoring a bronze medal in the "Best New Product of the Year" category. The easy-to-use wireless HD video kit transmits HDTV throughout the home wirelessly (hence its name!), so you not only needn't worry about how and where to run your cables, you can also forget about having to deal with long and problematic HDMI cables.
The kit comes with everything you need: transmitter, receiver, remote control and even some IR blasters to transmit your remote control's signals, well, remotely.
Actiontec says the thing will even pass 3D! I haven't tried that, since the TV's in question are only 2D, but it definitely passes 1080i HD signals. And since it passes signals of up to 1080p, you could hook it up to your Blu-ray player and watch movies on a different display - a nice bit of flexibility.
Naturally, you can also hook it into a gaming console or DVD player (if they have an HDMI output). Heck, you could even drag an HDTV out onto your deck or into your garage (assuming the distances aren't beyond its range) and watch HD where no cable has gone before.
Actiontec says the thing will transmit up to 150 feet, though as with so many other things in life your "footage" may vary. It also depends on your environment - for example, how much other stuff is causing interference or what materials are used in the building that could affect signal transmission. But for most homes it should be just fine. Actiontec says it won't interfere with your home Wi-Fi network, either, and such has been the case in my installation.
Since I wanted to use the Actiontec to send HD from a satellite receiver in my laundry room to a pair of remote TV's (a 720p Sony LCD located in my bedroom and the family room's 1080p LG plasma) I needed a second receiver, and Actiontec was kind enough to indulge me.
Why would I keep a satellite receiver in the laundry room? That's where the cables come into the house, and where they're redistributed to the cable outlets in the other rooms. I'd been sending the receiver's output to a VHS VCR (via their analog audio/video I/O's) which fed the rest of the home's TV's on analog channel 3. It worked, sending all of the HD and SD channels to any room with a cable output.
The downside was that, since I was down converting to the analog universe, I only got SD signals regardless of the TV channel; HD channels had black bars on all four sides of the widescreen picture, only taking up about half the TV screen's real estate.
It was a waste of HD, but it worked in a pinch.
Since the Actiontec system hooks directly into the satellite receiver's HDMI output, it eliminates the need for the VCR (anyone want to buy a well-used dinosaur?) and for the cables running through the walls. It also let me dump the cable that snaked across the bedroom floor (a tripping hazard in the middle of the night!).  
And the picture quality is fine! I haven't actually measured the specifications of the output, but both TV's are getting a more than acceptable HD picture, and that's all I care about.
Hookup is very simple, though the manual (actually a pamphlet) could be better. Basically, all you do is hook the source device's HDMI output into the MYWirelessTV transmitter - and it has a pass through feature so you can keep the source hooked up to its existing display, if required. Do the same for the destination device(s), plug 'em in to AC power and fire it up. There's a pairing process involved as well, which is reminiscent of Bluetooth, but it's pretty straightforward.
There appears to be a bit of a handshake issue when you first turn on the TV, which causes a quick blackout, but that's typical of HDMI and not really an Actiontec thing. It is annoying, though, and you can blame the copy protection police for it.
That isn't to say there haven't been any Actiontec issues. First, there'd be no picture when I turned on the TV sometimes (often, actually), or the picture would be distorted with a kind of pixilated interference. It meant I had to reboot the system  often - a process that, while simple (just unplug and replug the power from each unit), got to be a bit much because it required me to run up and down the stairs repeatedly and I'm far too lazy for that.
There also seemed to be range issues, because the placement of the receivers and transmitter was extremely critical and that meant they couldn't be tucked away out of sight but had to be kept handy for the inevitable "re-aiming" or rebooting.
Fortunately, Actiontec's support was great. Their rep advised me to update the firmware (done by USB, for which a dongle is included) but the first receiver I tried upgrading froze and sat there impudently, flashing its lights at me, for days.
Actiontec sent a replacement unit that had the latest firmware already and for which they'd paired the units on my behalf, and that seemed to do the trick. From then on, the issues disappeared.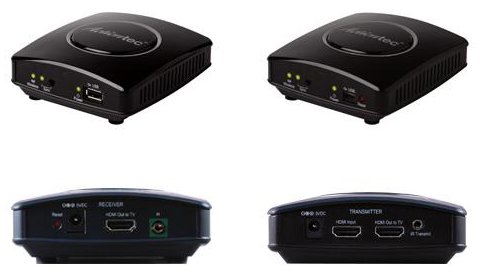 Then I went on vacation and when I got back, the frozen and pixilated image problem was back. So I rebooted the system again and all was well, for a day. Then I started getting sound but no picture, even after a reboot. It was bizarre, but even more bizarre was that the system seemed to heal itself the following day, for no apparent reason other than common decency.
That was about a week ago, and since then it has worked flawlessly, with no dropouts other than the handshaking one mentioned above (which, again, isn't Actiontec's fault). Let's hope it stays this way, because when the system works it's fantastic!
The IR extenders are a great idea as well (and a thoughtful addition), but my satellite remote uses RF transmission and so I haven't needed to exploit that particular feature. I've used such things in other applications in the past, however, and they generally work fine.
Actiontec's MyWirelessTV comes with everything you need to set up one transmitter and receiver, including the HDMI cables, though the one metre cables are a tad short for my liking. That's easily fixable, of course: buy longer cables.
MyWirelessTV sells for about $230. Extra units can be purchased separately, for about $130 each.
It's a great system and, based on my experience as well as those of some consumers whose reviews I read online, if there are any issues Actiontec's customer support will provide top notch help.
Copyright 2013 Jim Bray
TechnoFile.com