Acer aspires to ultimate flexibility with Aspire R7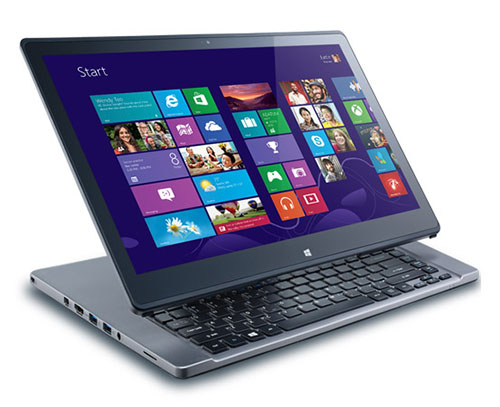 By Jim Bray
June 19, 2014
Computers and tablets are a dime a dozen, so if a company wants to separate itself from the pack, it needs to offer something unique. Especially if it wants nearly $1000 for it!
That's undoubtedly the rationale behind Acer's Aspire R7, a large but quite nifty Windows notebook PC that can also double as a tablet. Heck, the thing has a footprint large enough that it could triple as a table - or a surfboard - but that's made necessary by its huge (for a tablet) 15.6 inch touch screen.
(click here or on the image to open a slideshow in a new tab or window)
Acer calls the R7 a four way design and says it's meant specifically to create "the best touch and type experience," via a unique design that puts the keyboard on the leading edge of the main unit, with the trackpad moved back out of the way behind the keyboard. Trackpads usually sit where the base of my hand falls, which is a real pain in the buttocks, so this is a nice feature.
If you like using a trackpad you may not like this, but I hate trackpads, so this reversal suited me fine - and the touch screen LCD can replace the trackpad anyway. I still prefer using a mouse, but that's easy enough to accomplish if you're a curmudgeon like me: just plug one in!
Reversing the positions of the keyboard and trackpad means the keyboard is closer to, well, hand, and if you're planning to do a lot of typing that makes it a lot more comfortable and easier to use.
The other thing that makes the R7 unique is its "Ezel Hinge," which lets you flip, reverse, lay flat or "float" the beautiful big screen above the CPU/keyboard unit. When I wasn't using the R7 as a tablet, I'd position the screen over where the trackpad sits, where it could sit at a nice reading angle as well as being close enough that I could use the touch screen conveniently if I so choose. The big LCD works well as a touch screen, too, though I still liked using the old fashioned rodent best - except when I was using the R7 as a tablet.
The "Ezel Hinge" seems quite solid and once you place the screen where you want it, it tends to stay there, which is always nice. Acer says the system is designed so you can use the R7 comfortably, whether you're seated, standing, at a desk or have it perched on your lap. Another neat thing about the Ezel Hinge is that you can flip the screen around as if you're going to put it flat and use it as a tablet - except that you leave it up at an angle, in which case it's facing backwards, which could be ideal for watching movies or, if you're into PowerPoints and the like, making presentations to a client.
The Acer makes a pretty good tablet, though as mentioned it's huge, and if you need to type on it that way it features the usual virtual keyboard. And thanks to the R7's big footprint, the keyboard is comparatively large and that makes it easier to use if your fingers are the least bit stubby. The screen doesn't fold completely flat over the keyboard part, but it's close enough for most uses.
Acer also made sure the keyboard (which is backlit) has a good feel which, since I do a lot of typing, I appreciated. Many keyboards feel as if your fingers are pushing down pudding, while others seem to go out of their way to confuse you with their layout. Acer has done a nice job in both areas with the R7. There's also support for an optional active stylus pen and a set of apps called Acer Touch Tools are designed to make using the touch screen easier and more productive.  
The R7 (Acer's sample was the R7-572-6637; there are others in the series) feels virtually bulletproof (not that I tried unloading a few rounds into it!). Its brushed aluminum case is attractive, and its bottom panel features a soft touch finish that facilitates grabbing it, picking it up and carrying it. You might want to use two hands, though unless you pump iron.
In regular notebook mode, where you position the display back behind the keyboard as it would be normally, the R7 makes a large and powerful, full featured Windows 8 computer with a 15.6 inch full HD (1920x1080) display that looks great, with rich and vibrant color and a good viewing angle.
The unit features an Intel Core i5-4200U processor, eight gigabytes of RAM (upgradeable to 16), a 750 gig hard drive (which is pretty generous, though not big enough for my tastes in these days of large media files - though you can add external drives easily). So it's a pretty competitive PC in its own right.
Naturally, you also get stuff like a volume control button, HDMI port (you can connect the R7 directly to a TV for really big screen viewing), SD card reader, audio jacks, three USB ports and a "converter port" that supports VGA, RJ45 and USB. Alas, the video output ran off the edges of the TV screen when I hooked it into a 1080p plasma via HDMI and it didn't transmit the audio to the TV/audio system so I had to listen to "Titanic" on the Acer's speakers instead of the big 5.1 system. Apparently there's a software update that'll correct this and if you want to play video through a home theater I would recommend you do that.
For connectivity you get built in WiFi and Bluetooth.
In what Acer calls "Pad mode," which is where you use it as a tablet, you get all the advantages of a (Windows) tablet, but without losing any of the PC functionality. That's something my iPad Air won't do - though of course it has other advantages. And you don't have to have the screen laid flat over the keyboard to use it this way; you can angle it to whatever position is comfortable for you, which is a nice bit of flexibility. To do something like that with my iPad Air requires either some gymnastics or an aftermarket case.
Good video is only part of the media equation, of course, and Acer has taken care of the audio side pretty well with the R7. It features a premium Dolby Home Theater v4 sound system with four speakers producing a whopping eight watts of sound. And get this: the audio channels reverse automatically when you flip the screen around, so left is left and right is right regardless.
Okay, eight watts of power is pretty minimal, but it's okay if you plan to use the R7's internal speakers.  
The R7 also includes what Acer calls Purified.Voice, which uses a dual-array mic coupled with voice recognition and audio processing software to make sure tasks such as webcam or video chats, conference or VoIP calls and your voice commands are understood. Acer says it even eliminates background noise (including your keystrokes), so your voice is transmitted clearly even if you're typing.
The twin microphones are mounted on front of the notebook, just under the spacebar, which puts them closer to the user and thus helping to ensure the best voice sound quality. 
Acer has also built in a bunch of stuff for capturing screen shots and sharing them with your apps or via Facebook and other banes of modern civilization, and the computer is certified for Microsoft's Lync enterprise communication platform. Its high definition webcam makes you look as pretty as humanly possible without CGI enhancement or cosmetic surgery. No, really!
And if you're into things Cloud-related, the R7 comes with "AcerCloud," which gives remote access to your digital data via your tablet or smartphone.  
One thing you don't get is an optical drive, which unfortunately is becoming a popular omission these days. It may not be a big deal if you only want to download new software, but if you have a bunch of applications on DVD or CD-ROM, you'll need to plug in an external drive, which isn't very difficult as long as you have one.
Acer says the R7's battery should last "up to" 6.5 hours, which is okay. I ran it down more quickly than that when I specifically tried to, so if you're on a trip and spending time in an airport and on a plane, you might want keep the AC adapter handy. This doesn't only apply to this Acer, of course.
Perhaps the other potential question is whether or not the Ezel Hinge will stay as tight over the long term as it is right out of the box. I can't answer that, though it does seem to be built well and after a couple of months using it things are going well - so it may not become an issue. 
I mentioned earlier that, at 5.3 pounds, the R7 is anything but a lightweight - but if you can get around that, and its dimensions of 14.83 (w) x 10.02 (d) x .81/1.12 (h), you'll be treated to a good computer that'll be at home in just about any environment or job.  
I had the same issues with Windows 8.1 that I have had with other PC's, but that's not Acer's fault - you can put the blame squarely on the shoulders of Bill Gates, unless you, like some, prefer to blame George W. Bush for all the ills in today's world.
I also had issues, as in hate issues, with all the crap that tries to get you to sign up for services and stuff when you fire up the system. Fortunately, you can dismiss them at will - and this isn't unique to Acer anyway.
 But as far as being a modern Windows PC is concerned, Acer's Aspire R7 does a terrific job and is the most flexible computer/tablet I've ever used. It's fast, it doesn't get hot, and it performs very well.
And isn't that what it's all about?
Copyright 2014 Jim Bray
TechnoFile.com