Acer Brings its Android-Powered Quad-Core Smartphones to Canada
By Jim Bray
November 26, 2015
Acer is known more for making computers and tablets than it is for smart phones, but if the phone I've been using the for past couple of months is any indication, the company's reputation will be broadened soon to include such phones.
And why not? A smart phone is basically a small tablet with cell phone capability added to it, so any computer company that so desires should be able to introduce smart phones without breaking a sweat. Even famous computer companies like Apple and Microsoft could do it. Oh, wait…
One thing that separates Acer from some of the competitors - cough, Apple, cough - is that their phones are unlocked to begin with, so you should be able to change providers with minimal hassle.  When I took delivery of the Acer the changeover from my usual phone could only have been easier had my old SIM card had been compatible with the new Acer. I can't blame Acer for that, though; it's just the onward march of technology. Fortunately, my provider waived the five buck charge to replace my SIM card, which made me think I was about to get struck by lightning.
The phone Acer sent me was the Liquid Jade Z, (their other new Liquid phone - which is kind of a misnomer because they aren't liquid at all! - is the Liquid Z410) which Acer says is one of the lightest five inch LTE smart phones you can get, and I do like its lack of heft. Yet it feels solid and appears to be built well, which comes in handy if you drop it onto the floor. I do that more often than I'd like to admit - with my old smart phones the backs would separate from the bodies and the batteries would usually fall out, too, forcing me to reassemble the phones and fire them up again. That never happened with the Acer despite its bounces off the asphalt.
On the other hand, since the back panel of the Liquid Jade Z doesn't come off you need a different way to get the SIM and SD cards into the phone and this was the part I had the most trouble with. The Acer uses a little drawer on the side of the phone in which to nestle the cards and, being all thumbs, it took me several tries to get both cards into the drawer and the drawer withdrawn into the phone again without one or both of the cards popping out and plummeting to the floor. It was quite frustrating. But I got it done and had no issues after that.
The Acer's front panel is pretty straightforward, as are most. There's about an acre of glass (it's a five inch "Gorilla Glass" screen), with the company logo below it and a chrome-appearing speaker and "selfie cam" above. That horrid little drawer for the nano-SIM and Micro-SD cards is on the left side, the USB charging port is on the bottom and the top holds the power button and headphone jack. The volume control is on the right and I have to admit I kept hitting it when I didn't want to. This isn't the only phone with which I can complain about that, however. Maybe it's me.
The 13 megapixel camera is mounted on the back panel, of course, but rather than being flush it sticks out a tad. I figured this would be an accident waiting to happen, but have had no issues with it. You can also use it to shoot 720p video and though the file sizes are huge, it works fine.

The phone part uses LTE (Cat.4) and its brain is a Mediatek 64-bit quad-core processor. The operating system is Android 4.4 and the base model comes with two gig of RAM and 16 gig of ROM. I stuck a 64 gig SD card into it to hold my tunes and stuff.
I loved the audio quality of the phone, so much so that I asked to keep it when my review period was finished. Not the phone audio quality, which I found fine but not remarkable, but the quality of the tunes' audio that I'd stream from the phone, which is what I use such devices for most. It's called DTS Studio Sound, which they say can handle high resolution audio signals such as 24 bit, 192 KHz. It played my FLAC files, too, which saved me a lot of conversion.
I have several Bluetooth-equipped audio systems on which I auditioned the phone, including a couple of fine Bose and Rotel units as well as several review cars I drove during my review period. I didn't think the Bluetooth-transmitted sound was quite up to the level of the same tunes played via discs or USB, but Bluetooth isn't considered by many to be an audiophile medium anyway, so taking that into consideration I was quite pleased with the Acer/DTS performance.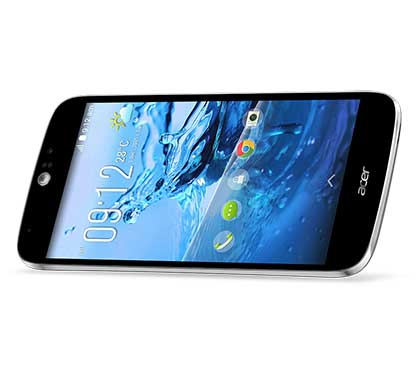 The battery is said to provide up to five hours of talk time (or 400 hours in standby) and while I'm not convinced the battery life is as good as some phones I've used, I've never come close to running out of juice, either. There's also a dual SIM option that supports two different phone numbers for those folk who have separate work and personal phones but who want them both to be handy in one device. I don't have such diversity of uses and so didn't try that feature, but have no reason to think it doesn't work as advertised.
The rear camera can be voice-activated, has an F1.8 aperture and I got some very nice shots under a variety of conditions, from darkened rooms to wide open spaces. The exposure and focus can be adjusted via your finger, independently, and it works well. The front camera is boasts five megapixel performance with an F2.2 aperture. I refuse to do selfies, but broke down in this case and submitted to the procedure and noted that the Acer worked as advertised. That's a shame.
AcerEXTEND lets you control the Liquid Jade Z wirelessly or via a cable, using your Windows PC and you get an abundance of other apps - mostly typical Android stuff, though there's also a suite of Acer apps. I have a separate tablet that I prefer to use thanks to its larger screen size and so I didn't spend a lot of time with the apps, but the ones I tried worked as they should - right down to trying to get me to buy stuff. There's a System Doctor that will optimize the system and clear out junk, as well as a selection of widgets you can use to customize your experience (such as analogue clocks, weather forecasts, calendar, contacts and the like). There are also free game offers, a file manager, an office app, and other stuff like that.
I'm not sure the Acer Liquid Jade Z is going to change the face of mobile communications, but it's a good phone that performs well. The audio quality for your stored or steaming music is first rate, and it's small and light and built very solidly. It's also sized well, at least for me. The five inch screen is decent for surfing the web, checking email and the like (I don't think I'd want to write my next novel on it, though) and the phone's thinness and lightness makes it easy to carry around.
The Acer Liquid Jade Z phone starts at $250 Canadian.
In all, a nice effort on the part of the folks at Acer.
Copyright 2015 Jim Bray
TechnoFile.com