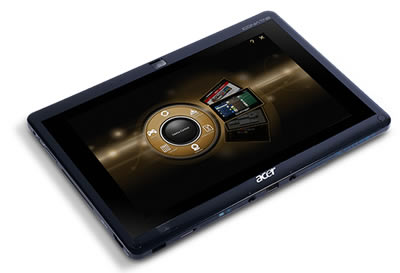 Acer Iconia Tab – iPad Competitor with a Familiar Face
By Jim Bray
July 1, 2011
More and more companies are getting into the tablet market, trying to snag some of the profits Apple is snaring with its iPad. Most of these are fairly straightforward tablets, flat panels with big touch screens that use either Apple's iOS or Android.
I've been playing with an Acer Iconia Tab that's a different kettle of fish to such pads, however. Acer's Iconia W500-BZ607 is more like a two piece netbook PC than a tablet. It also eschews Apple and Android operating systems, instead offering consumers the familiar Windows 7 system, so there isn't much of a learning curve if you're a Windows user already. Not only that, but the thing should run all your favorite Windows apps as well, so you shouldn't have file compatibility problems, either.
I must admit, as an iPad owner, it feels kind of strange using Windows via a touch screen, but it works okay – and in some ways it certainly beats dragging a mouse around with you (though you can still do that with the Acer if you like, thanks to its USB slots).
And get this: the Acer also comes with its own detachable keyboard, which could be really handy if you plan to do a lot of typing. It adds bulk and weight to the package, of course, but you don't have to take it with you all the time; there's also an on-screen keyboard you can use.
The keyboard module also functions as a kind of docking station, so you can perch the tablet onto it and it locks into place securely. This is a good thing, because otherwise it would be more than a tad awkward hauling around two separate pieces of equipment especially if, like me, you're an absolute klutz.  
Acer's PR people say the Iconia Tab is aimed at folks who want the flexibility and mobility of a tablet with the efficiency, familiarity and performance of a full-fledged notebook PC. And that's a pretty fair description.
The downside is bulk; the Acer is larger and heavier than an iPad or tabs such as Samsung's Galaxy – but as someone who owns both a netbook computer and an iPad, I can see why someone would think it's a good idea to replace the two units with one.
The Iconia comes with just about anything you could need, short of an optical disk drive for loading your software. That omission, to me, is a big one; fortunately, I have an external DVD drive I could use to install some of my most-used apps, such as Microsoft Office and CorelDraw.
That's one thing I miss about my iPad: my favorite software. Sure, you can download apps that give you word processing and the like but, call me a computer curmudgeon if you like, I like using my old standbys. I also miss not being able to download digital photos and voice files from my camera and voice recorder, thanks to my first generation iPad not having USB ports.
The Acer has two USB ports on the keyboard module, so I could hook in my favorite mouse and my external drive at the same time. Naturally, you can also pass files across from your digital camera, voice recorder, MP3 player or whatever. There's also an HDMI output port on the tablet unit itself, a very nice touch if you're thinking of playing movies or making presentations to an external device such as a TV.
If you plan to download files into the Iconia via USB, you'll have to bring the keyboard section along with you, since that's where they reside, but it's no big deal and, in fact, adding the keyboard to the mix gives the screen protection when you move it from place to place.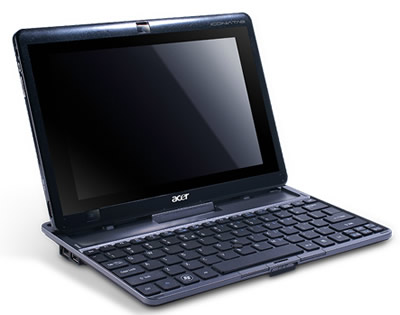 I copied my Portable Firefox over to the Iconia via my wireless network (I prefer Firefox to IE, the latter of which is preinstalled on the Acer), and the process went well. The keyboard also has an Ethernet port built in for wired connections, and, of course, there's Bluetooth capability as well.
The tablet module isn't as sleek and cool-looking as the iPad, but that certainly isn't a big deal. It's light enough to haul around on its own without difficulty, and bundled with its keyboard/base it's about the same size as my Asus netbook, though the Acer's 10.1 inch screen is a bit smaller than my netbook's – but not enough to be a real bother.
It's actually a marvelous bit of flexibility, though, kind of "the best of both worlds," between a tab and a notebook; I'm surprised more manufacturers haven't followed this path.
I never really got comfortable using the Windows environment by touch, and didn't really like using my productivity apps that way. And the onscreen keyboard is more than a tad clunky, but for surfing the web and checking email while you're out and about both the touch interface and the keyboard work fine – though I found myself opening and closing the onscreen keyboard because it would hide what was behind it. That's no different from my iPad's onscreen keyboard, though.
The more I used the Acer with the keyboard connected, the more I tended to use a mouse as well – for example, when I needed to write a column or design a presentation. I'm just a lot faster and more comfortable with the mouse/keyboard combination and taking them along with me was no big deal even though the combo is larger than the iPad.
The keyboard docks the tab at a nice angle for viewing, and while it won't go down in history as one of my favorites (the keys are too far apart for my taste) it works just fine and I had no trouble getting my work done while using it.
 Acer says the screen uses "tough Corning Gorilla" glass for durability and easy cleaning. My sample had some scratches on it, but I liked its screen quality; it's nice and bright, with a resolution of 1280x800 pixels, the same as my netbook. The graphics are powered by ATI Radeon HD technology.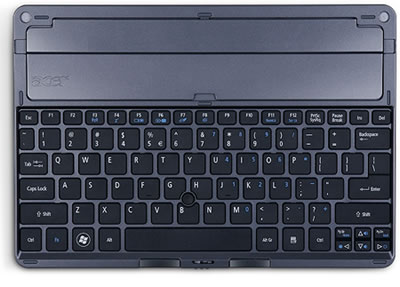 The iconia's innards are populated by an AMD dual core processor, 2 gigabytes of RAM and a 32 Gigabyte solid state disk drive. That, except perhaps for the smallish disk drive (which, to be fair, is still twice what my iPad stores, though it seems small for a "netbook-compatible"), is pretty mainstream portable computer stuff.
The tablet module also contains front and rear-facing cameras, and there's a microphone built in as well, so it'll work well with such communications apps as Skype – or just to leave yourself voice notes.
Acer says you can also use the tablet as a "dumb terminal" for displaying and entering data, which could prove handy if you're working remotely. They also say the battery will deliver up to four hours of unplugged HD video playback and six hours of Internet browsing. This might prove a bit short if you're on a long trip, but it didn't give me any problems while I used it. Besides, I've learned over the years to never leave home without a power supply if I'm planning to do a lot of work or will be away for an extended period.
Docking the tab to the keyboard, closing it, is done easily, via magnetic links and a lock. The tab unit weighs only 2.14 pounds; the keyboard adds another 1.3.
At a suggested price of $619, the Acer W500 is priced reasonably for what you're getting. As mentioned, it isn't as slim and elegant as an iPad, but it's definitely more flexible.
Copyright 2011, Jim Bray
TechnoFile.com