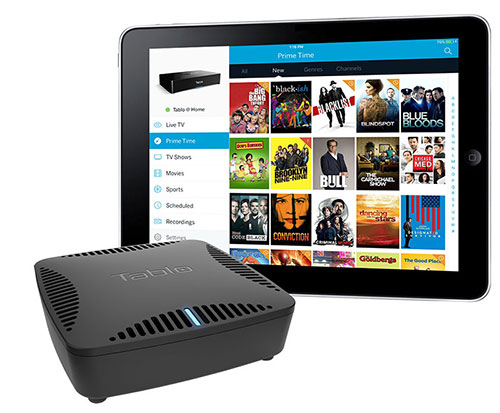 Tablo makes a DVR for cord cutters - while Kensington offers dual USB in its power adapter for travellers
By Jim Bray
August 17, 2017
Dumping cable and/or satellite appears to be quite the trend these days but what happens, once you've gotten rid of the service, if you want to record your favourite programs for watching later? Equally important: how are you going to watch the shows in the first place?
Well, that's the idea behind Nuvyyo's Tablo DUAL, which the company claims is the first network-connected over-the-air (OTA) DVR to also include 40 hours' worth of onboard high definition recording storage. In other words, it has a hard drive built in by which you can record your favourite TV broadcasts that spew into the air from your local TV stations.
Naturally, you need an antenna if you're going to do that, but these are cheap and easy to find in just about any urban area.
Tablo DUAL's internal storage totals 64 gigabytes, which translates into approximately 40 hours of HD recording storage. It hooks right into your antenna, wherever it is in the house, and uses a web browser-like interface to stream the signals to your home's TV's. If 40 hours isn't enough for you, you can add an external USB hard drive (up to eight terabytes), which in my experience with a satellite receiver works just fine.
"We are making it easier than ever for unhappy cable and satellite customers to make the switch from expensive cable to free antenna TV," said Grant Hall, CEO of Nuvyyo. "By incorporating Wi-Fi network connectivity and onboard storage, the Tablo DUAL is the best and most flexible choice for cord cutters seeking a whole-home DVR solution to record and stream today's most-watched TV programs."
One nice feature about the Tablo DUAL that I can't get with my external hard drive-configured satellite receiver is the ability to watch one program while recording another. The Tablo Dual, however, can stream or record up to two off the air TV channels at once (because it has two tuners built in) - so in the unlikely event that there are two worthwhile programs on at the same time, you're covered. You can also watch different programs on different devices.
The Tablo DUAL uses either Ethernet or dual-band Wi-Fi to connect your antenna to your home network. This is how you can park the Tablo in one room and have it stream to a TV or device elsewhere.
It doesn't connect directly to your TV, however - it has no HDMI output - so you'll need a browser or app for it to work. This shouldn't be a big deal, especially if you already own a Roku, Apple TV, Amazon Fire, or even some Smart TV's that run the Android operating system (including some from LG). It also supports Google Chromecast via the Chrome browser.
Here's a list of compatible devices, according to the company:
iOS/Android smartphones and tablets
PC/MAC computers
Streaming media devices including Roku, Amazon Fire TV, Android TV, Apple TV, and Chromecast
Gaming systems including Xbox and Nvidia Shield
Smart TVs including Roku, Android, and LG WebOS 2.0 & 3.0  
Thanks to the Tablo not needing to be near your TV, you can put it pretty well anywhere in your home (near your antenna, of course), including the attic, basement, wherever. Well, you might not get the best over the air performance from the basement! The only limitations appear to be your Wi-Fi network's signal strength and, of course, access to AC power.
Setup, accomplished via a browser or via a smart phone/tablet app, is easy. It automatically finds the device in question and walks you through the process. You can even view programs right in the browser window, so you can take your live TV streaming to the loo with you - which could be nice if you're catching a live sports event or just can't bear to miss a minute of president Donald Trump's latest live beat down of the corrupt, left-wing media.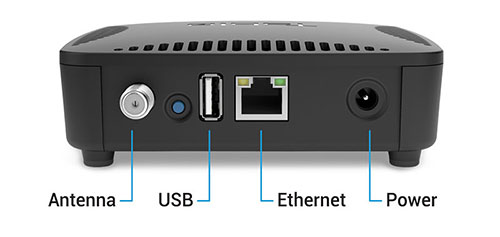 Tablo wants you to sign up for a monthly subscription ($4.99 USD/mo.) and that gets you a dashboard-like programming guide that lets you know what shows can be found/streamed/recorded on your channels any time in the next two weeks (it's similar to what you get on cable and satellite boxes). It also features different "category views," including Movies, Sports, Prime Time. You can partake of Cover Art and you can also set the DVR to "Record by Series," which means you can set it once and it'll capture every episode of a series for you. It's even easier than downloading an entire TV series illegally from a Torrent site! Or so I've heard.
If you eschew the Tablo subscription, you can still watch live TV and set recordings manually, by date/time/channel, but the one-touch and series recordings, Cover Art, and other advanced features are only available with a subscription. There's the carrot.
You also need a subscription for "out of home streaming," the feature that lets you watch on your smart device on a bus, in a hotel, or wherever.
It's a pretty cool device and it works as advertised. It's reasonably cheap, too, considering what you get: in the U.S. it carries a MSRP of $249.99 USD for the box itself (available exclusively at select Best Buy retail stores or their website, and in Canada it's available directly from Tablo (www.TabloTV.com) at an MSRP of $329.99 CAD.
Okay, that isn't that cheap, but if you want Bell TV's satellite receiver PVR it'll cost you $499 plus whatever monthly plan you have, so I guess everything is relative.
You can also sign up for a 30 day trial of Tablo's optional subscription, after which it'll set you back the $4.99/month USD or $5.99/month CAD. Once you're hooked on the service, assuming you are, you can make the subscription even more affordable: annual subscriptions are $49.99 USD/$59.99 CAD or, if you're feeling lucky, you can get a lifetime subscription (yours, or the service's?) for $149.99 USD/$179.99 CAD.
The product and the service are easy to use and really do offer cord cutters DVR capability from their local channels. Forty gigs for the hard drive isn't a lot, but if you're watching your time shifted stuff soon after it's recorded it shouldn't be a big deal and of course you can add that external drive if you want more storage.
And don't forget, while your TV channels will continue washing over your home if your network crashes, the Tablo won't be able to stream them to your devices until the network goes back up again. If you have a stable home network, however, this shouldn't be a major problem.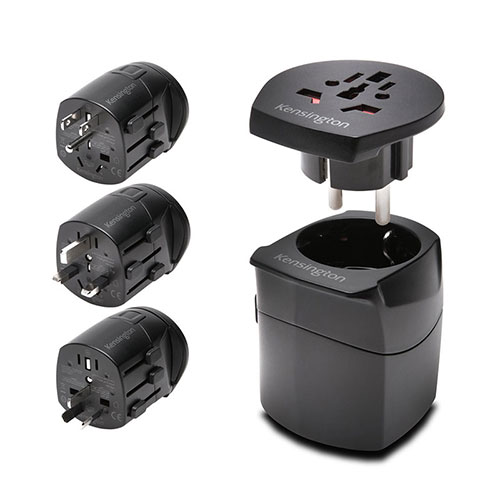 Power on the move…
Kensington's International Travel Adapter with Dual USB is aimed at the international traveller who spends time in hotel rooms or other venues around the world whose electrical systems and outlets aren't like those we use here in North America.
Well, that's not entirely true. The $40 USD device also works in North America. In fact, Kensington, on the unit's box, claims it'll work in 200 countries.
According to the manufacturer, the plug is compatible with both grounded and ungrounded sockets and its high power output supplies up to 1575 watts to your stuff, whether laptop, smartphone, razor, whatever.
This is a great idea. I have an issue remembering to bring AC/USB adapters with me when I pack (well, when my dear wife packs for me…) and so I'm usually left scrambling. I also like the Kensington's compact size - well, relatively compact size (it's still about two inches wide, tall and deep, though that isn't bad in the grand scheme of things).  
It's an easy product to use, too. All you really have to do is slide out the appropriate plug (they're included on the "plug panel" side), plug your source device into the rear panel and Bob's your uncle.
There's also an internal fuse designed to protect your devices from power surges. Add to that a two year warranty and you have a nifty product that, while undoubtedly a tad limited in its audience of international travellers, can be a handy way to ensure that, wherever you are, you can raise your fist and get "power to the people."
And power your USB devices, too.
Copyright 2017 Jim Bray
TechnoFile.com