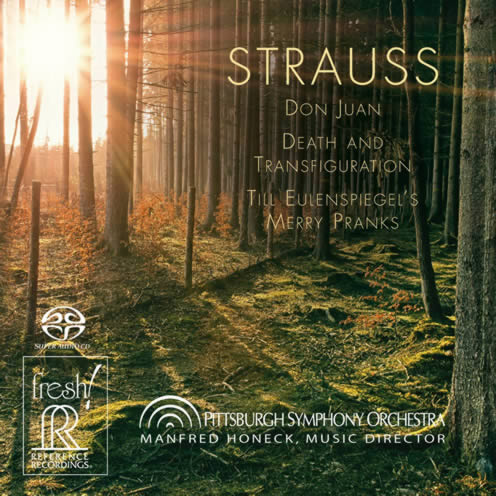 Strauss comes alive with new Reference Recording; Canon Pixma prints wirelessly, but not inklessly
By Jim Bray
January 9, 2014
A new SACD from Reference Recordings brings the Pittsburgh Symphony Orchestra to life in your home via a fantastic recording of a trio works from composer Richard Strauss.
I must give full disclosure off the top. Richard Strauss isn't my favorite composer; I remember him mostly from his iconic "Also Sprach Zarathustra," the opening 90 seconds or so of which were made famous by Stanley Kubrick in his 1968 masterpiece "2001: a space odyssey." I wanted to hear this album because I know Reference Recordings' quality and figured this would be an excellent treat for the ears.
I was right. This recording includes excellent selections and, if you have an SACD-compliant audio system that can do it justice, when you fire up this disc you might just think you're in the "historic Heinz Hall for the Performing Arts," where Reference Recordings says it was captured.
This Strauss disc is actually the first in a series of new releases from Reference Recordings via a new partnership with the Pittsburgh Symphony. And if they all sound this good, they should make fantastic additions to the audiophile's library. Reference Recordings says they're going to release two of these multi-channel hybrid SACD recordings per year, several of which are said to have been recorded already. The next title will be Bruckner's Fourth Symphony, whose release is scheduled for this spring.  
The Pittsburgh symphony, whose performance is captured here, has been cranking out tunes for over a century, since 2008 under the baton of conductor and Music Director Mandred Honeck. This particular release, as supposedly will the rest of the series, was recorded and mastered by the team at Soundmirror, which Reference Recordings says has garnered over 70 Grammy nominations for its orchestral, solo, opera, and chamber recordings. It shows.
The mission of FRESH!, the Reference Recording "sub-label" under which this Strauss disc has been released, is "to encourage artists and give them a strong platform for promotion and sales nationally and internationally," according to Executive Director Marcia Martin, who went on to say that "FRESH! Allows RR to bring our customers even more of the very best in sound and performances. We also are pleased to feature exceptional producing/ engineering teams from outside our company on FRESH!"
It certainly sounds fresh! Slide this disc into your player (I used Oppo's fantastic BDP-105 universal player for the listening tests), crank it up to a realistic level and you shall be amazed and delighted. I cranked my Rotel-based system to the volume I use normally in my home theater (which my wife thinks is too loud but which my friends seem to think is just right) and was treated to jaw-dropping fidelity and an incredible dynamic experience.  
Of the three cuts featured here (Don Juan op. 20, Death and Transfiguration op. 24 and Till Eulenspiegel's Merry Pranks op. 28), I liked the first the best, but all of them are well worth your time. It has been a while since I experienced this close to the feeling of actually being there.  
The last Reference Recordings album I reviewed  was the "Horns for the Holidays" HDCD (an upgraded type of CD, but definitely not an SACD) and though I loved the music and the recording, it didn't approach the mind-blowing audio of this Strauss SACD. It's the nature of the beast. CD's can be great but, all things being equal, SACD's (and DVD-Audio discs) are appreciably better.
The Strauss SACD features both two channel stereo and 5.1 surround; either sounds great, though I prefer the 5.1 because it makes me feel more like I'm in the same room as the orchestra. It isn't a huge difference but, to paraphrase Yosemite Sam, "I paid my four bits for the 5.1 system and I'm going to use the 5.1 system!"
The SACD will also play as a conventional CD on a conventional CD player. But what a waste!
I cannot recommend this disc highly enough. And while I'd rather Reference Recordings gave this treatment to a Johann Strauss Jr. collection (are you reading this, RR?), audiophiles searching for as concert-like an experience as you can get in their listening rooms really should check this Strauss out, whether you're a fan of Richard's "Tone Poems" or not. It's spectacular.
I can't wait to hear the next in the series!
And even though the Christmas holiday season has just passed, I'd like to recommend again their recording "Horns for the Holidays." Though its music is seasonal, the recording quality is first rate - so buy it and keep it around for this year's holidays.
Alas, the disc was only released as an HDCD, and as good as it sounds, I'd really love to hear it on SACD because I would bet the recording is in the same league as this fine Strauss disc. Heck, for me, it has already taken Christmas music from ubiquitous background noise to something worth sitting down and listening to. And that's not something that happens every day!
Please, please, re-release this fine recording as an SACD or Blu-ray audio disc!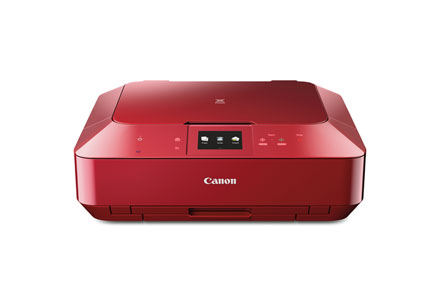 Prints perfection?
Canon's new PIXMA MG7120 printer, meanwhile, is a nice little unit that not only performs well, it even looks like a million dollars. Not that how it looks is the most important thing to consider with a printer, but if it's there and works, what's the harm? Heck, I'd rather have an attractive car than a dogmobile, too.
The sleek All-in-One printer Canon sent was a beautiful deep red color (three other hues are available) that, combined with the printer's small and high tech-looking footprint, made it look a bit like a tiny Star Trek photon torpedo casing. But what turned my crank the most about it was that it lets you print from anywhere at any time, thanks to an easy Wi-Fi hookup that doesn't even require a wired connection to set it up initially (like my regular wireless printer does). Well, its print quality is pretty good, too.
It's fast and pretty easy to use and its small footprint helps it fit into tight spaces. And thanks to its built-in wireless, which has an easy setup routine you access from its LCD touch screen control panel, you can print and/or scan from any Wi-Fi enabled computer. It printed wirelessly from my wired network computer as well and, though I didn't try it, Canon says you can also use the PIXMA Printing Solutions (PPS) app to print directly from your mobile device.
You can also use a wired connection to your network or just straight to the source device via USB and there's broad support for memory cards and the like as well.
Canon says the printer also features an auto duplexing feature (it prints both sides of the page automatically) that could cut your paper consumption and cost (a painless type of paper cut!) by up to half. I forgot to try this feature before Canon made me send the unit back, but I have no reason to think it doesn't work. 
The print and scanning quality is very good; I missed a document feeder, but that would have destroyed the unit's sleek look and, to be  honest, while it's nice to have a document feeder it's a rare time that I actually need one. Ditto for fax capability: there's none built in, but the last time I needed to fax something was before email became ubiquitous, so this may not be a big deal to you, either.
Pictures printed clearly and they were nice and sharp (GIGO - "garbabe in, garbage out" - notwithstanding) and while the printer isn't the quietest one I've used it isn't that bad - and if the noise bothers you its flexibility in placement means you can stick it out of earshot if you like.  

One thing I didn't care for was that this is an inkjet printer, not a laser, so you may spend more on ink than you would on toner. Canon says its six color ink system (yep, six cartridges to replace instead of four, including grey "for amazing detail") prints at up to 9600 x 2400 dpi in color (up to 600x600 black).  

Paper types handled include 4x6 and 5x7 inches, letter, legal, U.S. #10 envelopes and you can use plain, glossy, photo and matte papers. The main tray only holds 125 sheets, but that may be enough for you.

While researching this piece, I noticed mixed reviews on the web for the printer, but most people who like it seem to like it a lot. Others have complained about printing to DVD's, the software suite and the like, but in my admittedly limited testing the printer worked fine for average mainstream jobs.

My only real issue with this printer is that you can get a color laser printer for the same price. Will it be as good as this Canon PIXMA? I haven't tried a $200 laser printer side by side with this Canon, so I can't rightly say, but it's worth considering. You need to balance the cost of replacing toner and/or ink, too. Toner supposedly lasts longer, but it also costs more than the average ink cartridge. So as with everything else, your mileage may vary and you should do your own homework.

In the meantime, the Canon PIXMA MG7120 does appear to work as advertised, which means it's easy to use, attractive, and performs well.

Copyright 2014 Jim Bray
TechnoFile.com


Jim Bray's columns are available from the TechnoFile Syndicate.