LG G PAD III a nice and handy little tablet
By Jim Bray
August 4, 2016
Tablets are everywhere these days, so much so that it can be hard to decide between them. Do you want Apple or Android, big or small, cell/data service built in or not, whatever?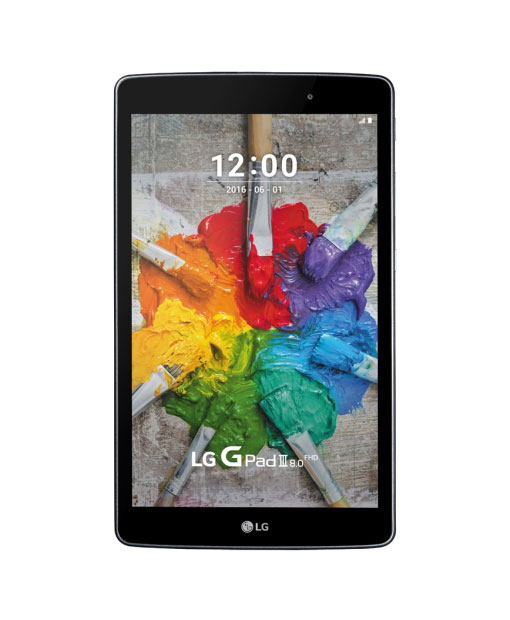 Into this crowd LG has released the G Pad III 8.0 FHD, a nice little unit that falls into the marketplace as a smaller tablet, yet one that has plenty of features going for it.
LG Canada, who retails the unit currently only through Rogers and Fido, sent me a sample of the approximately $240 CAD unit, which offers full HD display (1920 x 1200 pixels resolution) and a full sized USB port for the kind of flexibility Apple won't give you - much to my chagrin as the owner of an iPad Air I'd love to get files into and out of easily. This port is in addition to the micro USB you use for charging the device.
The G Pad III, which perhaps not too surprisingly is the newest generation of LG's G Pad line, is supposedly optimized for portability and productivity. It's small enough to hold in one hand - depending on your hand, of course - and sports an eight inch screen that's really nice. It also features a "one-click Reader mode," according to LG, for which you can use a dedicated hardware button to fire it up. Reader mode is supposed to make reading easier on the eyes by letting you adjust the blue backlight for the display - kind of like Apple offers on the iPad via its "Nightshift" mode.
Inside the tablet is a 1.5 GHz Octa-Core Snapdragon processor running Android 6.0.1 Marshmallow (yep, you can stay puft while online!) and a 4,800mAh battery that offers decent life. Also along for the ride are such features as Dual Window, which lets you have two apps open and on screen at once - and you can swipe up or down to resize the windows, focusing, perhaps on your browser with only a small email window below it (or however you want it).
The G Pad III comes pre-loaded with Microsoft Office for Android Tablet, and if you think Bill Gates is the AntiChrist, there's a QuickMemo+ app as well as Evernote and OneNote built into the LG's 16 gig standard memory (which LG says is expandable to a whopping two Terabytes).
Naturally, there are cameras, both of which are of the five megapixel persuasion (on the front and rear of the unit), and both offer auto focus. They work fine, and you can use them to record 1080p video at 30 frames per second, though of course that'll eat up your useable storage space - not that this is an issue with this LG in particular; it's the nature of the beasts.
The front-facing camera features a soft-light flash for low-light situations and "Gesture Shot," which starts a countdown timer so you can get in the shot yourself, assuming you don't mind the tablet falling to the ground once you've let go of it…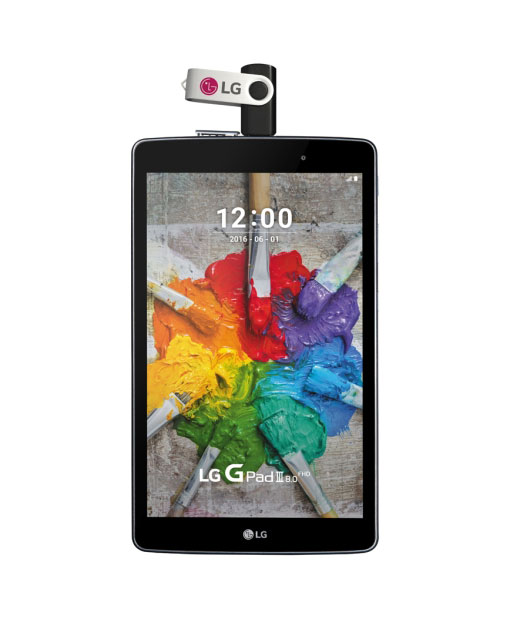 Bluetooth 4.2 is built in, as it should be. I was disappointed to discover that Android Auto and another such app I hoped would let me mirror the tablet to my review cars, aren't compatible. On the other hand, none of the other similar devices I've reviewed to date have the feature, either, so it would be unfair to dump on LG excessively for this when they aren't the only culprit. And I believe this is an issue that will take care of itself over subsequent generations of devices and cars.
The G PAD's screen is really nice, and LG says it features "Zero Gap Touch" technology it claims helps you view it under any light conditions by reducing internal reflective-light.  
The unit is an interesting size; its dimensions are 210.7 x 124.1 x 7.9 mm, so it toes the line between "full sized tablet" and "smart phone" well. I prefer full sized tablets, I must admit - I don't mix my phone and tablet because I like a phone that fits into my pocket - but I can certainly see the appeal of this size. And the 309 gram weight means you can hold it comfortably for long periods of time - at least, that's what I found.
The tablet also offers decent audio performance, and will handle the MP3, M4A, AAC, ACC+, eAAC+, MIDI, WAV, WMA, AMR, FLAC, and Ogg file formats. This came in handy when I was using the LG to stream tunes to OPPO Digital's new Sonica speaker system (watch for that review in an upcoming column), because my audio file formats are all over the map. I'd have liked to see the LG handle DSF and DFF files (SACD, basically) as well its already generous format support, but not many other devices do either, in my experience, so once again I can't really single LG out for this - I just wish the capability was more mainstream. On the other hand, those are hardly mainstream formats.
Sound quality is fine - and of course the LG's performance here, as with all such devices, depends on the quality of the audio files you're playing. It's the old "garbage in, garbage out" phenomenon.
Despite my preference for a larger tablet, I really like the LG G Pad III on its other merits. It offers good performance, plenty of features and capabilities, and is easy to use and to live with. It's also priced well.
Copyright 2016 Jim Bray
TechnoFile.com