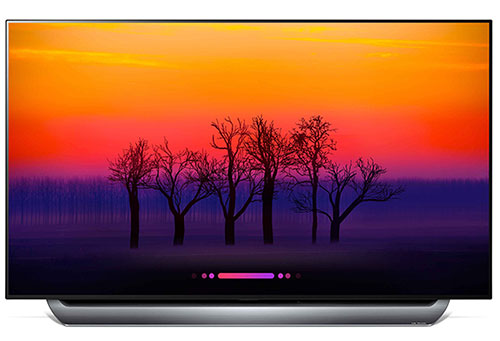 LG's OLED TV offers spectacular picture quality
By Jim Bray
February 14, 2019
If you have some reasonably substantial after-Christmas cash left over – or at least a decent line of credit – and Santa didn't bring you that new TV you wanted, LG is more than willing to ride to your rescue via its latest OLED TV's.
I was lucky enough to play with one recently and now I won't be happy until one takes up residence permanently at Chateau Bray. Or until the next generation comes along…
Olé OLED!
It ain't cheap compared to your "garden variety" 4K LED TV, but I've seen LG's 55-inch OLEDs on sale for about two grand Canuck (depending on the model, they can sell for about a grand more as well) and I think it's a bargain for the picture quality you get.
I kid you not. I've been reviewing TV's and video products for the better part of 30 years and have spent more than twice that amount on a TV during that time (much to my wife's chagrin, of course, and only to watch the prices plummet the day after…). And if I had three grand burning a hole in my pocket today the OLED55C8PUA LG sent me to play with would never have left our home theatre.
Well, that isn't quite true. While I'd very nearly sell one of my grandkids (whichever one is whiniest at the time) to procure one of these LG's, I wouldn't be happy with the 55-inch screen size for my room. Oh, it's perfectly adequate in many rooms, including my living room, but I wouldn't be happy until the 65-inch version took up residence in my home theatre room.
I base that opinion on my last OLED review, which was of a previous 65-inch LG. There's obviously nothing wrong with the 55-inch screen size, which is the only size that was available for this column, but if you have the room and the lucre, a bigger size will put a bigger smile on your face, especially if you're watching aspect ratios wider than the default 16x9 of today's HDTV's.
OLED, which stands for "organic light-emitting diode", is nothing short of a quantum leap from the vast supply of "LED" TV's (they're really LCD's with LED screen illumination) on the market. Heck, I have a good 4K LED TV, also 55 inches, and while I'm very happy with it, when I fired up the LG OLED I wanted to pack it up and put it on eBay. Yes, the difference is that noticeable.
OLED's pixels illuminate themselves, so they don't require back lighting, which means they can not only offer "perfect" blacks, but the TV can be as thin as a single pane of glass. And that's simply amazing; heck, I'd be tempted to replace my home's windows with them and run videos of sunny climes whenever it's crummy outside.
Now, while the screen is that thin, the TV itself does bulge toward the bottom because LG needs someplace to put the electronics, and the I/O's – a more than acceptable compromise.
The "frame" around the picture is also very tiny, which means you're basically getting screen and screen only, and that's the way (uh huh, uh huh) I like it. Indeed, the days of bezels a few inches wide are now just a memory, and this one's one of the slimmest I've seen.  
OLED TV's also offer terrific off-axis performance, though that's a minor consideration in my house (where we set up the room with the TV and audio system as the centrepiece).
Setting up the TV is straightforward. Once you have it on your stand (be careful getting it there!) all you really have to do is hook in your HDMI cables. The LG comes with four inputs, which was enough for my needs (HDTV receiver, Oppo 4K disc player, A/V receiver and Roku Ultra). There are also three USB inputs as well as a coaxial cable input you may never need.
There's an optical output to get sound from the TV to your audio system. I didn't need that (all my audio runs through the A/V preamp), but it's there if you do. And not only will the TV connect to your network via Wi-Fi, it also has Bluetooth capability built in.
You can control the TV via your voice (I hate this, actually, but it works), and it'll also interact with Google Assistant (for those who trust Google).
On the audio side, the LG handles Dolby Atmos, Dolby Surround, OLED Surround, Clear Voice III, Smart Sound Mode, and there's an Audio Upscaler. I don't buy a TV based on its sound (I don't even listen to TV audio – which comes from the satellite receiver – through the TV, opting to use my big audio system instead), but if you do, this one is competitive. LG rates its output as 40 watts.
Naturally, it's the video stuff that's important – heck, I'd be happy if today's TV's were simply video monitors, with no audio output or TV tuner – and the OLED is obviously top shelf in this regard. And to exploit its picture potential, the OLED has, among other things, 4K Cinema HDR, Dolby Vision, HDR10, something called "Objective Depth Enhancer", Quad Step Noise Reduction, Frequency Based Sharpness Enhancer – and it will also upscale regular video content to 4K.
The HDR/Dolby Vision and 4K capabilities are great; the rest, once again, I didn't really care that much about because there's just so much goodness with the TV's picture quality you probably won't need all that other stuff. In fact, when I set it up and ran my calibration disc, I didn't have anything to do except shut off all the damn nannies TV makers put on their TV's these days (stuff like noise reduction, resolution enhancement – the up converting thing – etc. etc. etc.).
You may want to do the same: shut off everything you can when it comes to "picture enhancements" and run the signal as natively as you can. So, I set the LG so it didn't do any up converting to 4K (once I checked out that it really does work as advertised, which it does), or any other "enhancements".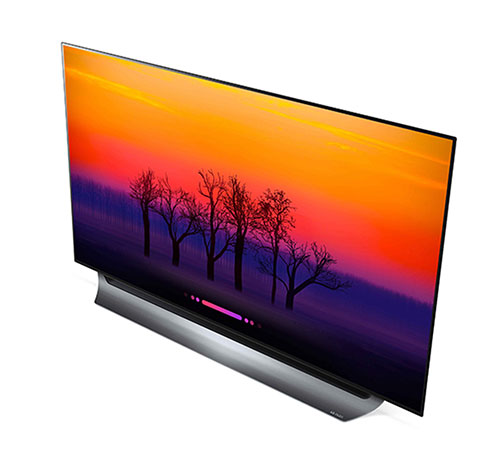 And boy, does this TV perform in its native mode! I threw everything I had at it, from VHS-based content on DVD (home burned home movies) to the finest 4K Ultra UHD HDR discs on the market today (stuff like Dunkirk, Guardians of the Galaxy Volume 2, Ready Player One, etc.). And while "garbage in, garbage out" certainly applies, the OLED managed to make even sow's ears look as close to being silk purses as I've seen (since my last OLED review, anyway). Even up converted Blu-rays and DVD's looked fantastic, with deep, deep blacks and colour that practically pops off the screen.
As with the last OLED I reviewed, I also fired up Passengers in 4K HDR. It's a go-to disc for TV reviews because (besides its inherent goodness) there are some scenes that feature a robot bartender who wears a velvet smoking jacket-type of thing and the OLED does such a remarkable job on it (especially its lapels) that lesser TV's – as great as they can be – look somehow kind of flat.
As mentioned, a great part of this TV's exquisite picture quality is the deep, deep black levels OLED allows. It's the blacks that really make the picture, whether the TV be CRT, LCD, "LED" or OLED – which is why one of the first things I do when setting up any TV is tweak the brightness and contrast (on my calibration disc, there's something called a "pluge" test to help facilitate this) and on the OLED the blacks are so good I discovered that the two vertical lines you use to do the setting are actually THREE vertical lines, meaning there was always a third line there that every TV I calibrated previously, other than OLED, couldn't even display it!
The blacks are so good that when you have blank screen or black bars from "letterboxing", the part of the screen that's black actually looks as if the TV is shut off! Unreal! My fine LED still looks kind of gray, and if the whole screen is black you can see patches in the back lighting. Not with the OLED, no way!
LG has built in good flexibility with the set as well, such as its ThinQ AI – which as mentioned features "intelligent voice control" so you can control, search, and navigate with LG's annoying Magic remote. You also get WebOS 4.0 in this Smart TV and it works as it should.
What you have, then, is a state-of-the-art TV with all the features most people could want in 2019. I'd give up nearly all those features to get the fantastic OLED panel (and its inputs and outputs), though.  
As always, your mileage may vary when it comes to what features and benefits you like, so LG can't be faulted for stuffing as much stuff into this TV as they can. It just seems to me like a case of gilding the lily, because the OLED panel itself is more than worth the price of admission – even if it does seem high compared with other TV technologies.
I've read/heard some complaints about potential burn-in with OLED's and it is apparently an issue. But as with plasmas (I've had an LG plasma for about a decade with no issues), if you don't leave static images on the screen for too long (this could include fake news channel logos and crawls, etc.) you shouldn't have any problem. Just be smart about your smart OLED.
Bottom line? If you're looking for a new TV and the LG OLED fits into your budget, I don't see how you could go wrong. Your main challenge is choosing screen size (get the biggest you can afford!).
Copyright 2019 Jim Bray
TechnoFile.com