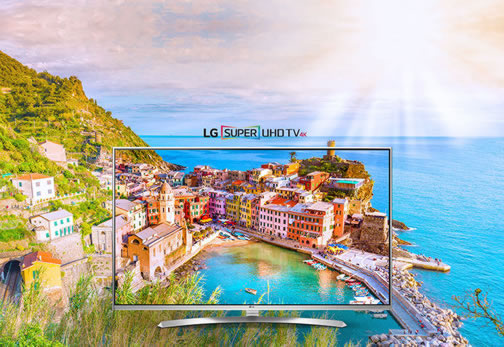 LG Super UHD smart TV sports pretty pictures and good sound
By Jim Bray
September 8, 2016
updated September 15, 2016
LG's newest line of 4K TV's ups the company's ante when it comes to state-of-the-art smart TV's, offering excellent video, better than average audio and a host of other features designed to make life with the TV more pleasant.
Click on the image to open a slideshow.
The company sent me a sample of the 55 inch 55UH8500, a fine TV marred only by an annoying, mouse-like remote control that's meant to make accessing the set's myriad features easier, but which in my never humble opinion actually works against that ease of use.
Fortunately, the conventional remote from my older LG plasma worked fine with the new 4K set, which helped keep me from tossing the mouse-like remote (if you've operated a Wii you'll be familiar with this type of remote) at the flat panel. And to be fair, you can use the remote's cursor control keys or the LG's built in voice recognition. This can help minimize, though not prevent completely, the need to wave the remote at the TV, the act of which brings up a little guitar pick-shaped cursor on the screen.
Also, fortunately, that's about the only shortcoming I could put my finger on with this TV, and even though I'm stuck firmly in "old stick in the mud" territory, not even that remote would ultimately be a deal breaker on what's actually a terrific television.
One of the first things I noticed after unpacking the TV was its unconventional white back panel. This is not only cool, it even acts kind of like a bias light, a type of fluorescent lamp that casts its rays onto the wall behind the TV, creating a warm glow that not only turns your flat panel into a silhouette (emphasizing the picture rather than the TV itself), it reduces some of the glare from the screen, reducing eye strain.
Naturally, it works better when there's light on in the room for the TV to reflect, so its effects will depend on how bright - and where in the viewing room - the lights are.  Alas, the texture of the white rear panel looks like it might be a dust magnet, though I had little problem with that during my admittedly limited time with the LG.  
That's white back panel is gravy, of course, enhancing an excellent TV that currently lists for $2499 Canadian, a reasonable price considering what you get.
Unpacking the TV is simple. It's very light and slim, with a minimal bezel around the screen (so watch for the fingermarks when you're moving it!), and the crescent-shaped stand is child's play to assemble - though it's also quite wide and that could colour where you sit it (you need a fairly wide stand). Naturally, if you wall mount it the stand becomes irrelevant.
The picture quality is great right out of the box, and I only did minor tweaking using my HD (1080p) Video Essentials set up disc. This lack of tweaking necessity isn't just an LG thing, but it's certainly welcome. I remember paying good money - hundreds of dollars' worth! - to have my old rear projection system calibrated, but most of the good TV's I've reviewed over the past couple of years are nearly bang on when it comes to picture quality, right out of the box, if you use the more "professional" picture settings. I tried all the various settings, which include the usual "vivid" and the like, but settled on the most cinematic ones (which are set up for use in bright or dim rooms, separately) because they were the closest to being bang on.
LG says its SUPER UHD TV's such as the one under discussion here feature High Dynamic Range technology (HDR Super) and support Dolby Vision, which it claims is a more advanced, premium version of HDR that supposedly ensures the content is being displayed as it is meant to be seen - as it should be! And I must admit that I was taken by the TV's rich and detailed picture, which is superb.
As usual, once I'd tried the various settings I ended up shutting most of the stuff off (noise reduction, "TruMotion" 240 Hz, etc.) because as noted above, I wanted to see the picture in as pure a form as possible. The TruMotion feature, which is meant to smooth out fast-moving images, creates what's known popularly as the "soap opera effect," which can make objects in the foreground look truly spectacular but also makes it appear they're shot in front of a process screen even if they weren't. I'd rather live with a bit of "judder" than have Ben-Hur's chariot race look like it was done on a soundstage! That said, the foreground images were truly spectacular and if they could figure out how to offer that foreground image without the weird effect, they're really be onto something.
And, to be fair, this isn't just an LG issue.
The LG up converts signals to 4K internally, and it does a fine job of it. I tried a variety of sources, including live sports events on TV (1080i native), 480i DVD's, native 4K content (both from 4K Blu-ray and native 4K digital files) and 1080p Blu-rays (which I also tried up converted to 4K internally via OPPO Digital's great universal Blu-ray players). Obviously, the better the signal going in the better the picture that comes out, but even the crummiest sources I tried looked good under the circumstances. And the best stuff just about leapt off the screen - which by the way sports a nice and wide viewing angle and, supposedly, offers a billion different shades of hue (I lost count after 300,000).
I think the OPPOs did a better job of up converting than the LG did, but if I hadn't tested them back to back I doubt I'd have noticed the difference - and those OPPOs are high end machines.
LG also throws in two pairs of passive 3D glasses, which is a nice touch. Passive 3D means you don't have to keep your bulky 3D glasses charged (they require no charging at all) and they're lighter and easier on the eyes. I don't really care about 3D performance other than to ensure it works as advertised (I usually use the 3D Blu-ray of Avatar to test it) and it does on this LG.
I also don't generally sweat a TV's audio quality, because most of them are pretty substandard if you're an audiophile who appreciates big sound with his/her/its big screen - but LG has even stepped up here to offered a better than usual sound system. This one is from Harman Kardon and while it still wasn't enough to make me toss my big 5.1 system into the bin, it's one of (if not the) best built in audio systems I've experienced. The company rates the audio at 40 watts into 2.2 channels, which doesn't sound like a lot but which works pretty well in this application.
The LG also offers automatic room correction. This is a feature by which the TV sends out an audio signal, listens to it and analyzes it, and optimizes itself to the viewing/listening room. It's a feature found more often on mid to higher end preamp/processors (via built in systems such as Audyssey) and I never expected to find it on a TV, especially a reasonably mainstream one.
But it's there and though I doubt it's nearly as sophisticated as the higher end room correction systems, it did work in my room - not enough to make me want to chuck my audio systems in the back alley, but better than I'd expected.
If you're interested in decent sound that won't rattle the walls or wake the neighbours, then, you could do far worse than what comes from this LG.
LG says the TV will handle audio formats including AC3(Dolby Digital), EAC3, HE-AAC, AAC, MP2, MP3, PCM, DTS, DTS-HD, DTS Express and WMA.
Alas, the LG only has an optical digital audio output so your audio system needs such an input if you're planning to use it. Fortunately, this is a common feature on an increasing number of audio systems - and this is once again not strictly a feature with LG.
Since the 55UH8500 is also a Smart TV, LG has piled on the built in features as well as giving access to an app market where you can find a bunch of (mostly lame, in my opinion) channels and services. Netflix and YouTube were built in when I unpacked the TV, and setting it up to access my home network was a piece of cake. Netflix' 4K content looked great, though their purported 4K depends a lot on how much bandwidth you have; I noted supposed 4K content that streamed at anywhere from 720p to 4K, though the quality of the LG's picture was such that even when the signal was dumbed down it still looked really good.
LG uses WebOS 3.0 as its operating system, and with it you not only get a web browser and a bunch of other non-traditional TV stuff like screen mirroring and the like, you can organize and move apps and icons around easily, putting your most used ones closer together. The TV remembers where you were last when you fire it up again, too, which is pretty handy.
The built in media player worked fine with the stuff on my home network, except for some of the more obscure file formats I have - which also happened with other smart TV's I've tried.
There's plenty of wired connectivity built in, including three HDMI and USB inputs, composite and component inputs (making me miss analogue audio outputs even more), a cable connection and Ethernet port. If you're planning to wall mount the TV you'd be best served making the connections before you mount it because they may be a little hard to reach afterward.
The "Magic Remote" that rubbed me the wrong way so much (and as always, your mileage may vary), uses motion sensors to control the on-screen pointer and its face includes a large, round cursor navigation pad with a clickable scroll wheel in the middle. There's also a number pad, volume, channel and playback controls, the now common four color buttons and an input button. A "Home" button brings up the icons that spread across the bottom of the screen. If I could have shut off the "mouse like" aspect it would have been fine.
LG also makes a higher end line of 4K TVs, the OLED line, but they're still comparatively expensive (though as usual that's changing over time) - and though they undoubtedly offer even better picture quality than this model, the average consumer who's looking for an excellent 4K TV that isn't going to break the bank (since a 55 inch LG OLED TV retails, according to Best Buy's Canadian website, at $4999!), will probably find that the LG UH8500 will do a fine job.
Copyright 2016 Jim Bray
TechnoFile.com