"Ears" to Good Personal Sound! – A Tale of Three Headphones
By Jim Bray
September 9, 2010
Headphones. You can find them in a variety of types, including noise cancelling, audiophile, ear bud – and I've even found one with its own MP3 player built in. What type's the best? Well, naturally, it depends on what you want and how much you want to spend.
I've been playing with three very different but very representative types of headphone: Bowers and Wilkins' audiophile P5's, AblePlanet's NC300 noise cancelling phones with Linx Audio technology, and Sony's W252 Metal Gear Walkman, a self-contained unit that includes an MP3 player, giving you wireless access to at least some of your tunes.
Let's look at them according to price.
B&W
Bowers and Wilkins bills their $300 P5 as "concert for one," and that's a pretty good description. The phones definitely pass excellent sound to your ears – depending upon the quality of the source, of course (a fact that applies to every playback device you can think of), and they're not only light and attractive, but B&W includes two cables so you can exploit the iPod/iPhone's capabilities and also use them with other types of music players.
Having to switch cables depending on your playback device struck me as kind of dumb when I first became aware of the extra wire stuffed into the attractive carrying case that accompanies the P5's, but now that I've used them with both iPhone and Android phone I like the extra flexibility. The Apple-compliant cable lets you control the volume right from the cable itself – which lets you keep the iPod in your pocket rather than messing around with it all the time. There's also a built in microphone but I didn't get to try that, since I no longer use my iPhone as a phone.
I expected the sound quality to be first rate, and I wasn't disappointed. Bowers and Wilkins has been making excellent equipment for decades, including the famed Nautilus speakers, and its name has become synonymous with fine quality sound. I don't have a lot of experience with the company, but I reviewed their Zeppelin Mini iPod dock a while back and thought it was a very good performer for the price.
Ditto for the P5's.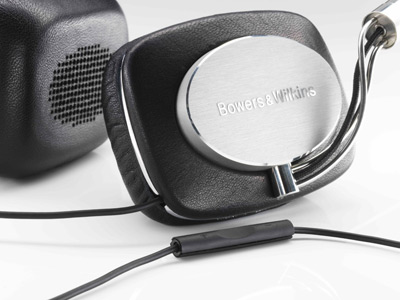 The "concert for one" sound is excellent with well-recorded and good quality music files, the sound is vibrant and alive, a real treat for the ears. Highs are clean without being shrill, mids are very clear and there's even good rumble from the bass. These are definitely among the best phones I've tried.
According to Bowers and Wilkins, the P5's use "specially developed ultra-linear neodymium magnets and highly optimized Mylar diaphragms" to ensure rich, pure and detailed audio. They don't offer noise cancellation, but the design is "noise-isolating" – which means they fit nicely over the ears and keep the audio going straight into your ears without actually being the "cover the ear" type of phone. The snug design also helps to keep outside noise away from you when you're grooving to your tunes, yet letting enough ambient sound in that you're less likely to walk obliviously into the side of a moving bus. This is a good thing.
They're comfortable, too, nicely padded in what B&W says is New Zealand sheep's leather. Rather than that meaning they're "baaah-d", however, they're soft and quite light and that makes for cozy listening sessions.  Build quality is with very good, and the units look very classy.
Even switching out the cords is easy, accomplished by popping off one of the ear cups (which is held in place magnetically) and swapping out the cables.
I didn't have a chance to take them on an airplane to see how they isolate one from those background noises, but for ground-based listening without fancy noise reduction, I can't think of a set of phones I've liked more.
AblePlanet
If you do want actual active noise cancellation (ANC), you might be served well by the AblePlanet NC300's. I did listen to these on a couple of commercial flights, one on a rattly old Dash 8 and one on a new Boeing 737, and they performed well for their $150 price.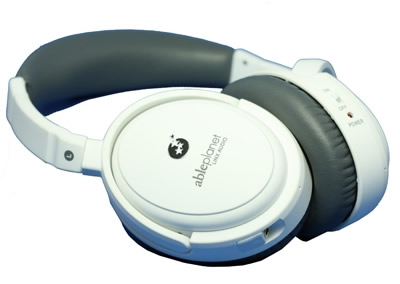 The NC300's don't have the elegance of design of the P5's; in fact, they're quite plastic, but they do feature an adjustable headband, an in-the-cable volume control and patented LINX AUDIO technology, which the company says has snagged over 26 International awards. Linx Audio supposedly filters out undesirable sound, reduces distortion and electromagnetic interference while maximizing speech clarity.  
And it seems to work; audio quality from the AblePlanets is very good, dynamic and with very clear sound from top to bottom. The phones are comfortable on the head, too, and the foldable NC300's also come with a nice carrying case and adapters for airplane audio systems and home equipment.
They don't come with a jack long enough for my iPhone, though, but they worked just fine with my Android phone. And they work well with airplane jacks, which is where I used them the most.
As an experiment, I tried the AblePlanets back to back with a set of Bose QuietComfort 15 noise cancelling headphones – which Bose sells for $300 – and, not surprisingly, the Bose product outperformed the NC300's so far as noise cancellation is concerned. The difference was greater in the Dash 8, the Bose removing more of the propeller plane's cacophony; in the jet, it was more of a saw off, though I still give the nod to the Bose.
But for half the price of the Bose model, the AblePlanets do a creditable job.  And they have one advantage over the Bose: you don't have to fire up the noise cancellation circuitry to use them. I'm not sure how much of an advantage this is, but if nothing else it can save you some battery life when you're listening in quiet locations where you might not need the noise cancellation.
Funny thing about noise cancellation: no matter which set of such headphones I try, I can still hear the kids…
Zappin with Sony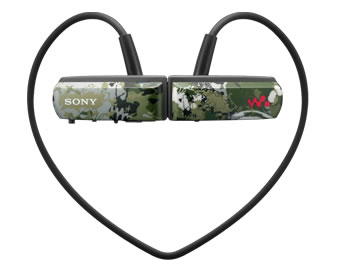 The third unit I've been trying is the really nifty Sony "Zappin" Metal Gear Walkman W252, the only one of these three units that not only plays the tunes, but which brings them along with you as well. The Limited Edition Walkman W Series unit features an exclusive camouflage design, a videogame soundtrack and gaming code – the latter three features about which I couldn't care less but your mileage may differ.
This is the only one of the three that's an "ear bud" type of listening device, and that's okay. I'm not a real fan of ear buds, but they have their advantages: they're by definition more portable and it's the portability (well, and the Metal Gear game tie-in) that makes the W series such a terrific idea, thanks to its "cord-free design" that actually floats the unit on the back of your neck (using, er, a cord). The sound-isolating, 13.5mm EX headphones, which sound better than I thought they would, come with three pairs of earbuds.
This would be a cool design even if it didn't come camouflaged. The $60 headphones are magnetic, which means you can stick them together when you aren't playing them. In fact, sticking them together is how you shut them off – so don't forget to do that.
I found the magnets too easy to separate, though; I'd click 'em together then place them on my kitchen table, only to return later to see that something had knocked them apart. It wasn't a big deal, because the unit charges its internal power supply via USB, and Sony says you can get a 90 minute charge in just three minutes, with a full charge giving you up to 11 hours of tunes or casts.
A bigger deal, perhaps, is the unit's 1.68 gigabytes of storage. This should be good for several albums, depending on the file sizes, but if you want to dump your whole library into it you may be out of luck.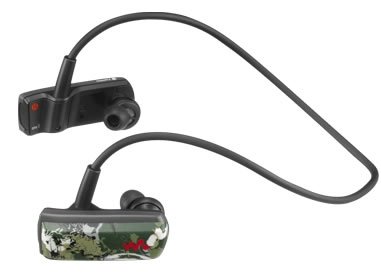 I put on about five albums and it kept me happy while I was out walking the dog. And changing the tunes is merely a matter of plugging the unit into your computer via USB, and dragging/dropping the files onto and off of the Walkman. You can also use iTunes or Windows Media player.
There are little controls on one of the headphones that let you use the "ZAPPIN" feature to navigate through your songs by playing back main melodies, or you can use its Jog Dial key to scroll through tracks. It actually works quite well.
The Walkman is a really nifty idea – self-contained and comfortable, easy to use and with good battery life and reasonable storage space.
Of the three, my favorite was, not surprisingly, the Bower and Wilkins P5's, which sound bloody wonderful. The AblePlanets are also good performers, especially when you consider the noise cancellation and that their price is half that of the P5's or the Bose with which it competes.
That means the Sony comes in last, which isn't fair when you consider that it's not just phones, but a complete, self-contained device that could be perfect for joggers or bicyclists. As such, it's a terrific unit, too. I just like the sound of the P5's better.
Copyright 2010 Jim Bray
TechnoFile.com