Best Buy amps up home theatres with a beer fridge and hot dog maker
By Jim Bray
November 23, 2016
Who'd have thought a tech writer could get a column out of a beer fridge and a hot dog maker? Yet here we are.
The column came from a representative of Best Buy reaching out and offering me trials of the Marshall fridge, which gets its name because it's, well, a beer fridge that looks for all intents and purposes like a Marshall electric guitar amp.
Silly, I thought, but what the heck: I have a nice home theatre whose current beer fridge is all the way in the next room, about four steps away, whereas the Marshall fits not only into the home theatre, it also acts as a heckuva conversation piece, especially since I took my old Stratocaster knockoff, dusted it off, and leaned it against the amp, er, fridge, where both of them looked very cool. A bonus was that it also made it appear that I can actually play guitar passably.
The fridge marshals your beer supply (well, it doesn't have to be beer…) into a single-doored unit whose footprint is a reasonable 20.4 inches wide, 32 inches high and 22.5 inches deep. I stuffed it with 24 bottles of beer and a bottle of unleaded gasoline (oops, I mean white  wine!) and there was room left for a couple of small frozen treats in its small upper freezer section. I figure I could get even more beer inside if I used cans instead of bottles, but it was bottles that were on hand and one works with what one has - though it seemed a shame to miss a chance to buy more beer...
You do get some fridge noise, but for the most part the fridge is very quiet - no problem drowning it out with my audio/video equipment (of course I could probably drown out a 747 with that stuff!) and I really enjoyed cutting my four steps to access beer to a single step. It's all about efficiency, you know.
It was also nice that I could turn the Marshall down so it really chilled the beer, better than my regular "beer fridge," which is actually just a mainstream (and cheap) upright fridge we also use for leftovers. And I also learned that it's best to keep the beer separate from the leftovers, if only for issues of odour mess (especially if, like me, you're an absolute klutz).
Temperature is adjustable from 0 to -10 degrees Celsius; the owner's manual suggests you start with the temperature adjustment at 5 on the dial and that's what I did - and I left it there because it chilled the beer really nicely. The downside is that it encouraged me to drink beer, which I do far too much of anyway…
As far as the Marshall connection goes, the fridge even features authentic-looking (and for all I know they could be authentic) logos, fret cloth, and a brass-finished faceplate. It has a receptacle for your guitar power cord (as opposed to a guitar power chord) and the knobs and switches work as if they were on a real amplifier - which this definitely is not. But it does hold 4.5 cubic feet of, well, if not beer then whatever you want. But it holds beer!
The fridge also features an adjustable glass shelf with "spill protector" and a half sized glass shelf that also features "spill protection" (basically, a little plastic addition to the front edge of the glass shelf, to keep spilled liquids from dripping. There are also some wire thingys in the door you can use to hold stuff in place.
Oh, you can also reverse the door, so it opens whichever direction you want (other than up or down…). I didn't bother trying this because I have no issue with a right hand hinge and, since I generally hold beer in my left hand, it sped up the quaffing process. It's all about efficiency…
I did have one weird issue with the Marshall fridge - twice I noticed a moist, brown liquid buildup inside it and it stank like vinegar. I wiped it out and that helped, but what gives with that? When I mentioned it to the Best Buy folks they said I'd received a defective unit and apologized profusely. And doesn't that just figure?
I read some online reviews of the fridge on Best Buy's website and everyone there seemed to really like the fridge, and no one else mentioned the vinegary-compatible issue, so perhaps I was uniquely lucky. About the only complaint in the customer reviews was the lack of a light inside the fridge and, since the fridge was located in my home theatre where I keep the lights low, I agree with that complaint. Fortunately, a beer bottle is easy to find by touch!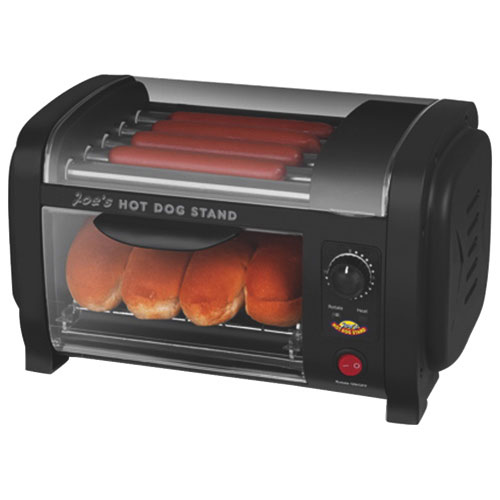 Hot doggin at home…
As much as I enjoyed the Marshall fridge, I was really disappointed with Dolce's Joe's Hot Dog Stand, a sample of which Best Buy sent with the fridge.

'Tis a shame, because of the two products it was the one I hoped to like the most. After all, who hasn't loved a hot dog warmed on those cylindrical stainless steel rollers like you see in venues all over the place? I sure have. And when they offered a sample of the $49.95 unit I said "Hot dog!", thinking they'd have a real wiener with the product.
It sounded so good: "Enjoy ballpark franks right in your own home with Joe's Hot Dog Stand," the website says, continuing with "this hot dog roller grill with bun warmer makes it easy to enjoy a quick snack."
How can one not love that? The blurb, and the manual, say Joe will cook four regular sized hot dogs while, in the "toaster oven-like" space below the rollers you can warm four regular sized hot dog buns.
We get our wieners at Costco usually, and they're larger than what Joe describes as regular; fortunately the thing holds four of them as well. But if you use buns that fit the larger franks, you can only fit in two - barely - so keep that in mind; you might have to start warming your buns before you stick your wiener into the device.
Do I get an award for avoiding at least some of the many opportunities for cheap jokes here?
The instruction manual says it should take about eight minutes to prepare four hot dogs but, perhaps because ours are larger, it took at least twice as long the three times I used Joe's Hot Dog Stand. The manual says frozen dogs should take 12 -15 minutes, but that wasn't even close, either. It was more like 15 minutes for "fresh" dogs, with frozen ones being maybe twice as long.
Sure, the dogs were cooked nicely, eventually, and with nice even heat, but I can broil my Costco wieners at least as quickly in my toaster oven and I can broil as many at a time as it will fit (I've had at least eight in there at a time).  
Making things more difficult, at least for these aging eyes, is that the little knob you use to set the timer is very hard to read. And while there are two handy aluminum "oil retaining trays" that catch any grossness that might ooze from your dachshunds, it's a real pain in the buttocks cleaning the rollers themselves. In fact, by the third use I couldn't get them spotless any more.
Joe's Hot Dog Stand, then, is a great idea executed ham-handedly, or maybe beef-handedly. And that's a shame; as I said above, I really wanted to like - and maybe to purchase - one of these.

Glad I got the chance to try it first!
OPPO upgrades its Bluetooth speaker…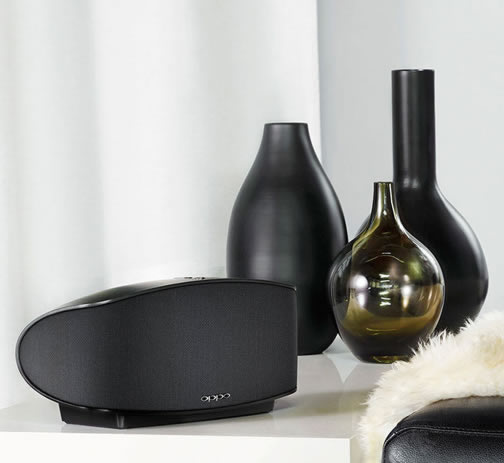 OPPO Digital, meanwhile, has issued an upgrade to its excellent Sonica wireless speaker system. I really like the $299 US Sonica, which not only sounds great but which is also just about as flexible as you could want, short of being battery powered.  It comes with Wi-Fi, AirPlay USB and Bluetooth capabilities built in, and now OPPO has announced they've also added Spotify Premium capability, so subscribers to that service (I'm not one, so can't judge beyond that) can now listen to their tunes on the Sonica speakers.
The new capability, according to OPPO, means that you can transfer and control your listening experience from the Spotify app to the Sonica. According to the release, "just select Sonica from the list of available devices within the Spotify app."  
Spotify apparently makes millions of songs available instantly, is searchable, and works on your phone, tablet, computer and home speakers.
It's typical of OPPO to add value to their products even after you've bought them. Though they're by no means alone in doing that, in my experience with their disc players over the years - and now with the Sonica - they offer reasonably regular firmware updates that not only fix bugs but which also add totally new features. And their stuff is usually a great value for the price, too.
Even better news is coming from OPPO: the UDP-203 4K/UHD Blu-ray disc player is set to arrive in December 2016, putting OPPO right at the leading edge of today's video/audio technology.
Copyright 2016 Jim Bray
TechnoFile.com