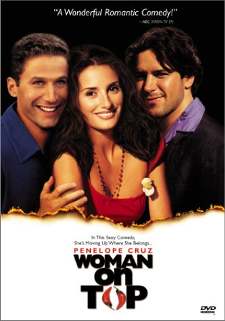 "Woman on Top" on DVD
A Comedy with Meat
Woman on Top was a real surprise, and a very pleasant one. We went into it expecting some kind of mindless feminist empowerment rant, and instead were delighted to be treated to a wonderful and classy romantic comedy.
It's a great film!
Penelope Cruz positively lights up the screen as Isabella, a Brazilian chef who leaves her cheating husband and heads to the good ol' USA (San Francisco to be exact) to start a new life.
Isabella is a real class act, but she has a huge problem with motion sickness and therefore can't ride elevators or be a passenger in a moving vehicle - and has to be on top when making love. It was this latter point that caused her husband to look for a fling in which he could be "on top" and thereby feed his male ego.
The betrayed Isabella almost immediately lands on her feet in San Francisco, quickly snagging a gig as host of a local cooking show. Her beauty and grace - and her recipes, to a less extent - make her an instant hit in the SF market and it looks as if her future is assured.
Meanwhile, her producer (and just about every other male who sees her) is falling madly in love with the glorious Isabella, so it looks as if her romantic future will be well taken care of as well.
Until her ex-husband tracks her down and shows up in the City by the Bay to win her back. This sets up a most a-typical lover's triangle as he and the producer strive for Isabella's affections.
Who wins? Well, the audience wins because this is a wonderfully written, terrifically acted and constructed film.
Don't go in expecting raunch, or even nudity. Despite the USA Today quote on the DVD's box ("Plenty of Steamy Sex!"), there isn't really anything in this movie that would warrant its "R" rating. Instead, it's a refreshingly charming tale of romance, and it isn't about sex at all; well, maybe just a bit.
The main characters are all likeable, even the "weird" ones, and the situations are for the most part believable, even when they involve healthy bits of black magic.
Penelope Cruz is a real find. She's beautiful in the classic sense and, as mentioned above, positively lights up the screen every time she's in front of the camera. We look forward to seeing her in plenty of more productions.
The DVD is presented in anamorphic widescreen, 16x9 TV compatible, and with Dolby Digital 5.1 audio. The picture and sound quality are wonderful, with rich colors and nice use of all the audio channels. Extras include a selection of recipes inside the box (we kid you not!), as well as trailers and TV commercials.
Woman on Top, from 20th Century Fox Home Video
91 min. widescreen (1.85:1) 16x9 compatible, Dolby Digital 5.1
Starring Penelope Cruz, Murilo Benicio, Harold Perrineau, Jr., Mark Feurstein
Produced by Alan Poul
Written by Vera Blasi, Directed by Fina Torres.