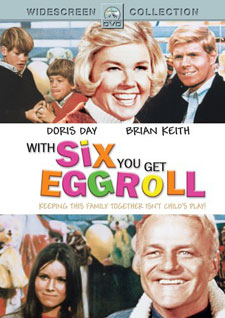 With Six You Get Eggroll on DVD
A horrible title that would probably be branded racist today, the phrase parrots a throwaway line later in the film. But don't let that stop you from watching this movie; it's far better than its silly title would hint.
Doris Day, as usual, sparkles in this movie about a widow with three boys whose romance with a widower (Brian Keith) with a teenage daughter (a young Barbara Hershey) is fraught with ups and downs.
There's wonderful chemistry between Day and Keith, both of whom come off as a pair of comfortable old blue jeans. There's also good chemistry, and some wonderful sparks, between the kids who suddenly find their lives turned topsy turvey as the two separate families quickly blend before they're really ready for it.
This movie came out in 1968 and it really shows. It's a fascinating time capsule of the changing times of the era, with nuclear families struggling in the world of free love and disposable relationships that was being born.
The movie not only features the wonderful Doris Day and the warm Brian Keith, but it has a charming script which, combined with Howard Morris' smooth direction combine to create a delightful movie the type of which isn't seen much these days with the possible exception of "The Incredibles".
As usual, Doris Day is completely convincing and natural on screen. Those who say she played a professional virgin have never really paid attention to her or noticed the effortless manner in which she brings believability to her roles. She is at once sexy, warm, womanly – and not virginal at all (just not a slut!).
Keith is both manly and gentlemanly, and the supporting cast (which also includes Pat Carroll, Alice Ghostley, George Carlin, Barbara Hershey, Jamie Farr, William Christopher – the last two of whom achieved fame in the TV series M*A*S*H* ) round out the players very nicely.
Apparently, this was Doris Day's last movie, so it's nice to see that she went out on top.
The DVD looks great, too. It's presented in anamorphic widescreen (16x9 TV compatible) with a bright and sharp and colorful image that belies its age.
Audio is remixed into Dolby Digital 5.1 surround and though we daresay there's little or no surround, the overall audio quality is fine.
With Six You Get Eggroll, from Paramount Home Entertainment
94 min. anamorphic widescreen (2.35:1, 16x9 TV compatible), Dolby Digital 5.1 surround
Starring Doris Day, Brian Keith, Pat Carroll, Barbara Hershey, George Carlin
Produced by Martin Melcher,
Written by Gwen Bagni & Paul Dubov and Harvey Bullock & R.S. Allen, directed by Howard Morris