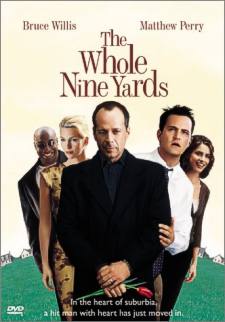 "The Whole Nine Yards" on DVD
Killer Laughs
Matthew Perry is a beleaguered dentist whose life is turned upside down when an ex-mob hitman (Bruce Willis) moves into the house next door to his.
Perry, who moved his practice from Chicago to Montreal at the insistence of his French Canadian shrew of a wife (Rosanna Arquette), is under the financial gun paying for his wife's familys' extravagances. He just wants to live his life in peace, but that wouldn't make for much of a movie, would it?
To make a convoluted - and very entertaining - story short, Perry soon finds himself enmeshed in a web of attempted murder, murder, money, and mob intrigue that sees just about everyone the target of someone else.
In the midst of all this, he manages to fall in love with Willis' estranged wife (Natasha Henstridge) while Willis falls for Perry's office assistant (Amanda Peet) - a woman who's much more than meets the eye.
"The Whole Nine Yards" is a very funny movie full of good comic performances - especially Perry's. You rarely know exactly what's going on - or who's doing what (or plotting what) to whom - and that adds to your enjoyment.
Director Jonathan Lynn (My Cousin Vinny) does a good job here and the cast, which also includes Michael Clarke Duncan and Kevin Pollak, appears to be having a great time with the material.
The DVD features widescreen and Pan&Scan on opposite sides, with Dolby Digital 5.1 surround audio, and the picture and sound quality are very much up to snuff. We thought the music was a little loud compared with the dialogue and sound effects, but not so much as to make the experience unpleasant.
Extras include a full length commentary by director Lynn, an "interview gallery" with the cast, as well as filmographies and the theatrical trailer.
The Whole Nine Yards reminds us of the screwball comedies of old, and that's a good thing.
The Whole Nine Yards, from Warner Home Video
99 minutes, Widescreen (1.85:1)/Pan&Scan, Dolby Digital
Starring Matthew Perry, Bruce Willis, Rosanna Arquette, Michael Clarke Duncan, Natasha Henstridge, Amanda Peet, Kevin Pollak
Produced by David Willis, Allan Kaufman,
Written by Mitchell Kapner, Directed by Jonathan Lynn