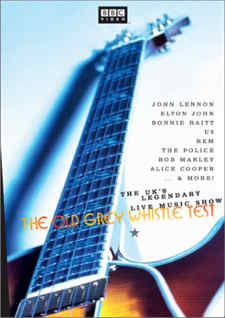 The Old Grey Whistle Test on DVD
Talk about blasts from the past!
The Old Grey Whistle Test is a British rock n roll TV show that ran for some 16 seasons from the early 1970's on. It brought the pop music stars (and stars from other, related genres) to the British TV audience via live-in-studio performances that, when looked at now, provide a fascinating time capsule of the bands and their eras.
This three hour plus disc contains some 28 performances ranging from the sublime to the ridiculous (and we'll let you judge which is which), all featuring very good video and audio. Even if you don't like some of the performers, you'll probably like others.
The DVD is set up with introductions from six of the series' "key presenters" (read "hosts") in both archive and new footage where they treat us to their memories of the events. But it's the artists you'll really want to see, and we'll list the performances for you below. As you can see, they run the gamut of "pop" music of the era:
Alice Cooper: Under My Wheels
Elton John: Tiny Dancer
Curtis Mayfield: We Gotta Have Peace
Randy Newman: Political Science
Bill Withers: Ain't No Sunshine
Rory Gallagher: Hands Off
The Wailers: Stir It Up
Roxy Music "Do The Strand"
The Edgar Winter Group: Frankenstein
Captain Beefheart: Upon the My o My
Little Feat: Rock 'n' Roll Doctor
John Lennon: Stand By Me
Lynyrd Skynyrd: Freebird
Emmylou Harris: Amarillo
Bonnie Raitt: Too Long at the Fair
Tom Waits: Tom Traubert's Blues
Talking Heads: Psycho Killer
XTC: Statue of Liberty
Blondie: (I'm Always Touched by Your) Presence Dear
Tom Petty and the Heartbreakers: American Girl
The Police: Can't Sand Losing You
Bruce Springsteen: Rosalita
Iggy Pop: I'm Bored
The Specials: Message to You Rudi
The Damned: Smash It Up/I Just Can't Be Happy Today
The Ramones: Rock 'n' Roll High School
U2: I Will Follow
REM: "Moon River/Pretty Persuasion
Whew! How's that for a nifty cross section of the era? Okay, there's no Who, no Stones, no Kinks, no Zep, but what we appear to have for the most part is bands early in their careers, before they became megastars (not that all of them did!).
The performances are good, and it's quite something to see these people looking so young!
Audio and video quality is very good. It appears as if all the audio is mono, but it's recorded live in the studio and the overall audio quality is just fine. Video is standard TV issue, so while it won't leap off the screen at you it's still as clean and crisp as you'd expect from a digital copy of television broadcasts - which means it's fine as long as you aren't expecting anamorphic widescreen.
There is also a good selection of extras. First up is a running commentary by creator/producer Mike Appleton, which accompanies the performances. Oh, and we should mention that you can set the disc to play randomly as well, for an interesting change of pace.
You can also access individual tracks, but it's rather a pain: you have to get into the extra material menu and then go to the individual artist and from there you get biographical/career info and a link to the performance itself. It's unduly unwieldy.
There are also interviews with such luminaries as John Lennon, Elton John, Mick Jagger, Keith Richards, and Bruce Springsteen, a picture gallery and an "enhanced viewing" option that puts a guitar on screen periodically, from which you can link to the aforementioned artists' info page.
It's pretty neat stuff! Now, how about "Ready, Steady, Go!?"
The Old Grey Whistle Test, from BBC/Warner Home Video
190 min. full frame (4:3, not 16x9 TV compatible), Dolby Digital