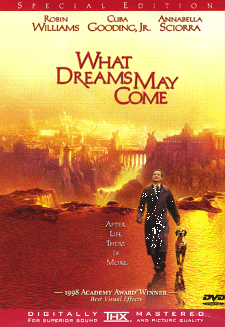 "What Dreams May Come" on DVD
"Thought is real; Physical is the illusion"
If you ever wanted to see the depths to which a man might sink for love, this is your DVD.
Those depths aren't a bad thing, either. In fact, "What Dreams May Come" is a wonderful story of love in this life and beyond - and one of the most visually beautiful films ever made.
Robin Williams is Chris Nielsen, a doctor killed when he's hit by a car, leaving his wife and soul mate Annie (Annabella Sciorra) alone with her demons.
You see, Chris was on his way to do her a favor when he died, so she blames herself. To make things worse, their kids had been killed in a car accident four years previously in another incident that caused Annie to blame herself.
In the afterlife, Chris is guided by a spirit named Albert (Cuba Gooding, Jr.) who helps him make the transition and, with luck, to move on with his - well, afterlife. It isn't that easy, though. The love Chris has for Annie and his family transcends death and despite the beauty of his heaven he can't rest - especially when a despondent and guilt-stricken Annie kills herself and, because her death was a suicide, is sent to the eternal torment of hell.
Well, Chris can't have that! With Albert at his side, and guided by "The Tracker" (Max von Sydow), he leaves the beauty of heaven and journeys to the depths of hell to find Annie and save her soul so they can spend the eternity they had planned together.
What Dreams May Come is a beautiful movie, visually and emotionally. The afterlife is realized spectacularly (the film won the Special Effects Oscar); heaven is a place of beauty, peace, and joy, and hell is definitely for eternal torment and a place you want to avoid at all costs. The script is intelligent and never sappy; it'll wind your insides up like a coiled spring, then loosen it slowly at its own pace.
Robin Williams is terrific as Chris. This manic comedian has really found himself as an actor and he really should have been nominated for his role in "What Dreams May Come." Annabella Sciorra also does a great job as Annie, sometimes young and vivacious, other times haunted. Cuba Gooding Jr. is very likable as he walks (well, not necessarily walks!) Chris through his new existence, and Max von Sydow's powerful presence is perfectly cast as the spirit who takes Chris beyond the gates of hell.
There isn't a lot to fault in "What Dreams May Come." Richard Matheson's story was a risk to bring to film; it could have ended up syrupy and unconvincing, but directory Vincent Ward, his cast and crew, have pulled off the challenge of making us think, making us love, and making us gasp in awe beautifully.
The DVD starts off well: it's THX-certified, which generally means you're in for excellent video and audio quality. It doesn't disappoint, either. The DVD is presented in anamorphic widescreen (16x9 TV compatible), and Dolby Digital 5.1 audio and they're worth the price of admission. This film just cries out to be seen and heard on the best home theater you can find and rewards you for it.
This Special Edition DVD also includes a bunch of extras that are well worth your time. There's a director's running commentary, a feature on the special effects, another "making of" feature, an alternate ending, photo gallery, cast/crew info, a good liner booklet, trailers, and DVD ROM stuff (including some Window wallpaper and Mac desktop images).
In all, this is a stunning DVD of a stunning movie.
What Dreams May Come, from Polygram Home Video
114 min. anamorphic widescreen (2.35:1), 16x9 TV compatible, Dolby Digital. 5.1
Starring Robin Williams, Annabella Sciorra, Cuba Gooding, Jr. Max von Sydow
Produced by Stephen Simon and Bernard Bain
Written by Ron Bass, Directed by Vincent Ward.