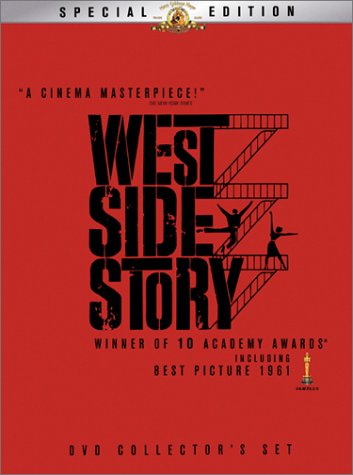 West Side Story on DVD
One of Hollywood's greatest musicals is out on DVD again, in a new special edition version that's a real DVD tour de force.
West Side Story, the Romeo and Juliet as New York street gangs story, was nominated for 11 Oscars, winning 10 including Best Picture, and they were well deserved. This new DVD should also get some kind of award, because not only do you get a pristine copy of the original film, remixed into Dolby Digital 5.1, and an excellent set of extras on a second disc, but you also get a thick collector's book the contains the screenplay, an introduction by script writer Ernest Lehman, a reproduction of the original lobby brochure, and much more.
It's one heck of a package!
The movie is a masterpiece that passes the test of time. The opening twenty minutes, which includes the overture (played over an abstract artwork of the New York skyline) and the prologue sets the scene beautifully, introducing us to the Jets and the Sharks and clearly showing their hatred for each other – all set to Leonard Bernstein's great music and with Jerome Robbins' fabulous choreography that blends dancing with fighting. It really must be seen to be appreciated.
The Jets are the heroes, though they're capable of some pretty unheroic actions. Riff (Russ Tamblyn) is their leader, who took the reins after gang co-founder Tony (Richard Beymer – the film's Romeo) outgrew the gang and got a job. The Sharks, the other heroes, are led by Bernardo (George Chakiris), whose younger sister Maria (Natalie Wood) is our Juliet.
Tony and Maria meet at a dance and it's love at first sight, but they're from different worlds, so their star crossed romance is doomed from the start. They don't care, though; love is blind.
Maria tries to get Tony to stop an upcoming rumble between the Jets and the Sharks, wanting peace between the gangs not only because it's the right thing to do but because it will also make her and Tony's relationship possible. But things go terribly wrong when Tony intervenes in the fight, and Riff – his best friend - and Bernardo both get killed.
On the run, Tony waits at a friend's for his love to join him, but she's delayed and instead sends her friend and Bernardo's love interest, Anita (Rita Moreno), to give Tony a message. This plan also goes horribly wrong and, thinking Maria is dead and he's lost forever, Tony takes to the streets again hoping to join her in death.
This quick rundown of the plot doesn't come close to doing justice to this masterpiece of musical tragedy, but we don't want to spoil it for those who may not have seen West Side Story yet.
Naturally, the movie is peppered with liberal helpings of music, song and dance, including such showstopping numbers as "America," "Tonight," "Officer Krupke," "Somewhere," and "Cool." The musical numbers are terrific, as is the score, and the cast is wonderfully exuberant. Robbins' choreography captures the teen frustration beautifully without making the audience lose its suspension of disbelief when these toughs start dancing through the streets (despite this reviewer's wife's comment about them "flitting about"!).
A wonderful, wonderful film experience that will leave moved anyone whose heart isn't made of stone.
And what a DVD! We hinted at the special materials above, so we won't go over them again, but there's plenty of other stuff to talk about.
The picture quality, for example, is wonderful nearly from beginning to end. The anamorphic widescreen video image (16x9 TV compatible) is sharp and clean and colorful, though we noticed a few shots that weren't up to the standards of the rest of the movie. Audio, which as mentioned is newly mixed into Dolby Digital 5.1, is about as good as one could hope for. There's little use of surround, but they've made excellent use of the three front channels, especially the main stereo speakers that handle the orchestrations. Some of the dubbing is obvious (Most of the main actors' singing was dubbed – and when you watch the documentary you'll have to agree that the producers made the right decision), especially during "Tonight," which almost looks like one of those badly done martial arts films.
Disc one, which houses the feature, also includes the original intermission music and you can opt to play the film with or without it (play it!).
Then there's disc two, which kicks off with "West Side Memories," an hour-long feature (presented in anamorphic widescreen) that has reassembled the surviving cast and crew members and lets them opine about their experiences of some forty-odd years ago. It's terrific!
You also get the original intermission music, in 5.1 "surround," several trailers, storyboard to film comparisons, a film archive, and more.
And don't forget the book!
We take our hats off to MGM for this beautiful version of a true classic. We hope to see plenty more in the future.
West Side Story, from MGM Home Video
152 min. anamorphic widescreen (2.20:1), 16x9 TV compatible, Dolby Digital 5.1 surround
Starring Natalie Wood, Richard Beymer, Russ Tamblyn, Rita Moreno, George Chakiris
A Robert Wise Production
written by Ernest Lehman, Directed by Robert Wise & Jerome Robbins