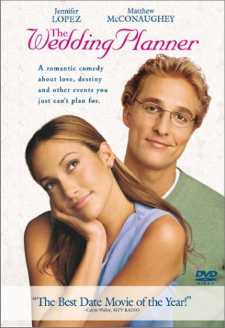 The Wedding Planner
Mary Fiore (Jennifer Lopez) plans weddings for a living - and she's the best there is. The bigger and more lavish, the more impressive she is; she has things arranged and timed to the "nth degree" and amazes her clients and peers with her performance.
Unfortunately, she doesn't have much of a life outside of her work, except for her family and neighbor group and the Scrabble team of which she's a member.
The one thing she really doesn't have is a man.
Then one day she's saved from harm by handsome doctor Steve (Matthew McConaughey), and is positively smitten with the man - only to discover that he's the groom in the next wedding she's planning, her biggest one yet! Disappointed and confused, she lets her professionalism take over and tries to shut off that part of her that's attracted to Steve.
But Steve's financee (Bridgette Wilson-Sampras) is a working girl on the move, and she practically forces Steve and Mary together to take care of the wedding details. Well, isn't that the last thing they need?
Meanwhile, Mary's father (Alex Rocco) has tried to arrange a marriage for Mary and her fiance-in-waiting follows her around trying to win her affections. This causes all sorts of confusion as Steve - and others - believe Mary to be engaged and planning her own wedding.
Will true love win out in the end? If so, whose true love will win out - and what'll happen to any jilted lovers that may be left in the wake?
The Wedding Planner is a romantic comedy that oozes sweetness, and that isn't a bad thing. Its two stars, both of whom have been embroiled in various irrelevant controversies, both turn in very good performances and you really do hope they get together (even though you know they really shouldn't). Lopez and McConaughey are both very likeable and believable and the supporting ensemble cast is terrific. The script is funny and, in places, quite touching.
The anamorphic widescreen DVD comes with plenty of extras, and the video and audio (Dolby Digital 5.1) quality are both very good. If you ever wanted to test your TV's color reproduction on a bunch of flower arrangements, this could be your film.
Extras include director and writer's commentary, a "making of" featurette, a featurette "The Dancer and the Cowboy," as well as some deleted scenes with accompanying commentary. You also get a decent liner essay inside the box, filmographies, and trailers.
We went into The Wedding Planner expecting a boring and obvious piece of fluff (we don't know why, exactly, but that was our impression) and were delighted to be charmed by this very good, very sweet movie about true love.
The Wedding Planner, from Columbia Tristar Home Video
104 min, anamorphic widescreen (1.85:1), 16x9 TV compatible, Dolby Digital 5.1
Starring Jennifer Lopez, Matthew McConnaughey, Bridgette Wilson-Sampras, Justin Chambers, Alex Rocco
Produced by Peter Abrams, Robert L. Levy, Gigi Pritzker, Deborah Del Prete, Jennifer Gibgot
Written by Pamela Falk & Michael Ellis, Directed by Adam Shankman