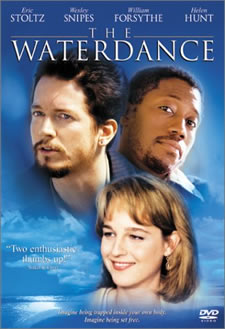 The Waterdance on DVD
Eric Stoltz is a writer recovering from a life shattering hiking accident in this tale about learning to live with the hand that life deals you.
The movie opens with him still wearing a "halo," a horrid piece of metal contraption designed to immobilize him in the wake of his spinal cord injury. He's in a ward populated by a motley assortment of men with similar injuries, people who are in various stages of adjustment to their new ways of living.
As he recovers, he builds unlikely bonds with his new associates and begins to reassess and rebuild his life. His reassessment includes revisiting his relationship with a married woman (played wonderfully by Helen Hunt), who seems to be the one person trying hardest to adjust - and help him adjust - to the new reality.
Wesley Snipes is excellent as Ray, another man struck down in the prime of life, as is William Forsythe as a redneck biker, and the rest of the supporting cast turn in very good, very sympathetic performances.
This could be a tear jerker, or a bore, but it ends up being neither. Instead, perhaps because it was co-directed and written by someone who knows what these unfortunate people are going through, it's a fascinating look at life and love, coping with loss - and renewal.
Some of the camera work, especially early on, is great as it gives a point of view look at hospital life from the perspective of Joel (Stoltz).
During their time thrust together, these people begin to put their lives back together, learning to live again - and love again - or to at least deal with things.
Slow moving it is, but despite that The Waterdance turns out to be an unexpectedly interesting and entertaining film.
The DVD is presented in digitally mastered anamorphic widescreen, enhanced for 16x9 TV's and Dolby Digital 2 channel audio. They say it's Dolby Surround on the box, but you could have fooled us. Nevertheless, the audio quality is fine and you don't really miss surround effects. The video is sharp and clean, with good color depth.
Extras are limited to trailers and filmographies.
The Waterdance, from Columbia Tristar Home Video
106 min. anamorphic widescreen (1.85:1), 16x9 TV compatible, Dolby Digital 2 channel
Starring Eric Stoltz, Helen Hunt, Wesley Snipes, William Forsythe and Elizabeth Pena
Produced by Gale Anne Hurd and Marie Cantin
Written by Neal Jimenez, directed by Neal Jimenez and Michael Steinberg