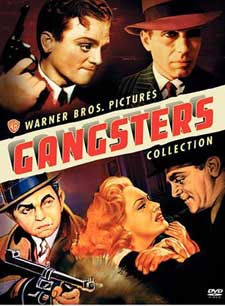 Warner Gangster Collection on DVD
If you love gangster movies but associate them with names such as De Palma, De Niro and Scorcese, you really owe it to yourself to sit down and watch this six disc boxed set from Warners.
And when you do, you'll be treated to names such as Cagney, Bogart, Robinson, Walsh and Curtiz, as well as some of the most famous gangster flicks of the 1930's and 40's.
These are some of the granddaddys of gangster films, movies that pretty well set the standard for the ones that followed. They were also star making vehicles for some of the biggest male stars of the "golden age" of Hollywood.
Here we see black and white, full frame gangster movies at their best, in newly remastered versions that, in Warner Home Entertainment tradition, also give you the chance to experience them as you would have seen them at a "night out" back in the movies' era. That's because each film can be viewed as a "Warner Night at the Movies," with a trailer, newsreel, short subject, and cartoon accompanying the main feature - all introduced by ubiquitious movie lover/historian Leonard Maltin.
Partaking of the entire show is the best way to enjoy these flicks, but of course you can ignore the extras and head straight into the flicks themselves if you prefer.
The movies are:
The Public Enemy - James Cagney became a star with his portrayal of small time thug Tom Powers, a really nasty piece of work who rises in the world of crime. The film contains an extra two minutes of footage that apparently haven't been seen in 70 years.
It's easy to see why Cagney became a star.
In White Heat, Cagney is just as nasty - and mesmerizing - as the cold-blooded thug Cody Jarrett. The movie follows the life of a man described as a ticking time bomb, from jail and back again to an ultimate "achievement" that leaves him "on top of the world."
Little Caesar made Edward G. Robinson into the prototypical gangster many would copy - or at least imitate. He's a tough guy, fast with his gun and ruthless - and afraid of no one. The movie follows his rise from small time hood to gang leader in what's supposed to be a thinly disguised version of the life of Al Capone.
Angels with Dirty Faces teams Cagney with Humphrey Bogart and Pat O'Brien. Cagney is Rocky Sullivan, a tough guy from skid row whose rise in the world of crime makes him a hero to the gang of young punks (the Dead End Kids). This film was nominated for three Oscars.
The Petrified Forest stars Humphrey Bogart reprising his Broadway role (with Bette Davis). It's a gritty "survival of the fittest" tale about a hostage taking in a rundown diner.
And The Roaring Twenties follows the life and times of unemployed war veteran Eddie Bartlett (James Cagney) who finds "success" after becoming a bootlegger. Co-stars Humphrey Bogart.
As mentioned, all the movies have been digitally remastered and the picture quality is generally pretty good. There's still plenty of grain in sections, though, but overall the black and white, full frame images capture the mood and the era very well.
They aren't 16x9 TV compatible, of course, so if your TV is prone to burn in you'll want to stretch and/or zoom the picture to fill the screen.
Audio is, not surprisingly, Dolby Digital mono and is also, not surprisingly, nothing to write home about. This is too bad, but it's only to be expected.
Each movie also comes with a good selection of extras, including commentary tracks, some new featurettes and audio-only bonus material (for example, The Petrified Forest comes with a radio adaptation of the film/play starring Bogart, Tyrone Power and Joan Bennett). And of course as mentioned above, each DVD can be enjoyed as a "Warner Night at the Movies" with or without Maltin (we enjoyed his intros) and with the "full meal deal" of programming.
This is a terrific set, and will undoubtedly be popular with collectors and students as well as those merely looking for a great gangster flick.