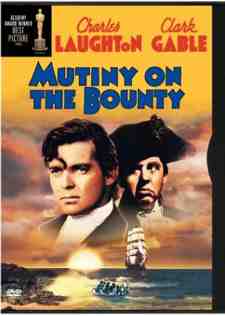 Mutiny on the Bounty on DVD
Charles Laughton would have gone down in movie history for his portrayal of Captain Bligh even if he'd never made another movie. He's that good.
Bligh, skipper of HMS Bounty on its mission to the South seas for trade goods, is everyone's worst nightmare of a boss. He's so low he could walk under a snake wearing a high hat, were you to find such a beast so attired. He's mean, overbearing, a swaggering dictator with delusions of godhood. He's so mean he had a dead sailor flogged to ensure the message sank in with the rest of the crew.
He's also one heck of a sailor, but that only helps the crew stand him for a while longer…
Bligh drives his men mercilessly, steals their rations to line his own pockets, and is a real wet blanket when it comes to letting the tired crew unwind with those pretty Tahitian girls.
Then he drags them back to sea and it's back to the same old scene as before – until the moment for which everyone has been waiting. First mate Fletcher Christian (Clark Gable), who has done his best to balance Bligh and the men, has had enough and the title of the movie comes to pass.
Bligh and some of his loyalists are set adrift in one of the ship's boats – and darned if Bligh doesn't captain them back to civilization!
Gable, perhaps because he was such a big star, isn't required to affect a British accent here, which is a shame since the rest of the Brits sound like Brits. It kind of keeps Gable's Mr. Christian aside from the rest of the officers and men, when he should really have been malleable enough to fit in with both sides of the crew. Oh well.
Laughton more than makes up for it…
And to be fair, Gable is good as Christian and comes across as fair, decent and hard working – a loyal officer pushed beyond the limits of tolerance.
This version of Mutiny on the Bounty (there were remakes in the 60's and 80's) won the 1935 Best Picture Oscar; both of the male leads were nominated.
The DVD's pretty good. The black and white movie is presented in its original full frame aspect ratio, so it isn't really 16x9 TV compatible, and the picture quality is spotty at best. There's plenty of grain, possibly because of the successive layers of film required for some of the blue screen shots. Perhaps a good remastering would help.
Audio is Dolby Digital mono and is unremarkable.
For extras, you get a documentary from the movie's era about life on Pitcairn Island "today," which is quite interesting. There's also a short newsreel from that year's Academy Awards bash and the theatrical trailers for both this version and the 1962 Brando/Howard version.
Mutiny on the Bounty, from Warner Home Entertainment
132 min. full frame (1.33:1, not 16x9 TV compatible), Dolby Digital mono
Starring Charles Laughton, Clark Gable, Franchot Tone, Donald Crisp, Herbert Mundin
Written by Talbot Jennings and Jules Furthman and Carey Wilson, directed by Frank Lloyd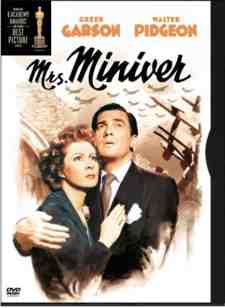 Mrs. Miniver on DVD
Does anyone doubt that William Wyler could make great movies?
Well not only was Mrs. Miniver a great film in its day, it's an even more important film today considering the war on terror through which so many people are living, pretending as if it weren't going on.
Mrs. Miniver is the story of an ordinary English family called upon by war to do extraordinary things, all while trying to continue their lives in as normal a manner as they can under the circumstances.
Greer Garson is outstanding in the title role (in a performance that won her a Best Actress Oscar) of the family matriarch. She's middle aged, and what a class act she is, smart, friendly, still sexy, and very credible. Her life is fulfilled by her husband Clem (Walter Pidgeon), their college-age son Vin (Richard Ney) and two younger kids.
Life is normal. They're comfortable, but not filthy rich, and they love their lives and their family. Vin comes home from college spouting all kinds of radical talk, the kind of liberal mush they fill kids' heads with in schools – until life and circumstances force him to face issues that can't just be talked about and that require thought and credible action. This is one aspect of the film that makes it so relevant today.
One of the first things that make him start thinking with his brain instead of his heart is next door neighbor Carol (Best Supporting Actress Teresa Wright). She's a child of privilege – but another class act despite the silver spoon, and soon the kids are falling madly in love.
Just in time for Britain to declare war on Hitler and the Nazis and throw their lives into a blender.
There's a feeling of dread and sorrow that goes through the film, especially during scenes such as when the family is holed up in their bomb shelter, waiting for whatever's about to happen yo happen, or where you know someone close to the family (and by now, to you as well) just has to be killed or it wouldn't be a drama, but you don't want to happen – and when it does, the cause and the victim are unexpected.
Then there are other scenes so full of joy you wish you could reach into the screen and participate in a big group hug with the extended family.
That Wyler fellow, he could sure play this viewer like a violin.
Everything about this movie is first rate and it isn't hard to see why it was the Best Picture of 1942, with the best director, actress, supporting actress, screenplay and cinematography.
Wow! Okay, the last speech by the vicar is obviously aimed at the theater audience of the day, a bit of war propaganda, but it also makes sense and therefore it works.
This is a decent DVD, though there's nothing spectacular about it. The disc is presented in the original 1.33:1 aspect ratio, so owners of 16x9 TV's will want to stretch and/or zoom it to fill their screens, but that's the way it is with aspect ratios.
The picture quality itself is good. The black and white image is clean and features good contrast – and the night scenes, of which there are many, come through well.
Audio is Dolby Digital mono and, not surprisingly for a 1942 movie, is unremarkable.
Extras include a couple of WWII-era shorts that are pretty interesting: Mr. Blabbermouth and For the Common Defense. There's also a short clip of Greer Garson accepting her Oscar, a photo gallery, and the trailer.
Mrs. Miniver, from Warner Home Entertainment
133 min. full frame (1.33:1, not 16x9 TV compatible), Dolby Digital mono
Starring Greer Garson, Walter Pidgeon, Teresa Wright, Dame May Whitty, Henry Travers
Produced by Sidney Franklin
Written by Arthur Wimperis, George Froeschel, James Hilton, Claudine West, directed by William Wyler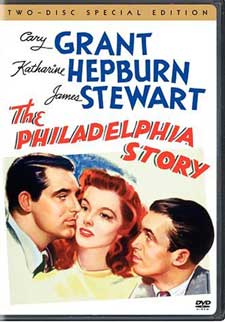 The Philadelphia Story on DVD
Well, call us silly but we watched this whole movie and couldn't figure out what it had to do with cream cheese.
Seriously, The Philadelphia Story won an Oscar for James Stewart, but it also really put Katharine Hepburn on the map - though she surely deserved an Oscar for her performance here as well.
Hepburn had already demonstrated her formidable skills in such flicks as Bringing Up Baby, but that didn't necessarily mean her Hollywood career was on the upswing. And she is nothing short of superb here as Tracy, the betrothed socialite whose equilibrium is flipped upside down by the return of her ex (Cary Grant, who is also excellent) and the arrival of a reporter (Stewart).
There isn't a lot new that you can say about a film that's considered one of the great classic comedys. And this is definitely one of the greats. The performances are worthy of the names of the renowned artists creating them; Donald Odgen Stewart's script seems as if it flowed from his fingerstips directly through the typewriter and onto the screen, thanks to the great direction of George Cukor.
It's crazy, and it's gleeful about it, yet it has great class.
This new DVD edition is another great two disc release from Warner Home Entertainment. There is plenty of extra material, but one thing we missed was the great feature Warners has included on many old movie DVD of being able to program the disc to simulate the whole theatrical experience of the day the movies originally played, including cartoon, newsreel and short subject.
We're real fans how Warners treats these old movies, and can't figure out why they missed the opportunity for both this title and Bringing Up Baby (reviewed below). Oh well.
The DVD features a digitally remastered black and white, full frame (4:3, not 16x9 TV compatible) picture and it's very good. The image is sharp and clean with few artifacts.
Audio is Dolby Digital mono and it's about what you'd expect, though it's pretty clean.
And despite the lack of the "night at the movies' feature, you do get plenty of goodies. Here's a partial listing:
• Commentary by Film Historian Jeannine Basinger
• George Cukor Movie Trailer Gallery
• Two Documentaries - Katharine Hepburn: All About Me - A Self-Portrait and The Men Who Made the Movies: George Cukor
• Robert Benchley Short: That Inferior Feeling
• Cartoon: The Homeless Flea
• Audio-Only Bonus: Two Radio Adaptations Featuring the Movie's Three Stars
The Philadelphia Story, from Warner Home Entertainment
112 min. full frame (1.33:1, not 16x9 TV compatible), Dolby Digital mono
Starring Cary Grant, Katharine Hepburn, James Stewart
Produced by Joseph L. Mankiewicz
Written by Donald Ogden Stewart, directed by George Cukor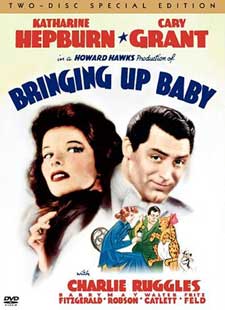 Bringing Up Baby on DVD
If you looked up the definition of "Screwball Comedy" in the dictionary, chances are they'd show a picture from Bringing Up Baby to accompany it. And with good reason. This is a very funny movie!
Cary Grant stars as David Huxley, famous paleontologist who is angling for a philanthropic grant for his museum. In his quest for this gift from a rich patron, he runs into Susan (Katherine Hepburn), who, as it turns out later in the story, is also the niece of his potential benefactor.
And of course once David meets up with her, his life will never be the same.
David, thanks to Susan, finds himself swept up in a series of misadventures ludicrous, yet so funny, when all he wants to do is retrieve a Brontosaurus bone and get on with his life.
And then there's Baby, a gorgeous leopard who we wish had more screen time. What a wonderful big pussycat!
Director Howard Hawks has given us a movie that careens along at breakneck pace, laughing all the way. But not all the way to the bank, apparently, at least back then. Bringing Up Baby wasn't a particularly successful film at the box office on its initial release, but it has certainly stood the test of time and is one of the classic examples of the screwball comedy. Another excellent example of this art form is Peter Bogdanovich's What's Up Doc.
You really have to see it to appreciate the silliness of the improbable situations, the rapid fire delivery of the lines, and the marvelous interaction between the characters – especially Grant and Hepburn.
This is another great Warner's 2 disc special edition, though as with The Philadelphia Story we can't figure out why they didn't give it the same Leonard Maltin-hosted night at the movies option like they do on many of their other old movies. Oh well. There's still lots here.
The digitally remastered full frame, black and white picture is very clean, with nice contrast. There's a hint of edge enhancement occasionally, but it isn't too intrusive. Audio is about what you'd expect from 1938.
Peter Bogdanovich himself does a running commentary of the movie on Disc 1. Disc 2 has two feature length documentaries. One is devoted to Howard Hawks, the other to Cary Grant. You also get a couple of vintage shorts and a bunch of Howard Hawks trailers.
You'll laugh your bum off.
Bringing Up Baby, from Warner Home Entertainment
102 min. full frame (1.33:1, not 16x9 TV compatible), Dolby Digital mono
Starring Cary Grant, Katharine Hepburn, Charlie Ruggles
Written by Dudley Nichols and Hagar Wilde, directed by Howard Hawks