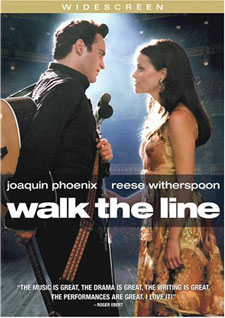 Walk the Line on DVD
It's unfortunate that nowadays, even films based on true stories have to follow a certain formula in order to get made.
Walk the Line, the Johnny Cash biopic starring Joaquin Phoenix and Reese Witherspoon, is essentially the same movie as Ray, with even less of a focus on the singer's actual music.
We meet Mr. Cash early in his life, living with his mom, dad, and brother. For a reason that we can't remember being explained, Johnny's dad doesn't think too much of him. Or at the very least, his brother is his favorite, the good son, destined for great things as a preacher, and a talented individual as well. Then something bad happens.
Jump ahead to an older Johnny who starts becoming interested in music. He puts together a band and makes himself a record, and before long starts playing some shows. But like many musicians, Johnny has demons - and the pressures of the road (though the movie doesn't really make that clear) that can only be temporarily defeated by drugs. Needless to say, he falls into it, big time.
But along the way he meets June Carter (Witherspoon), a beautiful woman with an angelic voice, a heart of gold and a character of steel. Without June, Johnny probably would have died a long time ago. The two become fast, close friends, being there for each other on nearly every necessary occasion.
The film, unfortunately, never delves into how Johnny Cash came up with his style, or even why he got into music in the first place. It follows his drug addiction, his relationship with June, and everything else is secondary. And it ends far too early, not even getting into the age when he had his top rated television show and many more hit records.
Not to say that Walk the Line is not still a fine film, but more focus on other more interesting aspects of the man's life would have been beneficial.
Many kudos must be given to Phoenix and Witherspoon. The fact that they perfectly embody the characters they play is enough, but to do their own singing as well as they did is quite an accomplishment. Phoenix's stage presence is bewildering; you'd almost swear they took live footage of Johnny Cash and spliced it into the film. Even his voice, while not quite perfect, sounds enough like Cash to fool more casual fans. And Witherspoon (though we're not as familiar with Carter's work), sounds spot-on to us, and was well deserving of her Oscar.
Director/co-writer James Mangold has done an admirable job of putting the film together. He misfires on only a couple of nitpicky points, but the tone and feel of the movie are just right. It's well worth watching simply to be blown away by the performances of some very talented actors.
The DVD is available in separate 2.40:1 anamorphic widescreen and full screen versions, as well as a 2-disc collector's edition. Video quality looks pretty good, with excellent color, detail and flesh tones. We did notice a bit of grain during some of the darker scenes, and some edge enhancement, but it only lasts for a few seconds here and there.
The audio, on the other hand, is downright spectacular. All five channels get a great workout, and the subwoofer positively booms, especially during the live performances. Every element is crystal clear, with great separation between dialog, music and sound effects. Volume, also, doesn't fluctuate (which is becoming an increasing problem of late). This is a reference quality audio track with a pretty good video transfer.
Extras include an audio commentary by James Mangold, as well as a collection of deleted scenes, available with or without commentary by Mangold.
Walk the Line, from 20th Century Fox Home Entertainment
135 minutes, anamorphic widescreen (2.40:1) 16x9 enhanced, Dolby Digital & dts 5.1
Starring Joaquin Phoenix, Reese Witherspoon and Robert Patrick
Produced by James Keach, Cathy Konrad
Screenplay by Gill Dennis & James Mangold, directed by James Mangold