Voyage to the Bottom of the Sea – the Global Warming Edition – on DVD
Talk about cashing in on paranoia! The "Global Warming Edition" of Irwin Allen's minor classic comes with a new documentary that beats you over the head with dogma, then tells you how to change your life.
All we wanted to do was watch the damn movie!
"Voyage to the Bottom of the Sea" recounts the tale of an Earth where the temperature has soared thanks to the sudden fiery ignition of the van Allen belt of the atmosphere. Fortunately, super scientist Admiral Nelson (Walter Pidgeon) and his new supersub the Seaview are on patrol and have the wherewithal to save the world. Nelson figures out that a missile aimed at just the right point will explode the van Allen belt into space, restoring the Earth's temperature to its pre-artificial greenhouse effect days.
Unfortunately, the world's powers that be don't believe him, and he's forced to take his sub on a renegade mission to save humanity.
Pidgeon's Admiral Nelson is a driven man who won't listen to anyone but himself, which makes it a good thing that he's right all the time! Also along for the ride are Barbara Eden, Joan Fontaine, Peter Lorre, Robert Sterling, Michael Ansara, and Frankie Avalon.
There are plenty of plot holes, but the Seaview looks great (so do most of the special effects, though this doesn't appear to be a very big budget movie) and the story's engaging enough to have spawned a TV series (which, of course, it did).
This new version doesn't look much different from the earlier DVD we reviewed a few years back, except that this one isn't a double feature shared with Fantastic Voyage. The DVD is presented in anamorphic widescreen, (2.35:1, 16x9 TV compatible), and the picture quality is very good (but not great). Audio is Dolby Digital 4.0, but it sounded a lot like mono to us and it's about what you'd expect.
And of course you get a bunch of extras, including a commentary by author Tim Colliver.
Then comes Science Fiction: Fantasy to Reality, a documentary that starts off well enough, showing us how Sci-Fi has predicted many of Man's advances, and challenges, then climbs up on its high horse – through interviews with a few select writers, politicians and environmentalists – and beats us over the head with global warming dogma.
Funny, that. They ignore the one possible hope that this movie doesn't forget: human ingenuity. But what's logic when you have a religion to sell?
You also get an interview with Barbara Eden, photo galleries featuring original props (Including Admiral Nelson's Seaview Display Model and More), and plenty more.
Voyage to the Bottom of the Sea, from 20th Century Fox Home Entertainment
105 min. anamorphic widescreen (2.35:1, 16x9 TV compatible), Dolby Digital 4.0
Starring Walter Pidgeon, Joan Fontaine, Barbara Eden, Peter Lorre, Robert Sterling
written by Irwin Allen and Charles Bennett, produced and directed by Irwin Allen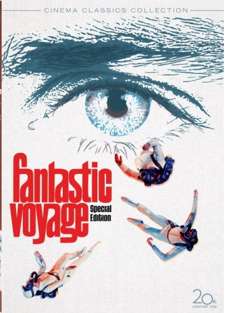 "Fantastic Voyage" concerns miniaturization technology and the cold war. Stephen Boyd is, well, some kind of agent, who has just brought scientist Jan Benes to the U.S. where he's about to spill his guts to the scientific authorities. He knows the secret to making the miniaturization process feasible.
Unfortunately (or fortunately, since otherwise we'd have no story), the other side has gotten to him, and Benes is now in a coma, on an operating table, with a brain clot that can't be operated on with conventional surgery.
What they propose to do is shrink a submarine and crew, and send it through Benes' bloodstream to the site of the injury and operate on it from inside, with a laser beam.
A nifty idea, and one that gives the producers plenty of opportunity to portray the wonders of the human body as seen from the inside.
Also along for this fantastic voyage are Arthur Kennedy as the surgeon tapped for the job, Raquel Welch as the requisite girl, Donald Pleasence as, well, it depends, and William Redfield as the Captain and designer of the good sub Proteus. Edmond O'Brien and Arthur O'Connell run the show from outside.
The story's neat, but once again there are plot holes large enough to drive the unshrunk Proteus through (for instance, how come the wreckage of the sub doesn't destroy the patient when it returns to its normal size?).
Still, it's a nifty yarn and for the most part director Richard Fleischer (Disney's 20,000 Leagues Under the Sea) pulled it off very well.
The widescreen (2.35:1) picture quality is okay, with plenty of grain.. Audio quality, which is billed as Dolby Surround, is okay as well. Then there's the extra stuff on this new Special Edition:
Commentary by Film/Music Historian Jeff Bond
Isolated Score Track with Commentary by Film/Music Historians Jeff Bond, Jon Burlingame and Nick Redman
Lava Lamps & Celluloid: A Tribute to the Visual Effects of Fantastic Voyage featurette
Whirlpool Scene: Storyboard-to-Scene Comparison
Original Props (with video and stills)
Theatrical Trailer
TV Spots
Deleted Scene: Script-to-Storyboard Gallery
Storyboards: Pre-Miniaturization Sequence Gallery
Galleries Including Production Art & Stills, Posters, Lobby Cards and Interactive Pressbook
Fantastic Voyage, from 20th Century Fox Home Entertainment
106 min. anamorphic widescreen (2.35:1, 6x9 TV Compatible), Dolby Digital Surround
Starring Stephen Boyd, Raquel Welch, Donald Pleasence, Edmond O'Brien, Arthur O'Connell
Produced by Saul David
Written by Harry Kleiner, directed by Richard Fleischer
Fox is also making available The Neptune Factor, a far more obscure movie than the other two. Here's Fox' description:
Aboard the R/V Triton, the Project Neptune team is doing oceanographic research. Director Andrews is trying to keep the research going in spite of opposition from Foundation Head Sheppard. Below on the ocean floor, in the Sealab, the team led by Hamilton is about to return to the surface when the Sealab is ripped loose from its moorings and sent careening into a trench. Trapped too deep for divers, the only chance is rescue by a new US Navy mini-sub, piloted by the arrogant Commander Blake who along with his team dives in the mini sub to attempt the rescue of the trapped Hamilton and crew.
The DVD features an anamorphic widescreen presentation (2.35:1 ratio, 16x9 TV compatible), with English Stereo and English, French & Spanish Mono sound, as well as Spanish subtitles. Additional special features include:
Theatrically Released Isolated Score & F/X Track by Lalo Schifrin
Never-Before-Released Isolated Score Track by William McCauley
TV Featurette
Theatrical Trailers
TV Spots
Interactive Pressbook Gallery
Advertising Gallery
Production Gallery
The Neptune Factor, from 20th Century Fox Home Entertainment
98 min. anamorphic widescreen (2.35:1, a6x9 TV compatible)/ Dolby Digital mono
Starring Ben Gazzara, Yvette Mimieux, Walter Pidgeon, Ernest Borgnine
Written by Jack DeWitt, directed by Daniel Petrie