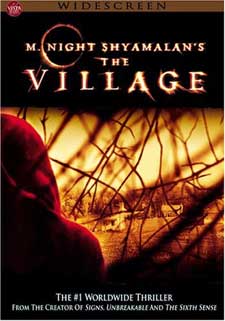 The Village on DVD
Take a dash of the Amish, add a pinch of the Branch Davidians, mix in a bit of hippiness, blend in a heaping dose of paranoia, and you may begin to understand M. Night Shyamalan's The Village.
The title village lies in a peaceful, bucolic setting surrounded by a thick wood in which, apparently, there be dragons or some other type of mysterious and dangerous beasties. Those beasties are the boogeythings that keep the villagers in the village, though they also periodically cross the boundaries of the village to sow the seeds of scariness to the citizens.
For the most part, the Village seems to be a beautiful place to live, populated by a gentle folk who, alas, appear to also be suffering some of the scourges of inbreeding. Or maybe they're just a microcosm of society in general. But below the surface there are dark secrets and as the movie unfolds we discover that the village elders seem to know more than they'll let on and that, far from being some religious cult this is a group whose origins are far more mainstream than one would expect.
Then sickness and injury rear their ugly heads and the only way to save lives is to leave the safety of the village and seek out help from those in the outside world. But that way leads to danger and/or madness, doesn't it?
The Village is a very creepy movie that has a mood of impending horror all through it, yet it never gets really frightening in a "Night of the Living Dead" type of scarefest. It's an interesting balancing act Shyamalan has performed between horror and suspense and he pulls it off very well – more Hitchcock than Romero. And that's fine.
There's a bit of social commentary as well as a good helping of good old fashioned romance as well, the latter primarily thanks to the character played by Bryce Dallas Howard (Ron's daughter), who plays Ivy Walker. Even though she's surrounded by veterans such as William Hurt, Sigouney Weaver and Joaquin Phoenix, she holds her own and, really, is the person who really makes the movie work. We have a feeling we'll be seeing a lot more of her.
The DVD is very good, though unfortunately as is so common these days they've seen fit to release both anamorphic widescreen and Pan&Scan versions under separate cover. We recommend (and, fortunately, received) the widescreen version, especially if you have a 16x9 Television set.
The picture quality is very good, sharp and rich and without artifacts. Audio, Dolby Digital 5.1 surround, is also very good.
For extras, you get a series of deleted scenes with introductions by the director himself, and a feature "Deconstructing The Village" which is basically a "making of" thingy. You also get "Bryce's Diary," a special M. Night Shyamalan home movie, and a production photo gallery.
The Village, from Touchstone Home Entertainment
anamorphic widescreen (1.85:1, 16x9 TV compatible)/Pan&Scan (sold separately), Dolby Digital 5.1 surround
Starring William Hurt, Sigourney Weaver, Joaquin Phoenix, Bryce Dallas Howard
written and directed by M. Night Shyamalan
Here's another take, courtesy of Screen D'Or Magazine:
The Village
M. Night Shyamalan's The Village is not the kind of movie you can think too much about before, during, and after you watch it.
The man has given us such fine films as The Sixth Sense, Signs, and to a lesser extent, Unbreakable. The Village is certainly the same kind of movie, but it's not as good.
In a remote village in the woods of somewhere, three generations of people are just doing their thing. They work hard, they play hard, but for the love of God they never enter the woods. For beyond the borders of the town lie some mysterious creatures. For years there has been an understanding: the people of the village never enter the woods, and the creatures never enter the town.
But things don't always work out as you hope. One of the villagers breaks the rules and heads out into the woods, giving the creatures the perfect opportunity to harass the townsfolk. And then when it becomes necessary to make a trek to a nearby town for medicines, we start to really see what's going on.
The Village is 108 minutes long, but only features a handful of interesting scenes. There's incessant talking, lots and lots of story and character to develop, and you know you have to pay attention to look for the "clues" that will help you determine the final act.
Many consider this to be Shyamalan's weakest effort to date, and it's hard to disagree. While his other films were labors of love, this one feels a bit rushed, as though he only made this movie to fulfill a contract or what not. Some of the holes are never filled, some of the questions never answered. It even seems like the creatures were only included to put it in the same category as his other films.
It's been written that people in the theatre "laughed hysterically" during the final twenty minutes. That's a bit harsh. While the big secret in The Village is not in the same league as The Sixth Sense, it's actually a pretty clever twist that at least I didn't see coming, and in fact had to think about afterwards to see if it even made sense.
Without actors who could hold the movie together, it probably would have been a huge mess. Joaquin Phoenix, Adrian Brody, William Hurt, Sigourney Weaver and Brendan Gleeson all keep things going pretty smoothly. But it's Bryce Dallas Howard (yes, Ron Howard's daughter) as the lovely and blind Ivy that steals every second of the film. She deserves many kudos for her work here, but will probably go unnoticed based on the poor response to the movie.
I found The Village to be an entertaining and somewhat boring (at times) movie that reeks of M. Night Shyamalan. If you're willing enough to sit back and enjoy it and aren't expecting to be blown away, things should turn out okay. However, if you're extremely judgmental about your movies, it's best to let this one sit on the shelf.
It's hard to decide if the film was a hit or not (it opened to $55 million and closed to about $115 million), but it still gets a pretty good DVD. Video quality, presented in 1.85:1 anamorphic widescreen, is clear and sharp, with a great blend of high and low light conditions. Fleshtones are always clean, colors are done well, and the detail is gorgeous. The creatures are always out of focus (and you know this was the intent of the filmmaker), but they're always just in focus enough to make out intriguing details, and the picture quality does not detract from that.
The Dolby Digital 5.1 EX track doesn't have a lot to do, but does it well. There are constantly noises coming from the back of the room (a la the woods), leaves rustling and creatures creaking, but they're just barely there – or are they there at all? Oftentimes it can be hard to understand the characters, but it's more because they're whispering and muffling their voices rather than anything else. The score adds a bit of intensity, while the subwoofer rumbles so much you can feel your stomach shaking.
"Deconstructing The Village" is a 25-minute making-of piece. It covers everything from casting, all the way up to scoring the film. While it's not long enough to really be comprehensive, it does cover everything in just enough detail to not get sick of it. A series of deleted scenes sheds a bit more light on things, and a few of them should have been left in the film to help things along. "Bryce's Diary" is a bunch of excerpts from the leading lady's diary, in which she talks about her experiences making the movie. It's kinda cute, but all in all not all that engrossing. Finally, we get a production photo gallery and some trailers, including a really lame one for the upcoming Hitchhiker's Guide to the Galaxy.
The Village, from Touchstone Home Entertainment
108 minutes, anamorphic widescreen (1.85:1) 16x9 enhanced, Dolby Digital 5.1 EX
Starring Joaquin Phoenix, Adrian Brody, Bryce Dallas Howard, William Hurt, Sigourney Weaver, Brendan Gleeson
Produced by Scott Rudin and Sam Mercer
Written, produced and directed by M. Night Shyamalan