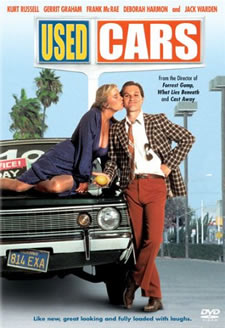 Used Cars on DVD
Such a Deal!
A young Robert Zemeckis proved his talents in this low budget comedy that features a young Kurt Russell as an unscrupulous used car salesman trying to make his mark.
If you're interested in seeing one of the flicks that got the director of Forrest Gump, Cast Away, Who Framed Roger Rabbit and Contact where he is today, this is a good place to start.
Russell is Rudy Russo, an oily salesman who wants to use his sales position as a springboard into politics. He works for Luke Fuchs, a tired excuse for a man who's trying to hang onto his car dealership despite his unscrupulous brother's (both brothers are played by Jack Warden) efforts to have the lot bulldozed.
But brother Roy L. Fuchs will stop at nothing and finally gets rid of his brother, though he can't prove it because Rudy and his fellow employees (Gerritt Graham and Frank McRae) hide the body and tell everyone that Luke is merely on vacation.
Enter Luke's estranged daughter, Barbara (Deborah Harmon), who wants to reconcile and Rudy et al are forced to hide the truth from her as well. Rudy does this, not surprisingly, by putting the make on her, a tactic that seems bound to succeed until she accidentally learns the truth about her father.
The film unfolds in a bizarre and very funny way, culminating with a wild ride across the countryside as Rudy, Barbara and the gang try to round up a fleet of cars in time to prevent a false advertising suit from destroying the family business.
It's wild and raucous and irreverent - and very funny watching these disgusting excuses for humanity (and these are the good guys!) pull off their capers.
Not for a young audience, thanks to the film's profanity and adult situations, Used Cars is a wild flick that had us laughing repeatedly.
Russell is perfect as the oily Russo, and the supporting cast provides just the right flavor for a movie that revels in its own bad taste - an in an infectious way that'll have you chuckling along with the outrageous situations. Zemeckis' direction is frenetic and his script (co-written by producer and former collaborator Bob Gale) is tight and right on the money.
The DVD is also loaded with extras. The digitally mastered anamorphic widescreen picture (16x9 TV compatible) is mostly to notch (there are some grainy sections, but for the most part this low budget flick has been translated very well to the digital medium), and while the Dolby Digital mono sound isn't great, any distortion and other flaws it may have (which mostly stem from its low budget origin) somehow help endear this flick to the audience.
And Columbia Tristar has really piled on the extras, including a running commentary featuring Zemeckis, Gale, and Russell (reunited at last!). There's a selection of bloopers, production notes, talent files, trailers and even a section of radio and TV promo stuff that includes radio spots and a promotional appearance by star Russell on a local radio show. These radio thingies feature the original audio showed on a black screen, and some of the commercials are quite funny.
Used Cars, from Columbia Tristar Home Entertainment,
111 mim. anamorphic widescreen (1.85:1), 16x9 TV compatible, Dolby Digital mono
Starring Kurt Russell, Gerritt Graham, Jack Warden, Frank McRae, Deborah Harmon
Produced by Bob Gale
Written by Robert Zemeckis and Bob Gale, Directed by Robert Zemeckis.