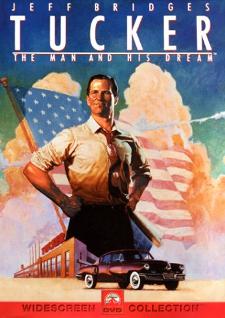 "Tucker, the Man and his Dream" on DVD
"Larger than Life Moviemaking"
George Lucas produced and Francis Ford Coppola directed this entertaining biopic about Preston Tucker, the auto entrepreneur who dared take on the Big Three in Post WWII USA.
Jeff Bridges stars as Tucker, a whirlwind of a man with a "never say die" attitude toward life and the pursuit of his dream. He made his first big business breakthrough with gun turrets for bombers, but it was cars that really turned his crankshaft.
Tucker had a vision of a new type of car: aerodynamic, rear engined, safe, a concept he felt would be the proverbial better mousetrap.
He may have been right, but you don't take on the entrenched interests lightly and without paying a high price. It doesn't take Tucker long, via his ideals and his personal style, to run afoul of Detroit and all the vested interests.
Jeff Bridges is likable and believable as Tucker, and he's joined by a wonderful cast, including Coppola staple Frederic Forrest. Martin Landau kicked-started his lagging carerr - and is terrific as Tucker's partner, and Lloyd Bridges is appropriately oily as a US Senator who's in the pocket of the auto industry.
Coppola's direction is, as always, superb and his trademark moviemaking "tricks" are well in evidence. "Tucker" is a sparkling movie and a wonderful tribute to the American dream. Too bad this American dream turned into a nightmare.
The DVD is in widescreen, enhanced for 16x9 TV's, with Dolby Digital 5.1 audio, and the quality of both are superb. The disc, not surprisingly for a Lucasfilm production, is made to the THX standards. Extras include "Tucker: The Man and The Car," a 1948 promo film with added commentary by director Coppola. There's also a running commentary by Coppola, and a very interestings "Making of" documentary.
Tucker, the Man and his Dream, from Paramount Home Video
128 minutes, Widescreen (2.35:1), Dolby Digital
Starring Jeff Bridges, Joan Allen, Frederic Forrest, Martin Landau
Produced by Fred Roos and Fred Fuchs
Written by Arnold Schulman and David Seidler, Directed by Francis Ford Coppola