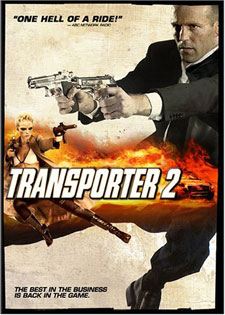 The Transporter 2 on DVD
Mindless action fans rejoice!
The original Transporter film, starring Jason Statham, was a basic story seemingly written around a series of really cool action sequences. Like a sequel should, Transporter 2 has an even more basic story written around some even cooler action sequences.
Frank Martin (Statham) has cleaned up a bit. He seems less interested in a career aiding criminals, and more interested in the kind of jobs that are less likely to get him killed. His latest assignment is to drive for a wealthy family in Miami, and things seem to be going pretty well.
That is, until the family's son is abducted by some really nasty folk.
Naturally, Frank being who he is, takes matters into his own hands and tries to get the boy back (it probably doesn't help that the family thinks he was involved). He goes against the odds, and must single-handedly thwart the bad guys and save the lives of the boy and, potentially, his famly.
Not to mention Frank himself....
If you're looking for style, rather than substance, look no further. The Transporter 2 is chock full of fast-paced, stylized action, with some elaborate choreography. In some places it goes groan-inducingly over the line, but it almost seems like a way to ensure we don't take it too seriously (though some people still will, for some reason).
Besides, this film doesn't even go as far as most James Bond films.
Jason Statham re-proves his prowess here. His acting chops may not be worthy of Oscar consideration, but there are few people who embody "action star" like him with his moves and attitude.
The Transporter 2 is not great moviemaking. It merely takes the concept of the original, ups the ante, and delivers it with some major pizzazz. You may feel a couple of I.Q. points stupider afterwards, but it's a fun, mindless action romp that only the most stuck-up individual could possibly find fault with.
The DVD comes complete with widescreen (2.35:1) and full screen version, with a Dolby Digital 5.1 audio track and a few extras. Picture quality is pretty solid, with only a few patches of grain and a soft touch bogging it down. Color, detail and fleshtones are all done well, and blacks and whites show up quite nicely.
The audio track is impressive, with solid, frequent surrounds during the many action scenes, and a much more reserved musical score during the non-action scenes. The subwoofer gets a great workout, but oddly enough, we noticed a surprising lack of front left and right speaker output. Overall, things still sound great, though.
Extras on the disc kick off with almost 20 minutes worth of deleted and extended scenes. There's some not bad stuff in here, but ultimately the film would have become too long and its pacing shot. The 87 minute runtime is absolutely perfect (though we wouldn't have complained abouta little more action).
"Making of Transporter 2" is only about four minutes, and not long enough to really be good for anything. A bit longer is the ten-minute "Making of the Music" featurette, which gives us a pretty in-depth look at scoring and mixing the film. Interesting, if you're into that kind of thing. Finally, we get a blooper reel and a Fox Inside Look.
The Transporter 2, from 20th Century Fox Home Entertainment
87 minutes, anamorphic widescreen (2.35:1) 16x9 enhanced, Dolby Digital 5.1
Starring Jason Statham, Alessandro Gassman, Amber Valletta and Kate Nauta
Produced by Luc Besson and Steven Chasman
Written by Luc Besson & Robert Mark Kamen, directed by Louis Leterrier