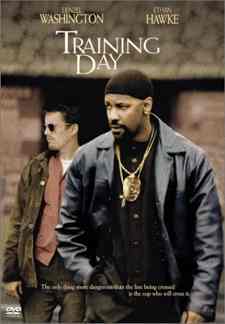 Training Day on DVD
Ethan Hawke gives a great performance, but he goes relatively unnoticed against the superb job by Denzel Washington.
Hawke plays Jake Hoyt, a rookie cop who has dreams of working on the undercover narcotics team. He gets his chance, and rides along with Alonzo Harris (Washington) for a day. Alonzo doesn't make a very good first impression (nor subsequent impressions, for that matter). At first he seems a little on edge, and sort of walking the fine line between good cop and bad cop. But as the day progresses, he slips deeper and deeper into bad cop mode, and Jake's day gets consistently worse.
You can't help but feel sorry for Jake. He loves his wife and his new baby daughter, and he wants to provide a good life for them -- and he wants to clean up the streets in the process. He's the epitome of perfect husband/cop. But then he's dragged into something even more dangerous than the perilous streets of L.A.
It's amazing how so many of the small, seemingly insignificant situations that occur throughout the day can end up having a major effect on the outcome.
The script is clever, even throwing a few curve balls at you.
As mentioned, the acting is excellent. Washington is as good as you've heard, and Hawke is almost as good. As Mr. Washington stated himself, Ethan Hawke has a thankless job in this film. His character is not nearly as strong or memorable, especially considering this is the first time Denzel has played the bad guy. And he's just so nasty that he's the kind of guy you love to hate. Definitely one of the best performances of the year, and he scores extra points for playing against type.
I could go on, but to talk about any details of the plot would be giving too much away. It's a dark, eerie, entertaining thriller that puts some of our greatest fears into the spotlight. One of the scariest things anyone can imagine is for the ones we trust to be the ones we fear, but don't know it. Training Day is a classic example.
The climax is intense, and just when you think you know how it's going to end, it throws another curve ball at you. Unfortunately, the ending is quite a bit less spectacular than I was thinking it would be. Still good, though.
Really, the only problem with the movie is that it seems to go on forever. It takes place over the course of a day, and at just over two hours it feels much, much longer.
Other than that, it's a very entertaining thriller with some great performances to back it up. Definitely worth seeing.
Warner has made a worthy DVD. The picture is one of the better transfers I've seen this year, and the audio is quite superb as well. As an added bonus, there are some decent extras to go along with it.
The film is presented in 2.35:1 anamorphic widescreen, and you really can't ask for anything better. It's perfectly clear, and even during the very dark scenes it's easy to see what's going on. There are no foreign objects, and this is just a downright excellent transfer.
The Dolby Digital 5.1 audio track should be used as an example of how audio should be done. Even though there aren't a bunch of explosions and big action sequences, you can still tell all the way through that this is a 5.1 track. Whether it's dialogue, sound effects, music, or just bass, this is a great sounding audio transfer.
To start off the extras, there is an audio commentary by director Antoine Fuqua. This is a pretty standard commentary, but better than some. Next up is a 15-minute HBO First Look documentary, which is also pretty standard. It was made more for PR purposes than anything else, but does feature some good interviews with the main players.
There is an alternate ending, which is really just a deleted scene that happens to be at the end of the movie, but I guess it sounds better having an "alternate ending" to a movie. There are also some deleted scenes, some of which are very good. One rather lengthy one, in which Alonzo tells a story of his training day, is very powerful and should have been left in the film.
Finally, there are two music videos and the trailer.
Slightly better extras and this would be a perfect DVD.
Training Day, from Warner Bros. Home Entertainment
122 minutes, anamorphic widescreen (2.35:1) 16X9 enhanced, 5.1 Dolby Digital
Starring Denzel Washington, Ethan Hawke, Scott Glenn, Cliff Curtis and Dr. Dre
Produced by Jeffrey Silver, Bobby Newmyer
Written by David Ayer
Directed by Antoine Fuqua