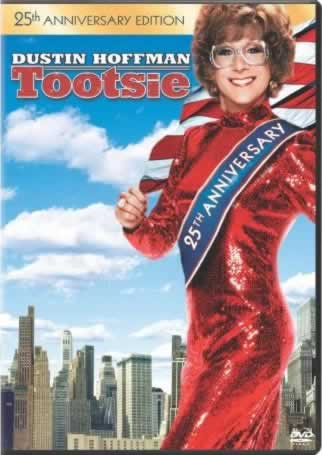 Tootsie, the 25th Anniversary Edition, on DVD
Man, He Feels Like a Woman!
Dustin Hoffman is Michael Dorsey - and Dorothy Michaels - in Sydney Pollack's extremely enjoyable look at the battle of the sexes, 1980's style.
Dorsey is a gifted, driven, and uncompromising actor, but his penchant for arguing with directors has left him virtually unemployable in either New York or Los Angeles so, other than his acting class, his main hope for income rests in his job as a waiter.
When one of his friends and clients, Sandy (Teri Garr) auditions for a new role on a medical soap opera, a desperate Michael dresses up in what's basically his version of how the part should look and also auditions for - and much to Sandy's chagrin snags - the role. It's the chance of a lifetime - and the acting challenge of a lifetime as Dorsey quickly discovers he not only has to act as a woman at work, but has to create an entire life for his creation off camera as well as on in order to keep his charade from becoming known.
Meanwhile, Sandy thinks Michael's having an affair because of the time he's forced to spend juggling his two lives. And he gets drawn into a relationship with a soap co-star Julie (Jessica Lange, the Best Supporting Actress Oscar-winner for her performance), who looks upon Dorothy as an older sister/mentor.
An increasingly confused and harried Michael begins falling in love with Julie, whose widowed father (Charles Durning) is falling in love with Dorothy at the same time - as is one of the soap's male stars (George Gaynes).
It's a case of mistaken identity, identity crises, love and lust, man versus woman and man versus man - all wrapped in a funny and intelligent screenplay that never takes itself too seriously, yet which allows the characters (especially Michael) to grow and develop.
In the end, Tootsie is a remarkably enjoyable romantic comedy with outstanding performances - and as Hoffman learns what life is like on the other side of the gender divide we get some interesting insight into male/female relationships and the psyches of both sexes.
The concept sounds unbelievable, but in the hands of the screenwriters, director Sydney Pollack, and the outstanding cast (which also includes Dabney Coleman, Bill Murray, and Geena Davis) it all becomes believable.
The 25th anniversary DVD is presented in widescreen video and, though a tad grainy, the picture looks good. Audio is Dolby Digital 5.0, though it sounded pretty much like mono to us. Byt picture and sound quality are good.
Extras include a terrific "making of" feature "A Better Man", some deleted scenes and some original test footage of Hoffman. The "making of" documentary is well worth seeing, not only for its insights into "Tootsie," but into filmmaking as well.
Tootsie, from Sony Pictures Home Entertainment
116 min, widescreen (2.40:1), Dolby Digital 5.0
Starring Dustin Hoffman, Jessica Lange, Teri Garr, Bill Murray
Produced by Sydney Pollack and Dick Richards
Written by Larry Gelbart and Murray Shisgal, directed by Sydney Pollack.