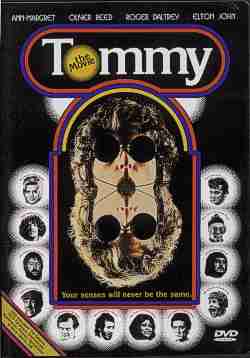 "Tommy" on DVD
"Who's" Your Daddy?
by Jim Bray
Pete Townshend was once quoted as saying that if anyone could make a movie out of his first Rock Opera masterpiece, it would be Ken Russell.
And, as it turns out, that's exactly who made it - though whether or not Russell made a good movie out of the 1969 Who album is another question altogether - and it may depend a lot upon your age and how many "substances" you've recently ingested.
Columbia Tristar Home Video's release of Tommy is by far the best video incarnation of this rock vision. Not only does it offer the best picture quality yet, but they're returned "Tommy" to its original audio roots: with the Sansui/QS matrix "Quintaphonic" five channel audio.
Now, five channel audio is what we expect from a modern movie/DVD, but in 1975 it was innovative in the extreme. It never caught on (which isn't a bad thing, actually) because it was supplanted by Dolby Surround, which was a lot more efficient to put on film than the magnetically-based Quintaphonic.
I saw "Tommy" in Spokane, Washington, in its original Quintaphonic glory and it was an exciting experience. As the posters and commercials said "Your senses will never be the same" - except that during the showing my wife and I attended the surround kept turning on and off quite annoyingly.
Columbia deserves a lot of credit for resurrecting the 5 channel audio tracks (it's also offered in two channel surround on the same disc). But having listened to real quadraphonic sound for many years and then gotten used to Dolby Digital surround, "Tommy's" Quintaphonic leaves a lot to be desired. Maybe it's because it's from the 1970's, and was a novelty, but they seem to have spent so much energy surrounding you with sound that they forgot the front left and right channels.
In our home theater, the sound came mostly from the center and the surround channels, and (maybe because theater speakers were for the most part anything but high fidelity back then) the sound has no "ooomph" to it. John Entwistle and the other bassists used on the soundtrack might as well not have showed up in the studio.
It's too bad. You can crank the volume up as much as you want (and believe me, we want. This is WHO MUSIC!!!!), but you won't cause the walls to rattle and/or hum, no homages to other bands intended. The 2.0 surround track is no different, unfortunately, when it comes to having "balls."
But I suspect this isn't the studio's fault. There's a nice essay included with the DVD that outlines the process they used for restoring the audio, so it looks like they did their best. The problem was likely with the technology or methodology of the time.
Makes me want to try the CD soundtrack to see how it sounds...
For anyone who's been living under a rock (or far from Rock) for the past thirty years, Tommy is the story (as much as there is a story to what's essentially a very fine concept album) of a boy rendered deaf dumb and blind by a childhood trauma, but who overcomes his handicap to become a champion pinball player. Later (on side three, for people who remember vinyl records), another trauma cures him and he uses his new freedom and his wealth and celebrity to found a new religion. This ultimately blows up in his face and his flock revolts, leaving Tommy isolated and lonely and singing "See Me, Feel Me."
But Who cares about the story. It's The Who's music that's worth the price of admission. The film featured a couple of new Townshend songs and a completely new, synthesizer-laden arrangement. It's very good, though it's also very "1970's production" (not surprisingly) and though it worked very well at the time, you can't beat the original album.
The 1990's Broadway musical wisely returned to the rock roots of the music and did a very fine job, leaving the cinematic "Tommy" soundtrack as a very listenable time capsule of an electronic and overproduced era - though if one had to use layers of synthesizers, Townshend was probably the best to do it.
The DVD is in widescreen and pan and scan (on opposite sides of the disc) and, as mentioned, the picture quality is very good. I've already opined ad nauseam about the audio (which on the disc has been encoded to Dolby Digital), so I shan't comment upon it further. Liner notes are generous (besides the aforementioned "audio essay," there's a blurb about Tommy's gestation as a movie, and another blurb on the back cover of the package. Other extras include multiple language subtitles, talent files, and chapter stops.
Despite my disappointment in the sound quality, this is clearly the best "Tommy" to have been released on home video, so if you're a Who fan or a Tommy fan, you'll want it in your collection.
Tommy, from Columbia Tristar Home Video
111 minutes, Widescreen (1.85:1)/Pan and Scan, Dolby Digital "Quintaphonic" and 2.0 channel surround
Starring Ann-Margret, Oliver Reed, Roger Daltrey, Elton John, Tina Turner, Eric Clapton, Jack Nicholson, Keith Moon, and The Who.
Produced by Robert Stigwood and Ken Russell, Based on the Rock Opera by Pete Townshend (with songs by John Entwistle, Keith Moon and Sonny Boy Williamson)
Directed by Ken Russell