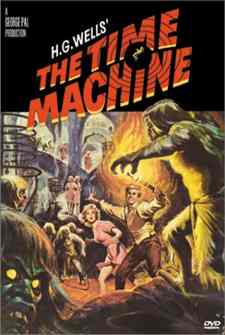 The Time Machine on DVD
Probably George Pal's most respected work, the Time Machine is a pretty good interpretation of the H. G. Wells original, with Pal's trademark production and Oscar-winning special effects.
Rod Taylor is George (Wells, as it turns out), an English gentleman and inventor whose circle of close friends refuse to believe that he's built a working time machine he can use to ride forward or backward through the fourth dimension.
Well, one of his friends is convinced later, but we have a whole movie to enjoy before that happens.
Wells takes his sleigh-like machine for a test spin, moving forward through time in jumps ranging from a few minutes to several years. Then he picks the absolutely wrong time to stop and gets back into the machine just in time to zip away again before a sea of lava cuts his adventure short.
He could take this as a sign and go back, knowing he now can prove his invention works. But no, he decides to keep going forward and wait out the now petrified lava mountain that encases him, waiting until nature erodes it away from around him.
It takes until 802,701 A.D. before he can bring the time machine to a screeching halt and the Earth and its inhabitants are much changed. Humanity is now split into two races, the blonde and childlike Eloi and the ugly blue and subterranean Morlocks, and it's all George can do to escape from that world with his life.
But escape he does, returning in time to meet a dinner date with his friends and regale them with the tale of his grand adventure.
The story is imaginative, and fairly true to the book, and it's definitely one of George Pal's best (though we have a real soft spot for his Robert A. Heinlein collaboration "Destination Moon," too). The production design, from the Victorian to the far distant future, is great and the special effects, though dated by today's standards, were great for their time and are still very effective and enjoyable today.
Taylor is good as George, as is Yvette Mimieux as his Eloi significant other. And veterans Alan Young, Sebastian Cabot, and Whit Bissell look like they're having fun as George's skeptical friends.
The DVD is in anamorphic widescreen, thank goodness, which means it fits very nicely onto a 16x9 TV (it fills it completely, in fact) and the overall picture quality is good, with some grain that isn't limited to special effects shots. In places, however, the picture is very good. Overall, the colors are rich, especially the contrast between the darker shades of Victorian England and the much broader and brighter spectrum of the Eloi's park-like world.
The audio has been remixed into Dolby Digital 5.1 and they've done a decent job of this as well. There's quite good use of the surround channels, and thanks for the variety of locations, situations and effects, plenty of chance to use them.
And Time Machine fans will love the documentary "Time Machine: The Journey Back." Hosted by Rod Taylor, and featuring a couple of bizarrely interesting "sequel" scenes we didn't expect, it's more of a look at the time machine movie prop itself than the movie, though there's plenty of good stuff for fans of the film, too. In fact, the story of the prop is kind of analogous to the movie itself, as the fake machine that took Hollywood through time makes its own way through the currents of time…
You also get trailer, filmographies of stars Taylor, Mimieux, Young and Producer/director George Pal.
In all, a pretty good disc.
The Time Machine, from Warner Home Video
103 min. anamorphic widescreen (16x9 TV compatible), Dolby Digital 5.1 Surround
Starring Rod Taylor, Yvette Mimieux, Alan Young, Sebastian Cabot, Tom Helmore
Written by David Duncan, Directed by George Pal