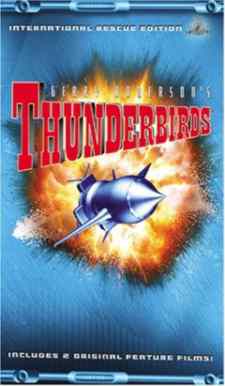 The Thunderbirds – International Rescue Edition - on DVD
Gerry and Sylvia Anderson created some wonderful TV series back in the 1960's.
We remember a bunch of nifty sci-fi shows that used neat, "roboticized" marionettes (a process they called Supermarionation), titles ranging from Supercar to Fireball XL5 to Stingray and, finally, to the Thunderbirds.
The concept behind the Thunderbirds was a family, the Tracys, who ran their own high tech first response service called International Rescue, featuring six really neat sci-fi vehicles ranging from a space platform to a submarine and most points between.
It was fun stuff, featuring really neat gadgets and excellent special effects for the day. The stories, looking back on them (and having watched these movies based on the TV show), were pretty silly, but to adolescents looking for just such far out adventures as the Andersons gave us, they were wonderful toys.
The movies in this two disc boxed set were big screen versions of the type of stories found in the series. They're good examples of the Andersons' stuff, and if you liked the shows as a kid – or are merely looking for something clean you can show your kids – this isn't a bad place to go.
Thunderbirds Are Go sees the Tracys called upon to help out the first manned flight to Mars, an improbable-looking (but very cool) ship that undoubtedly took up quite a bit of the movie's special effects budget. The story could easily have been crunched into a TV episode or two with the elimination of silly sequences such as a dream-sequence involving one of the Tracy Boys, the "lovely" Lady Penelope, and "Cliff Richard," a marionette version of the 60's pop singer who performs a song accompanied by puppet versions of his band The Shadows.
Still, it's fun and isn't that what it's all about?
Thunderbird 6 revolves around Lady Penelope, Alan Tracy, Tin-Tin, and Parker - passengers on the maiden, around-the-world flight of an airship. Alas, they're hijacked by some baddies who want to capture a couple of the Thunderbirds (and who wouldn't?).
This movie goes beyond the usual Thunderbird TV fare - for example it's their own members that International Rescue must save this time, though they also manage to kill a number of baddies. There are plenty of locations and effects and stunts and explosions, and – once again – isn't that what these things are all about?
The DVD's are very well done. Both movies are presented in anamorphic widescreen, 16x9 TV compatible, and the picture quality is very good. Colors are bright and rich and the overall image is crisp and clean. The picture is better than we expected.
Audio is Dolby Digital 5.1 and, we were pleasantly surprised to find, dts, and the sound quality is very good, all things considered, though your rear channels don't get much of a workout.
You also get a surprising amount of extras:
* Commentary by producer Sylvia Anderson and director David Lane
* "History and Appeal" featurette
* "Factory of Dolls and Rockets" featurette
* "Epics in Miniature" featurette
* Animated photo gallery
* Easter eggs
* Theatrical trailers
* "Lady Penelope" featurette
* "Building Better Puppets" featurette
* "Tiger Moth" featurette
In all, this is a terrific couple of titles for those longing for a good DVD release of some of the best from those British "puppet masters."
Gerry Anderson's Thunderbirds, the International Rescue Edition, from MGM Home Entertainment
Featuring Thunderbirds are Go,
93 min. anamorphic widescreen (2.35:1, 16x9 TV compatible), Dolby Digital 5.1 and dts surround
and Thunderbird 6,
89 min. anamorphic widescreen (2.35:1, 16x9 TV compatible), Dolby Digital 5.1 and dts surround,
Produced by Sylvia Anderson, Directed by David Lane