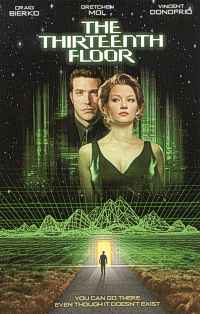 "The Thirteenth Floor" on DVD
Virtual Virtual Reality
Here's a stylish "techno-thriller" in the film noir tradition that offers an intelligent plot, a wonderful look and feel, and characters about whom you can really care.
Starring Craig Bierko, Vincent D'Onofrio and Gretchen Mol, the story involves a high tech company that has created an amazingly real virtual world one can actually visit and live in by downloading yourself into a cyber-character in that digital domain.
Then the creator of the project is killed under unusual circumstances, and the evidence points to his number two man (Bierko) - who has to enter the virtual world to find evidence that can help clear up the mystery.
The mystery gets cleared up, of course, but not in the way you imagine when you first slide the disc into the player.
Based on Daniel Galouye's novel "Simulacron 3," 'The Thirteenth Floor is a beautifully-realized movie and the virtual world (set in 1930's Los Angeles) is amazingly well represented through gorgeous and totally convincing matte effects. In fact, this is a dandy flick all around, in some ways reminding us of "Dark City," though with a far more accessible storyline.
It's also a good DVD, offering both widescreen and pan/scan versions on opposite sides. Audio/video quality are superb, and there are plenty of extras to keep you occupied. There's a gallery of "Before and After" special effects shots that show how they achieved the film's terrific view of the 1930's. There's also an audio commentary by director Josef Rusnak and production Designer Kirk M. Petruccelli, decent liner notes, chapter stops, production/cast notes, a gallery of conceptual art, trailers, and a "Cardigans" music video.
In all, it's a pretty complete package for a pretty good movie that deserves to be seen as a story first, and as a visual treat second.
The Thirteenth Floor, from Columbia Tristar Home Video
100 minutes, Widescreen (2.35:1)/Pan and Scan, Dolby Digital
Starring Craig Bierko, Gretchen Mol, Vincent D'Onofrio, Dennis Haysbert and Armin Mueller-Stahl
Produced by Roland Emmerich, Ute Emmerich, Marco Weber, Screenplay by Josef Rusnak & Ravel Centeno-Rodriguez
Directed by Josef Rusnak