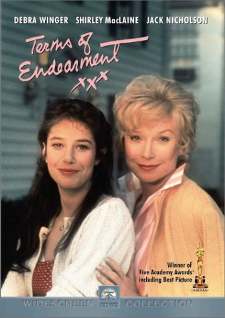 Terms of Endearment on DVD
Coming to Terms?
James L. Brooks' look at the relationships between and of a mother and a daughter won the Best Picture Oscar for 1983, and it isn't hard to see why: it's the type of movie Hollywood loves to honor.
Basically a look into the lives of a bunch of self absorbed people, it follows Aurora (Shirley MacLaine - who won for Best Actress) and her daughter Emma (Debra Winger, who is also excellent) over a period of years from Emma's teens until a catastrophic event in her life many years later.
It's pretty soap opera-like, and no one really grows too much during the course of the film, but that probably makes it more like real life than an actual drama.
Emma and Aurora are close, but nothing Emma or her husband, Flap (Jeff Daniels), can do is ever good enough for Aurora. Doesn't matter, though, Emma loves Flap and they build a reasonably happy, albeit financially-challenged, life together as he pursues an academic career that forces them to move away from Houston and Aurora.
The movie's supposed to be about the mother/daughter relationship, and to a certain extent it is, but it actually spends more time showing the separate relationships of the mother and daughter: Emma and Flap, Emma and Sam (John Lithgow), and Aurora and Garrett (Jack Nicholson, the Best Supporting Actor Oscar-winner). Once she has moved away, Emma's relationship with Mom is mostly by long distance phone call - which neither finds particularly satisfying but which is all they have.
The movie's pretty predictable, and you'd better have a box of tissues on hand for the ending, but it's worth seeing, anyway, if for no other reason than to see how much auteur Brooks improved between "Terms" and "As Good As It Gets."
One part this reviewer couldn't have predicted is how, at film's end, Flap allows himself to be talked into a new relationship with his three children. He seemed to have a little more on the ball, and more strength of character, than this decision ultimately shows. Still, men are disposable in today's society...
The DVD is presented in widescreen, enhanced for 16x9 TV's and the soundtrack is in Dolby Digital 5.1 or "restored mono." Video quality is a tad grainy, though the colors come through very nicely. The audio is fine, though there isn't much use made of the rear channels. Extras include a commentary by director/writer/producer Brooks, Co-producer Penney Finkelman Cox, and Production Designer Polly Platt. You also get the theatrical trailer
Terms of Endearment, from Paramount Home Video
131 min, widescreen (2.35:1), 16x9 TV compatible, Dolby Digital 5.1
Starring Shirley MacLaine, Debra Winger, Jack Nicholson, Jeff Daniels, John Lithgow
Written by James L. Brooks
Produced and Directed by James L. Brooks.