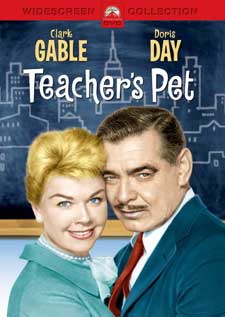 Teacher's Pet on DVD
Teacher's Pet is a delightfully silly yet smart romantic comedy, and it's wonderful to see it again after so many years.
Clark Gable is Jim Gannon, tough as nails city editor for the New York Evening Chronicle, a self taught and self made man who looks down on formally educated journalists, partly as a defence mechanism for his feelings of inadequacy for not having even a high school diploma to his credit.
He ridicules journalism schools and, when asked to give a guest lecture at one, sends a disdainful and rude letter to the teacher. But even a city editor answers to someone, and in this case it's the publisher, who is involved with the college in question and very much wants to help.
So Gannon is ordered out to the class and when he shows up it turns out the teacher is Erica Stone, daughter of a famous Pulitzer Prize-winning newspaperman - and she's also attractive, smart and full of class (who else but Doris Day could we be referring to?).
Well the sparks fly, firey sparks between Stone and Gannon, who never actually meet as such until near the movie's end, and romantic sparks aplenty between Stone and Gallagher, the persona Gannon pulls out of a hat when he decides to enroll in her class as a ringer and really show them what journalism is about.
Gable and Day are both great as the crusty old editor and his idealistic young nemesis. They have great chemistry, and magnetism. Day comes off not as the virgin by which she has been stereotyped but as a sexy and smart gal who knows what she wants. Why, her character even invites Gallagher/Gannon up to her apartment!
Gig Young is terrific as Dr. Hugo Pine, famous shrink and academic, a guy who represents everything that Gannon hates. Except that Pine is such a great guy it's impossible for even Gannon to hate him. Mamie Van Doren plays a sexpot night club singer who personifies the differences between Gannon's world and Stone's. And keep your eye out for a young Marion Ross, who went on to fame as Mrs. Cunningham on Happy Days.
It's a neat script, even though you know from the first frame how it's going to turn out. But writers Fay and Michael Kanin have crafted a romantic comedy that also has something to say, and they manage to do it without beating you over the head with it.
The DVD is presented in anamorphic widescreen, which is wonderful. The black and white picture is generally sharp and clean and the mono audio is just fine.
Alas, there are no extras. Our review copy didn't even have a paper insert with a chapter listing, though this doesn't necessarily mean store-bought copies won't; review copies often don't have the printed material of retail versions. But Paramount usually does, so who can say?
Still, when push comes to shove it's the movie that counts and one's a goodie!
Teacher's Pet, from Paramount Home Entertainment
119 min. anamorphic widescreen (1.85:1, 16x9 TV compatible), Dolby Digital
Starring Clark Gable, Doris Day, Gig Young, Mamie Van Doren
Produced by William Perlberg
Written by Fay and Michael Kanin, directed by George Seaton