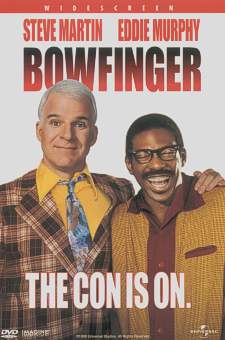 "Bowfinger" on DVD
Hollywood Uncovered
Click here for "Classic Steve Martin"
by Jim Bray
Steve Martin wrote and stars in this tale of a two bit Hollywood director and his unique method of grabbing the brass ring.
Martin is Bobby Bowfinger, who's so down on his luck that the phone company is about to cut him off and his friends are about to desert him. Fortunately, he has commissioned (well, sort of) a screenplay he knows will be a huge hit if only he can get the right actor to star in it.
Of course, he can't pay any actor of stature so he has to figure out some other way. This he does, by following around Big Time action star Kit Ramsey (Eddie Murphy) and shooting him while he's unaware that he's on camera.
This is pretty funny stuff as Bowfinger and his cut rate crew contrive all kinds of come-ons to cinematically con Kit.
Unfortunately, Ramsey's more than a bit of a whacko and the constant run ins with Team Bowfinger send him around the bend far enough that he takes refuge in his favorite shrink's funny farm. This takes him out of circulation, forcing Bowfinger to find new ways of putting him on film without him even being around.
He resorts to the use of a double, much as Ed Wood did for Plan Nine from Outer Space when Bela Lugosi had the audacity to die on him during filming. By a stroke of luck, however, the double upon whom he stumbles turns out to be Ramsey's real life brother Jip (also Eddie Murphy, in a hilarious characterization).
Well, they get the film done and, naturally it turns out to be a hit and everyone involved becomes successful - but there's a long and winding road to travel before the movie gets to that point.
Bowfinger is a terrific sendup of Hollywood and practically everything about it, from movie star wannabes to pompous ass producers and everything in between. Martin's script is funny, biting, and just a bit too true.
The supporting cast is great. Eddie Murphy plays both of his roles (which are complete opposites) perfectly. Heather Graham is believable as the blond bimbo bombshell who'll boff anyone who can help her career, and Christine Baranski plays her "aging diva of the stage" with just the right length of tongue in her cheek.
The widescreen DVD is offered with Dolby Digital 5.1 surround and DTS on the same disc (if they're going to insist on two formats, this is the way to do it) and the film's audio quality is very good. The video seems a touch soft, though this could be intentional.
Universal has crammed enough extras onto the disc to choke a horse. There's the usual stuff like trailer and chapter stops, as well as a decent documentary on "the making of" and a feature commentary from director Frank Oz.
And there's more, including a selection of deleted/rewritten scenes, outtakes and cast/crew info. There's also a DVD-ROM component featuring that damn PC Friendly stuff that dumps a bunch of stuff onto your hard drive. Don't get us wrong, we like DVD ROM stuff; we just don't care for PC Friendly.
The PC Friendly material includes cast/crew information and more.
Bowfinger from Unviersal Home Video
97 minutes, Widescreen (1.85:1), Dolby Digital and DTS
Starring Steve Martin, Eddie Murphy, Heather Graham, Christine Baranski and Terence Stamp
Produced by Brian Grazer, Written by Steve Martin
Directed by Frank Oz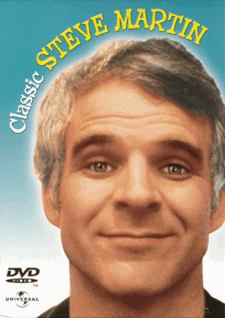 Universal's repackaging of three early Martin films into a boxed set is a welcome, if mixed, blessing.
Two of the three ("The Jerk" and "Dead Men Don't Wear Plaid" are legitimate Steve Martin classics, but the third ("The Lonely Guy") is at best a minor Martin movie.
"Jerk" was Martin's first big screen starring role. Co-written by "the wild and crazy guy" and directed (as was "Dead Men") by Carl Reiner, it tells the story of Navin Johnson, a foundling adopted by a poor Southern black family who leaves home to seek his fortune.
The tale is an odyssey of his misadventures on the road and at his various stops as he gets into a series of bizarre - and very funny - situations. His story is one of rags to riches to rags and back again as he goes from gas station attendant (and "crazed looney's target") to carnival worker, tycoon, bum, and then "comfortably well off" again.
The supporting cast is great. Bernadette Peters is sexy and silly, and Jackie Mason is, well Jackie Mason. Catlin Adams is menacing as Davin's "circus squeeze" and the whole southern family that gave Davin his foundation and values are likeable and believable.
The plot, of course, isn't believable at all, but that's fine. I remember not finding "The Jerk" particularly funny when it was first released, though viewing it again now, some fifteen years later, it seemed a lot funnier.
Unfortunately, the DVD is offered only in Pan&Scan, which is a shame. Picture quality is fine, however, as is the Dolby Digital 2 channel mono sound. Extras on the disc include talent files, production notes, and the trailer.
The Jerk from Universal Home Video
94 minutes, Pan&Scan, Dolby Digital 2 channel mono
Starring Steve Martin, Bernadette Peters, Catlin Adams, Jackie Mason
Produced by David V. Picker and William E. McEuen, Written by Steve Martin, Carl Gottlieb, Michael Elias
Directed by Carl Reiner
"Dead Men Don't Wear Plaid" is the best of the three movies in this set. Martin plays Rigby Reardon, a private eye enlisted by the lovely Rachel Ward to find her missing father - a scientist, philanthropist and cheesemaker.
"Dead Men" is set in the 1940's, with a terrifically authentic look and feel, and is patterned as a spoof of the gumshoe flicks of that area.
The movie would work well enough on its own, but Co-writers Martin and Reiner (with George Gipe) also used the gimmick of splicing in footage from a number of old movies. The footage blends in really well with the "Dead Men" script - deliberately of course - and adds a nifty touch as Martin supposedly interacts with a bunch of long-dead movie stars like Humphrey Bogart, Barbara Stanwyck, Charles Laughton and more.
The movie is very funny, and it's quite something to see how they've blended the classic footage virtually seamlessly.
Also on hand in the "non-classic cast" are Carl Reiner and Reni Santoni.
The DVD is presented in a widescreen aspect ratio of 1.85:1, with Dolby Digital mono audio. Picture and sound quality are very good. Extras include production notes, trailer (a hilarious trailer, in fact), and cast/crew info.
Dead Men Don't Wear Plaid from Universal Home Video
89 minutes, 1.85:1 widescreen, Dolby Digital 2 channel mono
Starring Steve Martin, Rachel Ward, Carl Reiner, Reni Santoni
Produced by David V. Picker and William E. McEuen, Written by Carl Reiner, George Gipe, Steve Martin,
Directed by Carl Reiner
By far the weakest link in this collection is "The Lonely Guy," which isn't so much a Steve Martin film as it is an Arthur Hiller film in which Martin stars.
Based on a "survival manual" for lonely men, the film follows the up and down fortunes of Larry (Martin) and his closest friend Warren (played to the hilt by Charles Grodin) and they plod through their lonely lives in New York City.
The film has its moments, but except for them it isn't really very funny. The best thing about it is Grodin's performance of a guy who's so depressing he deserves to be lonely.
Judith Ivey is Martin's love interest, a likeable woman who enters and leaves his life repeatedly throughout the movie. Also on hand are Steve Lawrence and Robyn Douglass, with cameos by Merv Griffin and Dr. Joyce Brothers.
A far better choice for the third movie in this package would have been Martin/Reiner's "The Man With Two Brains," though since that's a Warner Brothers release I can understand why it isn't included in a Universal package. Too bad, though.
"The Lonely Guy" DVD is in 1.85:1 widescreen with Dolby Digital 2 channel mono. Picture and sound quality are fine; extras include cast/crew info, production notes, the trailer.
The Lonely Guy from Universal Home Video
91 minutes, 1.85:1 widescreen, Dolby Digital 2 channel mono
Starring Steve Martin, Charles Grodin, Judith Ivey, Steve Lawrence
Written by Ed. Weinberger & Stan Daniels, Adaptation by Neil Simon,
Produced and Directed by Arthur Hiller