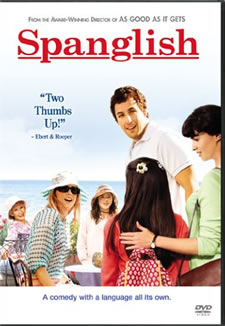 Spanglish on DVD
The more you think about Spanglish, the more you realize and appreciate the little subtleties laid throughout. It's a wonderful little film that can't help but make you feel happily sad at the end.
John Clasky (Adam Sandler) is one of the best chefs in the world, which has afforded he and his family a fairly upscale life. They have a large house, a summer home in Malibu, and a drop-dead-gorgeous new housekeeper, Flor (Paz Vega). John is also a devoted dad who has a way with his kids ("you don't have to get up yet, but are you thinking seriously about it?"). Deborah (Tea Leoni) is his slightly neurotic wife who quit her job to be a stay-at-home mom.
Flor has just emigrated from Mexico with her daughter, Cristina (Shelbie Bruce), and does not speak a word of English. Naturally, she has trouble communicating with the Claskys, but still can't help but find herself getting involved in their lives. Even though that goes against everything she stands for.
Then, when her and her daughter are invited to move in with the Claskys, Flor must do everything she can to protect Cristina from a well-meaning American family that wants to make them feel welcome. And maybe she can have an effect on their lives, too.
Written and directed by James L. Brooks (As Good As it Gets), Spanglish is a delightfully witty romantic comedy (ish) that reeks of great dialogue and fun characters. It runs 131 minutes long, but never feels like anything close to that.
The thing that'll get you about Spanglish is the message. In the world of Spanglish, nobody's perfect, and sometimes it takes another imperfect soul to tell you what you're doing wrong. Essentially, it's the kind of message parents everywhere spend years trying to teach their kids ("the lessons of my life are coming in handy for you now, aren't they?").
Adam Sandler gives his most reserved and possibly best performance in a motion picture. He's a good guy with a great heart who sometimes gets emotional, but Sandler never overacts. Tea Leoni wonderfully plays the mom with a few screws loose, while Cloris Leachman is a lot of fun as Deborah's alcoholic mother. The real star, however, is Vega, who is not only stunningly beautiful, but also portrays the innocence and maturity needed for her character. We'll hopefully see more of her in the future.
Spanglish may not be As Good As it Gets, but Brooks's trademark dialogue and feel-good story are present. More closed-minded individuals may run for the hills rather than watch such a film, but hey, nobody's perfect.
The movie didn't do much in theatres, but the DVD is good enough. The original theatrical ratio of 1.85:1 is preserved here and presented in anamorphic video that looks pretty sharp save for a few scenes rife with grain. Overall color and detail is handled pretty well, hindered by the occasional halo. Audio comes in Dolby Digital 5.1, and features good separation between the front channels, and rear speakers that don't really do anything (which is fine, since the film is about dialogue).
Extras kick off with an audio commentary by Brooks and editors Richard Marks and Tia Nolan, which features plenty of insight into the filmmaking process and a bit of humor. There are also 12 deleted scenes (with or without commentary) that would have had a major effect on the final film and essentially made it worse. The HBO First Look is pretty standard, casting sessions shows the kids auditioning for the film, and "How to Make the World's Greatest Sandwich…" gives the actual recipe for the meal John Clasky makes in the movie.
Finally, we get the usual batch of trailers, as well.
Spanglish, from Sony Pictures Home Entertainment
131 minutes, anamorphic widescreen (1.85:1) 16x9 enhanced, Dolby Digital 5.1
Starring Adam Sandler, Tea Leoni, Paz Vega, Cloris Leachman
Produced by James L. Brooks, Richard Sakai, Julie Ansell
Written and directed by James L. Brooks