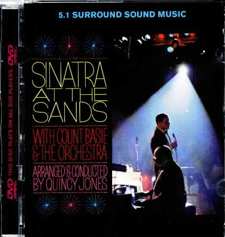 Sinatra at the Sands on DVD Audio
Here's a blast from the past that, thanks in part to the great sound made possible by DVD Audio, lets you close your eyes and imagine you're back in the 1960's in the presence of the Chairman of the Board himself.
This is Sinatra at the Sands, a spectacular concert available in both "really high resolution" stereo and high resolution surround on this DVD-A disc. About the only thing wrong with it is Sinatra's 12 minute monologue that takes 12 minutes of time for music from the disc's length. It's an interesting talk, and it's great to hear Sinatra interacting with his audience, but it's just too long. Then again, if they'd edited it it wouldn't be the same concert, so there you go. You can't win - except that in no way can this album be considered a loser.
We're Sinatra fans, but had never experienced him live (and now that he's dead we undoubtedly won't!). This disc undoubtedly comes as close as possible to recreating that experience without visuals.
The Sands Hotel was apparently where Sinatra and his Rat Pack buddies hung out – and from Sinatra's comments on this disc it sounds like he must have had a piece of the action as well. We have no idea what the room in which he performed was like, but from the way this priceless discs sounds it was large enough to make it fiscally amenable yet intimate enough to make it sound almost as if "old Blue Eyes" was performing just for you and a few close friends. You can almost smell the cigarette smoke.
And what a concert! Sinatra is in fine form, and fine voice, and he's backed up by Quincy Jones and Count Basie and his Orchestra – a powerhouse combination. The set incudes such Sinatra classics as "Come Fly with Me," "It Was a Very Good Year," and "I've Got You Under My Skin." You also get two Basie instrumentals and some nice banter. These are top drawer musicians at the height of their powers, a group comfortable with each other and, man, are they tight - musically.
Our favorite cuts, besides the abovementioned, include a great version of "One for My Baby (And One More for the Road)" and "I've Got a Crush on You" – but there isn't a stinker to be had on this essential album.
In fact, if you've never become familiar with Sinatra, we feel comfortable recommending this album as a wonderful introduction to Frank Sinatra's music.
Okay, the sound may not be quite as good as on some of the studio albums (though the studio versions of "My Way" we've heard are definitely the exception to the rule that his work is recorded pristinely), but considering that this concert is nearly forty years old and was recorded on what today would be considered rudimentary equipment, it's a spectacular audio achievement.
The audio quality, overall, is excellent. We preferred the 5.1 mix to the stereo one, despite its being "shrunk" from 192 kHz/24 bit to 96 kHz/24 bit (though if we'd had a dog it may have been more disappointed), if only for the reason that they've mixed you into the audience and the room is more full of the music and the live ambience. But either version sounds terrific.
There are no extras on the disc itself, other than the credits and a pretty good photo gallery, but you get a decent booklet in the case and it contains a couple of essays on the album and some notes on the remixing for the DVD-Audio disc.
This is a must have disc.
Track list:
1. Come Fly With Me
2. I've Got A Crush On You
3. I've Got You Under My Skin
4. The Shadow Of Your Smile
5. Street Of Dreams
6. One For My Baby (And One More For The Road)
7. Fly Me To The Moon (In Other Words)
8. One O'clock Jump
9. "The Tea Break" Monologue
10. You Make Me Feel So Young
11. All Of Me
12. The September Of My Years
13. Luck Be a Lady
14. Get Me To The Church On Time
15. It Was A Very Good Year
16. Don't Worry 'bout Me
17. Makin' Whoopee
18. Where Or When
19. Angel Eyes
20. My Kind Of Town
21. "A Few Last Words" Monologue
22. My Kind of Town (Reprise)