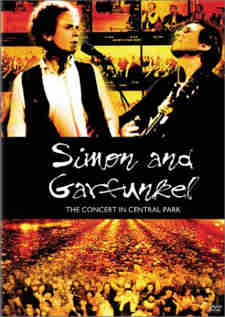 Simon and Garfunkel - the Concert in Central Park on DVD
Now here's a blast from the past!
Paul Simon and Art Garfunkel put aside whatever their differences are and/or were long enough to perform at this classic event, in front of a huge crowd in New York City's Central Park.
This September, 1981 performance saw Paul and Art backed up by abundant talent, with music produced by their longtime record producer Roy Halee. The whole, the sum of the parts, is a wonderful concert - even though Simon doesn't appear to be having a particularly good time during most of the concert - or at least not nearly as much fun as Garfunkel is.
Of course, during the concert Simon has reasons to be a tad - shall we say low reacting? As he's performing away peacefully, some whacko jumps on stage from the audience and really freaks Simon out, coming very close to the entertainer before security catches up with him and scurries him away.
We would have freaked out, too!
Nearly all of the classic S&G songs are here as well as selected Simon solos (one of which Art gets to sing), including Mrs. Robinson, Homeward Bound, America, Scarborough Fair, April Come She Will, Wake Up Little Susie, American Tune, Late in the Evening, Slip Sliding Away, A Heart in New York, Kodachrome, Maybellene, Bridge Over Troubled Water, 50 Ways to Leave Your Lover, The Boxer, Old Friends/Bookends, Feelin' Groovy, The Sound of Silence, Late in the Evening, Me and Julio Down by the Schoolyard, and Still Crazy After All These Years.
We don't know if it was an ego thing or what, but we were disappointed that none of Garfunkel's solo songs were included. We'd have loved to hear titles such as "Travellin' Boy," "Disney Girls," and the like - but 'twas not to be. We also would have preferred it if the backup band helped out on "The Sound of Silence," always having preferred the "up tempo version," but such is life.
Oh well, what songs there are (and to be fair, there are plenty) are well performed and you'll definitely get your money's woashioned TV's" aspect ratio of 4x3 and that means owners of 16x9 TV's will have to stretch and/or zoom it to fit their screens.
Audio is Dolby Digital stereo and it's okay. We doubt there was a lot of remastering effort put into this, so the audio doesn't have the punch it could, but we're only disappointed because we're such audio/video snobs.
Now, Fox, how about releasing "The Who Rocks America - Toronto 1982?"
Simon and Garfunkel, The Concert in Central Park, from 20th Century Fox Home Video
Starring Paul Simon, Art Garfunkel
Produced by James Signorelli, directed by Michael Lindsay-Hogg