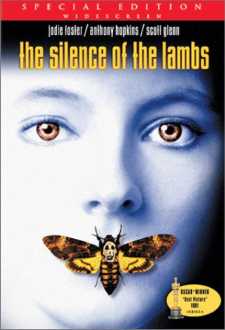 The Silence of the Lambs
A Movie with Bite?
by Johnny Bray
The Silence of the Lambs is one of those modern classics that can easily stand the test of time, and has even had the honor of being referenced in other films (The Cable Guy, for instance). In fact, it was even honoured with a special edition from Criterion (but then, so was Armageddon).
If you've never seen the movie, you're probably wondering what the title means. Well, I saw the movie several years ago, and I still didn't know. But after watching it again, at an age in which my attention span is longer than four seconds, I found out. No, I'm not going to tell you, for that would spoil one of the surprises of this fine film. Just know that it does, indeed, make sense.
Jodie Foster stars as rookie FBI agent Clarice Starling. One day, during her training, she's called into the office of Jack Crawford (Scott Glenn), who gives her an assignment: she is to speak to one of the most dangerous serial killers in history, Hannibal "The Cannibal" Lecter. Though he tells her it's merely for research purposes, the goal is to convince Dr. Lecter to help them identify and locate another serial killer, known only as Buffalo Bill.
Not your typical slasher film, Lambs is more psychological than anything else. Hannibal Lecter is extremely smart, which makes him more dangerous than the average serial killer. He can manipulate people any way he wants, and as Glenn's character puts it: "You don't want Hannibal Lecter inside your head."
No, I don't suppose you would.
Though the movie is very good, I really didn't think it was as good as everyone said. It's definitely better than most films of its genre, but I honestly felt Hannibal (the sequel, not the character) was better.
Jonathan Demme directed the film very well, and Ted Tally's screenplay is equally well done. Anthony Hopkins was definitely superb as Hannibal, but Glenn was very boring, speaking in his usual slow, monotone voice. Above all, however, the movie does a good job of sending chills down your spine, and keeping you on the edge of your seat.
As I said, I didn't think it was as good as it's known for, but it's still a very good, well made movie. It's the kind of movie you should see at least once.
The audio and video are good, but not up to the standards set by Hannibal. Of course, Lambs came out ten years earlier, so that's to be expected. Considering that, the picture and sound are both more than acceptable. It's presented in 1.85:1 anamorphic widescreen and 5.1 Dolby Digital Surround.
Extras include a brand new "Inside the Labyrinth" documentary including all new interviews with cast and crew, 20 minutes of deleted scenes, the original 1991 making-of featurette, Anthony Hopkins' phone message, never before seen outtakes (all five of them - it would have been nice to see more), a collectible booklet, and the usual trailers and photo galleries.
The Silence of the Lambs, from MGM Home Entertainment
118 minutes, anamorphic widescreen (1.85:1) 16X9 enhanced, 5.1 surround
Starring Jodie Foster, Anthony Hopkins, Scott Glenn and Ted Levine
Produced by Kenneth Utt, Edward Saxon and Ron Bozman
Screenplay by Ted Tally, Directed by Jonathan Demme.