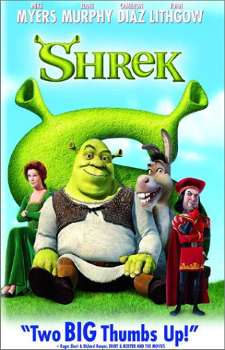 Shrek on DVD
Magic Movie
DreamWorks' Shrek is a fairly tale for modern generations, though kids of all ages will get more than a few kicks out of it.
Mike Myers voices Shrek, a lonely ogre who agrees to go on a quest to rescue a princess (Cameon Diaz) imprisoned in a dragon's castle. Aided by his unwanted associate Donkey (Eddie Murphy), he's to bring her back to marry Lord Farquaad (John Lithgow) so he can be a real king. Why does Shrek do this? To reclaim his home swamp, where exiled fairy tale creatures have been forced to take up residence after being kicked out of Farquaad's kingdom.
The adventure itself is pretty straightforward as far as fairy tales go, but it's laced with contemporary humor (even a bit of fairly mild bathroom humor) and digs at its own fairy tale heritage. There are quick appearances by Pinocchio, the Big Bad Wolf, Tinker Bell, Cinderella, Snow White, and many, many more of the favorite characters you grew up with.
The characters are fun, the story is entertaining - though we wonder why the message of not judging people based on their looks doesn't apply to short people - and the actors are obviously having a good time in their roles. The only complaint is that Mike Myers' accent is too close to that of his "Fat Bastard" character in the second Austin Powers movie - but that's pretty minor.
The DVD is a real tour de force, and is almost worth having for the extras alone. The two disc set offers viewers two versions of the movie: one pan&scan and the other in its proper 16x9 (widescreen TV compatible) aspect ratio. The video quality is superb and the audio, which is offered in Dolby Digital 5.1 on the pan&scan version and Dolby Digital and DTS 5.1 on the "real" version, is also top notch, with great dynamics and balance.
Both discs are full of extras. Disc One, which for some reason is the pan&scan version, offers a nifty DVD-ROM-based "Shrek's Revoice Studio," where you can record your own voice over top of the lines of your favorite character from the movie (you need a microphone, of course), in one of twelve selected scenes from the movie. There's also a "DreamWorks Kids" section that combines DVD ROM and standalone features to offer some six hours of stuff for the ankle biters. It's suitable only for small kids, though, so older tots will be better served looking at the other stuff.
They've also stuck in some specially made interviews with the main characters, some "hidden fun facts" about the film's genesis, and a very good behind the scenes featurette.
There's also a hilarious "Shrek in the Swamp" Karaoke party, which is a specially rendered set of song excerpts voiced by the Shrek cast. Dreamworks really pulled out all the stops on this extra, because it's fully rendered with as good quality as the film, yet it's basically just a silly singalong featuring many of the characters. Fiona does a clip from "Like a Virgin," for example, while Robin Hood and his Merry Men perform a section of "YMCA." It's very good.
The rest of disc one's extras are pretty standard, including a sneak peek trailer of DreamWorks' next animated film, production notes (there's also a folder of notes inside the box), cast/crew bios, etc.
Then there's Disc Two, which features the movie in its widescreen glory. Besides that, you get a commentary track by the filmmakers, a "live" storyboard pitch of some scenes that were eventually cut from the movie, and some "outtakes" where the technology (or operator error) let the filmmakers down.
"The Tech of Shrek" is an interesting look at the hardware and software that brought Shrek to the screen, while another section showcases the development of the characters.
As if that isn't enough, there's a feature on the dubbing of the film for international audiences, some hints at solving the X-BOX Shrek game, as well as the trailer, more production notes, and the cast/crew bios.
But it's the movie that's the most important thing, and it's well worth viewing and owning.
Shrek, from DreamWorks Home Video
93 min, Pan&Scan and anamorphic widescreen (1.78:1), 16x9 TV compatible, Dolby Digital 5.1 (Pan&Scan)/Dolby Digital and DTS 5.1 (Widescreen),
Starring Mike Myers, Eddie Murphy, Cameron Diaz, John Lithgow
Produced by Aron Warner John H. Williams Jeffrey Katzenberg
Written by Ted Elliott and Terry Rosio, Directed by Andrew Adamson, Vicky Jenson.