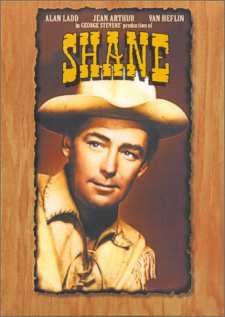 "Shane" on DVD
Western Classic
Producer/Director George Stevens' "Shane" is an emotional tale of farmers against ranchers on the frontier. The 1952 classic earned six Oscar nominations, and probably deserved to win a couple more than the one it snagged for its gorgeous cinematography.
Alan Ladd is Shane, a quiet ex-gunslinger who happens upon the farm of a homestead family (Van Heflin, Jean Arthur and Brandon de Wilde) that's being terrorized by a cattleman who wants their land and that of the other homesteaders nearby.
Shane likes these people and decides to throw in his lot with them, working for hire on the farm - but he gets drawn into the conflict and, finally, decides to end it on their behalf.
The film is full of great performances, including one from a very young Jack Palance who, though he has few lines, is appropriately menacing as the gunfighter hired by the ranchers to get rid of the farmers.
The locations, apparently shot in the area around Jackson Hole, Wyoming, are spectacularly beautiful and the Oscar-winning cinematography makes the nearby mountains become almost a character in the drama. The western settlement is portrayed as being brand new, with the town being nothing more than a few primitive buildings in the middle of nowhere. It was a tough life for those who chose to be there - tough enough just living and building a life without the ranchers/homesteaders' conflict that's the movie's central theme.
The DVD is presented in its original full screen aspect ratio and the picture quality is excellent. The audio isn't as good as the video, but it's still pretty good. There's also a running commentary from the producer/director's son (and production assistant), George Stevens Junior, with associate producer Ivan Moffat. The only other real "extra," is the theatrical trailer.
Considered by many to be the best Western of all time, Shane is definitely right up there among the best. It's a moving and exciting morality tale crafted by a master of the genre, and therefore it's a must see for movie fans of all generations.
Shane, from Paramount Home Video
117 minutes, full screen, Dolby Digital 2.0
Starring Alan Ladd, Van Heflin, Jean Arthur, Brandon de Wild, Jack Palance, Edgar Buchanan, Ben Johnson
Written by A.B. Guthrie, Jr.
Produced and Directed by George Stevens