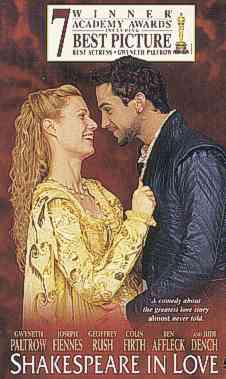 "Shakespeare in Love" and "A Midsummer Night's Dream" on DVD
Bard Fans Get The Willies?
Winner of 7 1998 Oscars, including Best Picture and Best Actress, Miramax' "Shakespeare in Love" is a funny and bawdy tale of the famous playwright and how his "Romeo and Juliet" came to pass.
Joseph Fiennes stars in the title role, with Gwyneth Paltrow's Oscar-snagging performance as the lovely Lady Viola, and the onscreen chemistry between the pair is palpable and very believable. Their forbidden relationship forms the core of the story - how they meet and fall in love, how her influence rids Willie of his writer's block, and how her dream to become a thespian threatens to turn the entire system upside down.
The all star cast also includes Dame Judi Dench as Queen Elizabeth I, and Geoffrey Rush, Ben Affleck, and Colin Firth, and all turn in terrific performances. But this is really Fiennes' and Paltrow's movie and they acquit themselves most admirably. Fiennes is likable as Shakespeare, while Paltrow positively lights up the screen as the gutsy Viola.
The story is remarkable, how it marries "reality" with "the stage" and how the plot on and off the stage intertwine. It's handled in an imaginative and intelligent manner, with alternating moments of humor, love, lust, and poignancy. It also paints Shakespeare as a very talented, but normal, human being - concerned with his craft and his competition as well as being consumed by his attraction to Viola.
In short, it's a must see.
The DVD is in widescreen (enhanced for 16x9 TV's), Dolby Digital 5.1. There aren't a lot of extras, though; just the theatrical trailer and chapter listing. Liner notes are non-existent beyond the rear panel of the package.
Still, picture and sound quality are terrific and even without the DVD extras we always want to see "Shakespeare in Love" is a special movie and one that, for once, deserved its accolades.
We have no idea about the historical accuracy of the story, but we're sure the Bard would have enjoyed it regardless.
Shakespeare in Love, from Miramax Home Video
122 minutes, Widescreen (2.35:1), Dolby Digital
Starring Gwyneth Paltrow, Joseph Fiennes, Geoffrey Rush, Colin Firth, Ben Affleck, Judi Dench.
Produced by David Parfitt, Donna Gigliotti, Harvey Weinstein, Edward Zwick, Marc Norman , Screenplay by Marc Norman and Tom Stoppard
Directed by John Madden
The latest cinematic retelling of Shakespeare's classic comedy features an all-star cast and a bizarre semi-updating of the original setting.
The oft-told story features royalty and fairies, lovers and other strangers (like an amateur theatrical group with a real ass as a lead actor). No need to retell the storyline, which is relatively intact in director/screenwriter Michael Hoffman's treatment.
What isn't intact is the setting which, though it remains Athens and environs, has been updated for no apparent reason to the nineteenth century. It looks gorgeous, as does everything about the movie, but it's confusing to see these relatively modern people spouting forth with the same flowery language as written by the Bard for this sixteenth century audiences. And why this focus on bicycles? Unfortunately, this paradox gets in the way of one's enjoyment of the movie.
Yet there's still a lot to enjoy. As mentioned, the movie looks terrific, with beautiful settings and marvelously composed shots. The musical score, by Simon Boswell, is also first rate, and the all-star cast, which includes Kevin Kline, Michelle Pfeiffer, Rupert Everett, Stanley Tucci, Calista Flockhart, Anna Friel, Christian Bale, Dominic West, David Strathairn, Sophie Marceau and Roger Rees all turn in credible performances.
The DVD is released in widescreen, with Dolby Digital. There isn't a lot of surround sound, but the audio quality is, like the video image, superb. We had a pre-release screener, so can't comment on extras like liner notes, but extras on the disc itself include only the theatrical trailer (which actually does a good job of putting the story into its proper context), chapter stops, and subtitles.
We had trouble getting past the updated setting, but despite that we still managed to enjoy this relatively faithful, and quite bawdy, restaging of the Shakespearean masterpiece.
A Midsummer Night's Dream, from 20th Century Fox Home Video
approximately 112 minutes, Widescreen (2.35:1), Dolby Digital
Starring Kevin Kline, Michelle Pfeiffer, Rupert Everett, Stanley Tucci, Calista Flockhart, Anna Friel, Christian Bale, Dominic West, David Strathairn, Sophie Marceau and Roger Rees
Produced, Written for the Screen, and Directed by Michael Hoffman