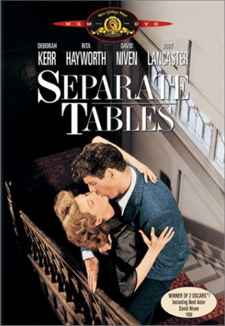 Separate Tables on DVD
Oscar-Winning Classic
Based on a pair of one act plays, Terence Rattigan's Separate Tables is a smart and good looking drama in the grand tradition of other classics like Grand Hotel.
It's also a handsome and well done DVD that ups the ante on many other of MGM's generally sparse offerings. But more about that later.
The story involves a gaggle of lonely people hanging out at a British seaside hotel in the off-season, kind of a "Fawlty Towers" without John Cleese' wit. David Niven and Wendy Hiller earned Oscars for their roles, his as a blustery old warhorse with a secret (a great characterization compared to Niven's usual witty and urbane English gentleman - and a character that, except for its lack of extreme shell shock trauma, could have inspired "The Major" from Fawlty Towers) and hers as the efficient hotel proprietress.
Burt Lancaster is also very good as an alcoholic American whose affair with the Hiller's character comes unglued upon the arrival of his former wife (Rita Hayworth). Then there's Deborah Kerr, whose secret love for Niven's character blows up in her face.
In his first autobiography, David Niven credited playwright Rattigan's script, but the casting and the performances are superb as well, and Niven has never been so good. The couples' stories are actually separate, as are the tables, but director Daniel Mann floats between the different dramas, patiently allowing his characters to open up and reveal their true feelings in their own way. It makes for a fascinating look at these people.
The DVD is quite well done, even though its release isn't in anamorphic widescreen. MGM has stuck to the original theatrical ratio of 1.66:1, which zooms out quite well to fill the wide screen TV, though at a loss of resolution. We'd love to see what it would look like given the anamorphic (hey, why not some black bars on the sides of the screen for a change?) treatment, but have yet to find a 1.66:1 title that has been released this way. So it isn't must MGM we're dumping on here...
Perhaps there's more to the technology than we understand.
Anyway, the black and white picture is sharp and clean and the Dolby Digital mono audio is also clean - and appropriately aimed to the center front channel, where the dialogue appears to come from the TV screen (as it should).
As mentioned, there's even a terrific extra with this DVD: a running commentary by director Delbert Mann. He gives a fascinating account of his recollections as well as some interesting behind the scenes tidbits. We congratulate MGM Home Video for including this commentary and encourage them to do this more often.
An excellent disc of an excellent move.
Separate Tables, from MGM Home Video
100 min. black and white, widescreen (1.66:1), not 16x9 TV compatible, Dolby Digital mono
Starring Rita Hayworth, Deborah Kerr, David Niven, Burt Lancaster
Produced by Harold Hecht
Written by Terence Rattigan and John Gay, Directed by Delbert Mann