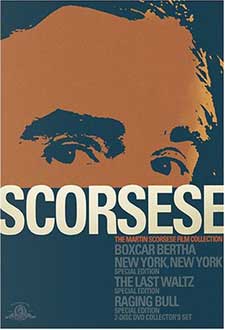 The Scorsese Collection on DVD
It must be tough coming up with titles for a special boxed set edition of Martin Scorsese films. The director has been quite prolific over the years and has crafted several films that are considered modern masterpieces – titles such as Gangs of New York, Raging Bull and others.
But what was MGM thinking when it came up with the titles for this deluxe set? I mean Boxcar Bertha? And a version of New York New York that, while widescreen, isn't compatible with 16x9 TV's? What kind of incentive is that for a videophile to drop hard-earned after tax dollars on this set?
Not that there's anything wrong with Boxcar Bertha other than it being a kind of "poor man's Bonnie and Clyde" in which a socialist union type (David Carradine) appears to price himself out of the depression-era job market and therefore turns to a life of violence and crime to survive.
But as the title suggests, the 1972 movie is more about Bertha (Barbara Hershey) and shows Scorsese in his formative years. It's a low budget Roger Corman-produced film that takes the Bonnie and Clyde formula and adds a healthy dose of nudity and sex to it, which should please anyone who has ever wanted to see Hershey naked. The film comes off looking more like a Corman film than a Scorsese one, not that there's anything wrong with that, and is easily the most lightweight entry in this set.
Fortunately, it's presented in anamorphic widescreen, 16x9 TV compatible, and the picture quality is pretty good. There's plenty of grain, but it somehow adds an authentic period feel to this low budget film. Audio is Dolby Digital mono and is unremarkable.
There are no extras.
New York New York has a lot of promise, even if you only want to hear the famous theme song. But since we're primarily a technology magazine that showcases the state of the art, we found the lack of a 16x9 enhanced DVD transfer an unforgivable flaw in 2005, when DVD's themselves are about to be replaced by high definition versions.
So we put on our video snob hats and refused to watch it.
If you do deign to put up with old technology and sloppy DVD making, you'll be treated to a pretty good movie, and extras including:
o Director's Commentary (accompanied by film critic Carrie Rickey)
o Introduction by Scorsese
o 25 minutes of alternate takes and deleted scenes
o Photo gallery
o theatrical trailer
The Last Waltz is a documentary focusing on the supposedly final concert of the 1970's super group The Band. It's a hoot, too. Here's what we said about it in our review of the movie's initial DVD release:
The Last Waltz captures The Band at the end of their days on the road. Directed by Martin Scorsese, it's considered by some to be the finest rock movie ever made.
We don't know about that, but it's damn good and MGM has done an excellent job of bringing this classic rock concert film to DVD with a wonderful special edition disc.
The Last Waltz was the name of a special "good-bye" concert Robbie Robertson and the Band wanted to hold at Bill Graham's (dubbed by Robertson "the P.T. Barnum of rock") Winterland in San Francisco. It was to celebrate the band and the era, which was coming to a close after sixteen years on the road - first as backup band to Ronnie Hawkins, then as backup band to Bob Dylan, and finally as headliners in their own right.
The concert soon grew into a full blown event featuring guest stars that were a cross section of the musical genres that influenced The Band - and it wasn't much of a logical stretch to decide it might be nice to record the event for posterity.
I won't get into all the details, because they're made more than clear several times over on the disc and in its supplementary material. Suffice it to say The Last Waltz is a movie based on that six hour event, and it does it fine justice.
I was a little disappointed that the movie was a blend of interviews and concert footage; not that I didn't appreciate the interviews (not being a real Band fan, I did appreciate learning more about these guys and their history), but I wanted to see more concert. But after going through all the extras I learned that the concert was a real marathon that taxed the recording technology to its limits, so the result is a "full length" movie that distills the best of what they managed to record.
They got some good stuff, too, some of which was restaged later on a sound stage (and which is some of the best footage - for instance a wonderful version of "The Weight" backed up by the Staple Singers). Most of The Band's most famous stuff is here, and they also show why they were such a great backup band by accompanying the plethora of guest stars performing music of their own. We get to see and hear Bob Dylan (probably the worst part of the movie), Eric Clapton (perhaps the best part), Neil Young, Joni Mitchell, Van Morrison, Neil Diamond (who seems a tad out of place), Emmylou Harris (a great, restaged version of "Evangeline"), Muddy Waters, The Staples, Ringo Starr (well, he and Ronnie Wood show up for a few seconds at the end and in a jam that's part of the supplementary materials), Dr. John, Paul Butterfield and Ronnie Hawkins.
The footage is great; Scorsese correctly virtually ignored the audience, concentrating instead on the music (the audience shows up in shots from the back of the stage, and you can certainly hear them, but they aren't dwelled upon) and the musicians - and it pays off.
So how's the disc? It's terrific. MGM offers us a remastered soundtrack available in either stereo surround or Dolby Digital 5.1. We preferred the latter soundtrack because of its more accurate placement of sounds. The audience sounds great, too, emanating as it does from all around you thanks to the surround speakers.
The quality of the sound is unbelievable, considering the 25 year old analog source. The guitars, vocals, drums and keyboards sound as if they were recorded yesterday; the bass is weaker, but not too much (bass guitar reproduction is a weakness on many discs). This is a remastering job of which the engineers can justifiably take a lot of pride.
Likewise the picture, which is presented in anamorphic widescreen (16x9 TV compatible). It fills the widescreen TV completely, and the picture also looks as if it were made yesterday (except for how young everyone looks!). Colors are bright and rich, the film-based picture is sharp and detailed, and it makes you glad Scorsese decided to go whole hog and shoot the concert in 35mm rather than the original concepts of video or 16mm.
Then there are the extras. First up are two running commentaries, the first featuring Robertson and Scorsese and the second featuring a whole whack of the people involved. They're both very interesting, though of course you can't hear the music very well over them.
There's also a 22 minute featurette that gives some excellent background behind the band and the show, photo gallery, a jam featuring members of The Band and many of their guest stars (with audio and video that isn't up to the standards of the main feature, unfortunately), and an 8 page booklet written by Robbie Robertson himself.
In all, an excellent DVD and a disc that belongs in the collection of every rock music fan.
Then there's Raging Bull, which some consider to be Scorsese's finest work (De Niro's, too, according to some). It's the story of the life and career of boxer Jake LaMotta and features an Oscar-winning performance by Robert De Niro, more than capably backed up by Cathy Moriarty. It's hard to fault this black and white film, which balances passion and violence to create a film of beauty despite its violence.
The DVD is a two disk special edition and the audio and video are very good. And you also get a remarkable selection of extras, including:
o Commentary by Scorsese and editor Thelma Schoonmaker
o Commentary by director of photograpy Michael Chapman, producer Irwin Winkler, music producer Robbie Robertson (late of The Band), producer Robert Chartoff, actress Theresa Saldana, actor John Turturro, casting director Cis Corman, and supervising sound effects editor Frank Warner
o Commentary by the writers, LaMotta himself, and LaMotta's nephew Jason Lustig
o "Raging Bull: Before the Fight": feature on the writing, casting, and preproduction
o "Raging Bull: Inside the Ring": in-depth look at the choreography and shooting of the fight scenes
o "Raging Bull: Outside the Ring": Behind-the-scenes tales
o "Raging Bull: After the Fight": about the sound design, music, and impact of the film
o "The Bronx Bull": making-of documentary
o "De Niro vs. LaMotta": shot-by-shot comparison of De Niro and LaMotta in the ring
o Newsreel footage of the real LaMotta
o theatrical trailer