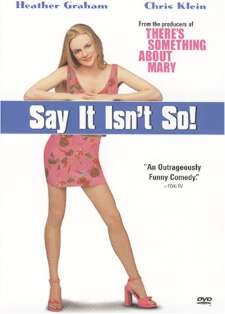 "Say It Isn't So" on DVD
From the minds behind "There's Something About Mary" comes this screwball comedy about love, lust, and mistaken identity.
Heather Graham gets top billing, but it's really Chris Klein's movie. He plays Gilbert (Gilly) Noble, an orphan who nows works as an animal control officer. He meets and falls in love with Jo Wingfield (Heather Graham), an incompetent hairdresser. It looks like true love will win out, until Gilly and Jo discover that they're probably long lost siblings.
This sets off the movie's running gag, that Gilly is a pervert who slept with his sister, a wrong assumption continued on by Jo's parents, (Sally Field, in a wonderful "against type" role for this Oscar-winning actress, and Richard Jenkins), who want to see Jo marry the rich Oregonian she'd been seeing before she met Gilly.
What follows is in the vein of Farrelly Brother movies (they co produced this flick, though they didn't write or direct it), but not as good. Oh, sure, it has its moments, but this is definitely a "poor man's" version of such Farrelly "classics" as "Dumb and Dumber" and "Mary."
The performances are all fine, especially Field's. Klein is a big, likeable lunk, Graham is her usual blonde bombshell bimbo, and Orlando Jones is along for the ride as just about the only person who'll help Gilly.
The DVD receives a far more lavish treatment than it deserves, though that's hardly a bad thing. The video is anamorphic widescreen, 16x9 TV compatible, and the picture quality is outstanding. The Dolby Digital 5.1 surround audio is also first rate.
Fox has included plenty of extras to make the package more interesting, including a commentary track by director J.B. Rogers and star Chris Klein. There are also deleted scenes, a "Making of" featurette, and the trailer and TV commercials.
A minor entry in the annals of movie comedy, but just bizarre, politically incorrect, and outrageous enough to be a relatively enjoyable hour and a half in the home theater.
Say It Isn't So, from 20th Century Fox Home Video
95 min, anamorphic widescreen (1.85:1), 16x9 TV compatible, Dolby
Digital 5.1
Starring Chris Klein, Heather Graham, Orlando Jones, Richard Jenkins,
and Sally Field
Produced by Bobby Farrelly, Bradley Thomas, Peter Farrelly
Written by Peter Gaulke & Gerry Swallow, Directed by J.B. Rogers