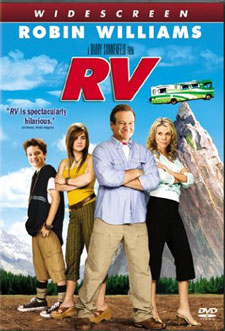 RV on DVD
Robin Williams is back in a light, family comedy from director Barry Sonnenfeld.
Williams plays Bob Monroe, a slave to his job with a soft drink manufacturer, a job he thinks he's in danger of losing thanks to a fresh faced up and comer. This paranoia, whether deserved or not, causes him to cancel his family's planned trip to Hawaii and instead rent (on an impulse) a big honkin' RV so they can drive to Colorado and he can sneak away from his family and attend an important meeting there and thereby save his job.
It's actually double-pronged strategy because he's also hoping the trip in close quarters will help restore the familial bond he, his wife (Cheryl Hines) and the kids (Joanna "JoJo" Levesque and Josh Hutcherson) once had.
The wife and kids are devastated: they had plans for Hawaii and the idea of being cooped up with the old man doesn't appeal to them a whit. And of course the fact that the RV is a huge rolling rental with a gigantic "rent me" sign on it – and Dad's a neophyte to the world of RVing – doesn't help the situation. Its' soooooo embarrassing!
Thus we have the setting for a series of misadventures that, naturally, culminate in a closer family bond, a successful business meeting, and some wonderful scenery most of which was filmed in glorious southern Alberta, Canada, within a couple of hours of where this review was written.
It's all pretty predictable, but reasonably funny as long as you aren't expecting anything particularly innovative. Well, not much that's innovative, but there's a surprising twist: the movie actually includes the kind of "nutty neighbor" that's a staple of comedy, in this case the Gornicke family (led by Jeff Daniels and Kristin Chenoweth), a redneck-looking-and-sounding group that spends its life on the road, home schooling the kids – but they actually turn out to be the smartest and most decent people in the film. Who'd have thunk?
The Gornickes are a big help to "fish out of water" Bob, from helping him clean out the RV's sewage storage (talk about bathroom humor!), to getting him back together with his family after all heck has broken loose.
Williams is nicely restrained in his role as the patriarch; he can be a very good actor when he isn't bouncing off the walls – and the times in RV when he does bounce off the walls are appropriate to the story and the character. The supporting cast does a nice job as well.
RV won't go down in history as the greatest comedy, or even Sonnenfeld's (or Williams') best, but if you enjoy films in the tradition of the National Lampoon's Vacation films, or are looking for a family-friendly movie, this is a decent choice.
It's a pretty good DVD, too, with excellent picture and sound quality. Available separately in either anamorphic widescreen (2.4:1, 16x9 TV compatible) and Dolby Digital 5.1 surround, the color and detail are first rate, and the sound envelops you just as it should.
Extras abound, too, including five featurettes, an interesting director's commentary with Telestrator – though Sonnenfeld confuses "Alberta" with "Calgary," referring to the various locations as being part of "Calgary" whereas Calgary is a city and the locations are around Alberta within a couple of hours of the city of Calgary. He undoubtedly stayed in Calgary during the shoot, however, which is common with movies shot around here, so perhaps his confusion is understandable.
And he and cinematographer Fred Murphy sure make this neck of the woods look great!
Other extras include a gag reel, alternate scene, "RV Reveries," and storyboard to film comparisons.

RV, from Sony Pictures Home Entertainment
99 min. anamorphic widescreen (2.40:1, 16x9 TV compatible)/Pan&Scan, Dolby Digital 5.1 surround
Starring Robin Williams, Cheryl Hines, Jeff Daniels, Kristen Chenoweth
Written by Geoff Rodkey
Produced by Lucy Fisher, Douglas Wick, Directed by Barry Sonnenfeld